Our staff weigh in: 2016's BEST gifts and stocking stuffers for runners!
For seven years straight during my childhood in Houston, I went to bed on Christmas Eve begging Santa for snow. Every single Christmas morning I got "Santa's footprints" on the carpet (hint: baby powder) and nothing on the lawn but dew.

But then there were the years that Santa really nailed it: the year I got my first bike, my first desk (yes, I was the child who enjoyed alphabetizing my books and sharpening pencils), a new kitten.

We wanted to offer you a gift guide to help you "bring snow" to your favorite runner or walker. We hope it helps, gives you some ideas, and brings you some holiday cheer. Happy Holidays from me and the rest of us at Fleet Feet Sports PDX. - Rachel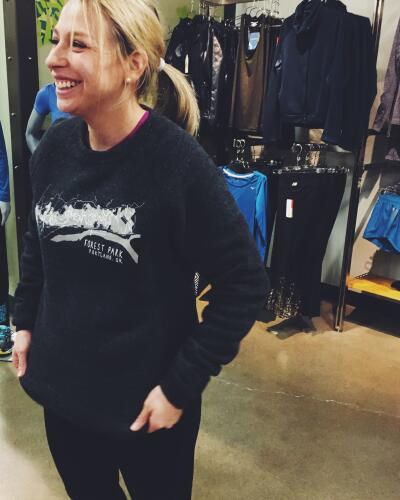 Alyssa is sporting our Forest Park sweatshirt. We can't keep enough of these in stock, so we ordered reprints just in time for the holiday - we designed it, sourced it, and use a local screen printer. Until you've felt the brushed fleece inside this sweatshirt, you haven't lived. This is the perfect gift for anyone who loves running or hiking in Forest Park. $50. Exclusively in-store!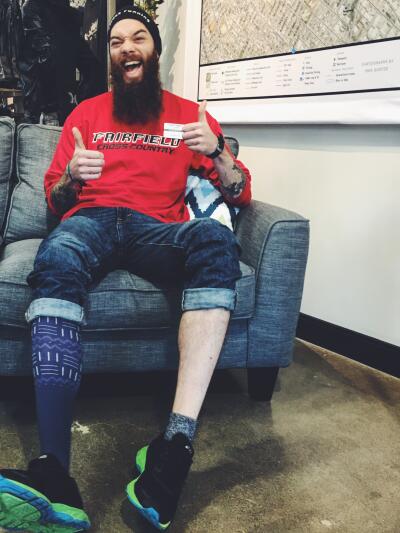 Duncan says, "putting on new socks is like jumping into a pool full of buttered spaghetti! Feels good. And why choose just one fancy design when you have two feet!? My socks never match and laundry is easy. Plus they keep my feet dry and warm in this damp Portland climate." Duncan is right. And runners can never have too many socks. Through Christmas Eve, come in and buy three Feetures or Balega socks and we will give you a pair for free. $12-$16. Shop socks online!  
Brad is training for his first 100K race in the spring. Given that fact, he's 50% runner, 50% napper, and 100% crazy. Here he is, napping in one of our top-selling styles this season: the men's relaxed pant. The other half of the time he has these pants on, I guarantee you he's running. We stock a few different styles from adidas and New Balance. $65-$90. Shop men's pants online!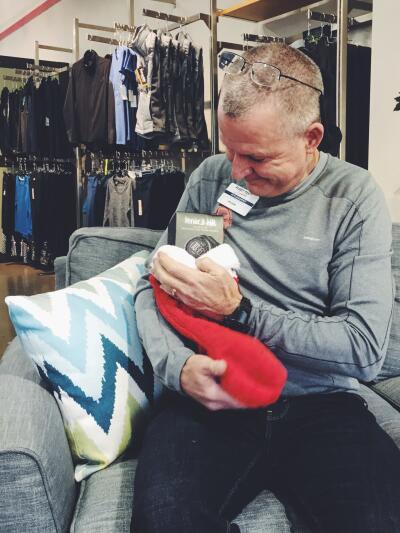 Hugh is himself the proud owner of the Fenix 3 HR from Garmin. This is the watch for the runner-tech-geek on your list. It measures heart rate, vertical oscillation, and has built-in navigation - good for everything from navigating the PCT to going on a walk in the West Hills (where I have learned the true meaning of "getting turned around.") We have a wide range of other Garmin products, too. Prices vary, $100-$600. Shop Garmin online!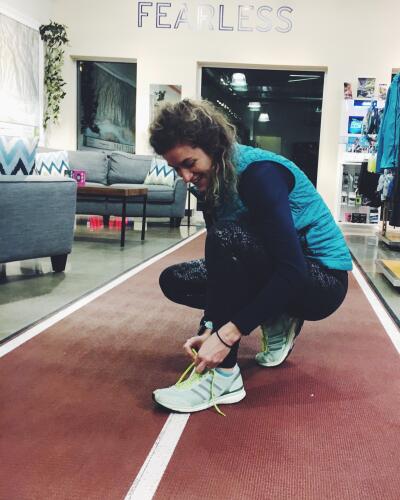 I'm lacing up in my favorite piece from Patagonia, the nano-puff vest. This year, we made a conscious effort to work with brands who have a message and call to action we believe in. We love that Patagonia gives back to our global community and creates beautiful, warm, technical apparel that you'll have for years. Come check out our entire assortment. $150. Exclusively in-store!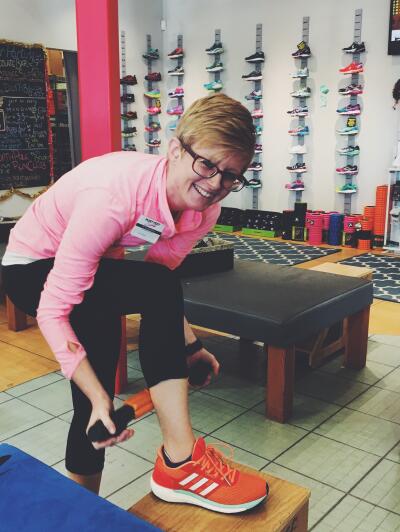 The top two injuries we see with runners are plantar fasciitis and patellar tendinitis (commonly known as "runner's knee"). That might sound like gibberish to you, but it's a real issue, and often comes from a poorly-stretched calf muscle. If you've ever heard your favorite runner or walker complain of lower knee pain or pain underneath their foot, consider picking up one of our massage tools. These products help target deep muscle tissue to keep your calf nice n' limber. Prices vary, $30-$60. Shop injury prevention and massage online!