On March 31st, Lenny Bernstein of the Washington Post published an article about how you can save a bunch of money on running shoes by buying them online (which inspired a great response from our friends at Fleet Feet Sports Sacramento). It's funny that Lenny Bernstein should write an article like this: the same could be said of the very industry that cuts his paycheck. Wait, here's the header as I imagine it:
Buying Books and Newspapers Online Can Save You a LOT of Money
In the age of Kindle and Amazon, the online marketplace nearly destroyed newspapers, bookstores, and magazines. It forced publications to jam their pages with advertisements to make them affordable to produce (and semi-unreadable – who doesn't love coupons for price breaks on subscriptions falling out of their newest National Geographic?).
But Powell's stands staunchly on that corner of 10th and Burnside. Why? Because there are human beings there to make you coffee, point you in the right direction, provide recommendations, host readings by famous authors, and make the experience extraordinary for you. It beats shopping Amazon Prime on two bowls of ice cream with my eyes melting trying to find The Sound and the Fury for $1.87 (Used, Like New, Ships from Florida).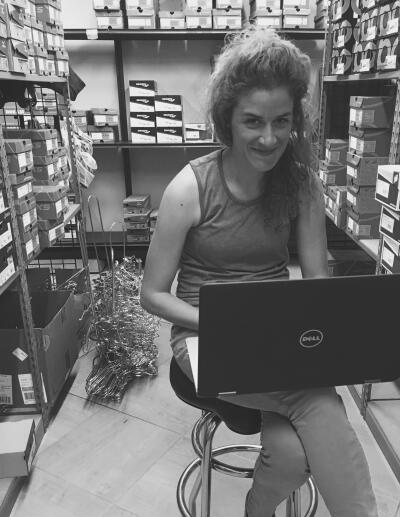 Fortunately, Lenny Bernstein doesn't know much about running shoes. Which is why we're here measuring your feet, watching you walk, asking you about your training plans, upcoming races, injury history, nutrition and hydration, and why Lenny Bernstein isn't.
On a training level, each of our staff go through an intensive training period to understand everything there is to know about every shoe, about every injury, every accessory. We are coached so that we can be a resource and a community to our customers. Is my computer going to hand me a beer when I'm choosing shoes? Is the guy from the Amazon fulfillment center going to show me how to roll out my quads?
On a product level, we bring to your feet the best in class: shoes that will have the most consistent fit, story, and fit the volume and structure of your foot as best as possible. Also, as Mr. Bernstein's secondhand research fails to show, older models discounted online are dangerous. Because running shoes are made differently (with rubber blown with air to create cushion), the old models have sat on a shelf for over a year and are breaking down. Would you buy a 2014 Kit Kat? Neither would I. It may have a longer shelf life than bananas, but the longer it sits in the package, the weirder it gets.
On a people level, we are here to provide training, injury prevention, and free info, as well as free events that grow our community and hopefully provide encouragement to individuals on every stretch of their running journey.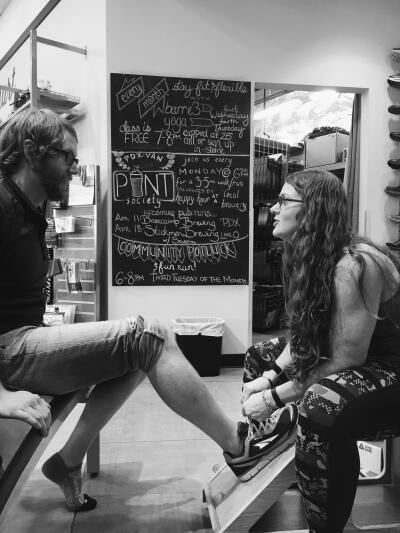 As the buyer for our three stores, I am personally invested in the product we choose to provide and recommend for our customers. When it doesn't sell well, I'm the human being behind the shoe wall making a decision to swap it for something else. When it sells like hot cakes, I'm the one trying to keep up.
Fury for Lenny Bernstein aside, he's not taking into account that the same folks reading the Washington Post are human, not treadmill. You (like us) are ever-evolving in your path of running – detoured, perhaps, by injury, speeding up because you've been getting on the track, losing weight, gaining strength, which means what you need on your feet and body is going to change.
We are grateful for you. We ask that you continue to join us and ask us questions and use us as your local resource, hub, and running home.
Here are some steps to do that.
When you come see us, let us reanalyze your gait. There are a million things that change what we need on our feet: change in mileage, change in terrain, change in weight, change in age, having kids, growing a bunion, and we want to make sure you leave with a perfect fit.
Sign up for Event Rewards. You can save money on purchases by joining us at the bajillion events we have each week.
Come run with me at lunch on Wednesdays, 12-1pm, starting today. We can wax philosophical about Lenny Bernstein or whatever else you'd like to wax on about.
As always, keep running.