Three weeks ago, I started coming down with something. I was feeling really good, and training hard for the Corvallis Half Marathon. One workout on the track every week, one tempo run, one long run. Easy stuff in between. You know, getting it done.
Then I got the flu, then a sinus infection, then I got an ingrown toenail that required SURGERY, the combination of which put me out of commission until, well, today.
It is a good thing to be reminded of one's place in the world. I may be pretty flipping awesome, but I am – in context – very small and have very little control over what life hands me.
Being sick gave me the chance to obsess over getting myself well, but also gave me more down time to ask questions other than training ones, like, "Am I a good listener?" "Am I putting good food in my body?" "Who have I cared for lately?" Answer: No, cookies, and myself.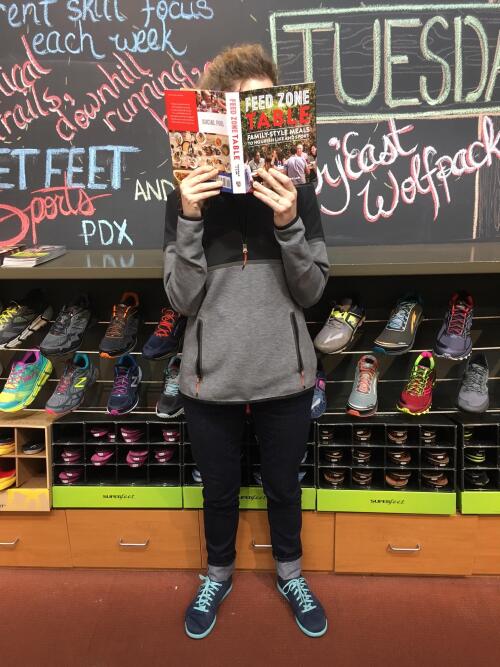 My conclusion: treating myself and others well is a symbiotic relationship. Training became an excuse to eat crap and talk crap. I started reading the new book at our store: the Feed Zone Table, which is a great introduction to feeding oneself and others well. I heard Holly, our training programs manager, talk about how excited our 5K program participants have been, and how they've become an encouragement to other new runners at our Pint Society Runs. I'm working on a project that will be hitting our stores soon that gives back to partners in our community. My friend Emily did me the kindness turning her long run into a walk so we could talk together (thanks, Em).
There's nothing like a good dose of the flu and bad toenails to remind me that life isn't just the training plan. It's the people, the food you eat with them, the conversations you have out there running and walking. We hope that now, or sometime in the future, when you think of a community, you think of us.
Rachel's Top Top Picks of Community Events You Should Get On Your Calendar NOW
1. Wednesday Runch (that's Running Lunch. Portland store, 12-12:30pm, April 13)
2. Pint Society at Base Camp Brewing (6:30pm, April 11)
3. barre3 at Fleet Feet Sports PDX - Vancouver and Lake Oswego!
4. Breakfast Club Saturday AM run at the Portland store with CWX and Brian's pancakes (8:30 am, April 16)