I've really been on a trail bender lately. Still am (see: Krissy Moehl comes to town TOMORROW).
But all the fresh-cut grass in my neighborhood makes my stomach turn. It's almost cross country season.
I ran cross country in New Albany, Ohio, grades 9-12 with a tenth grade sabbatical during which I "trained" for lacrosse, which meant I tossed the ball around with my best friend Doni and then ran to Wendy's for frostys.
I was somewhere in between not good and terrible at cross country. I hated the long stringy sweaty line up before the gun across the soccer field. I hated the familiar stink of portable restrooms. I dreaded my almost-nearly- always last position finish, being followed by the guy in the John Deere truck sweeping the JV course for water bottles. I gaped at my teammate, Lauren C, throw up in the finish line chute at nearly every meet. I marveled at Andrew C, who cried at regionals after running a 16:10 and coming in 16th place – just missing the state cut off.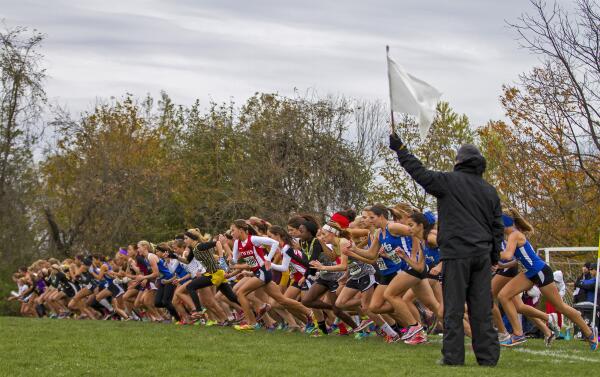 Wait, have I told you I once medaled at cross country?
Did I mention the first thirty finishers received medals, and that I was thirtieth?
And also that thirty-one people ran the race, meaning I came in, not dead last, but nearly dead?
And that's just races. What about practice?
Did I really subject myself to hill repeats on the golf course in the shape of N (New!) and A (Albany!), 8 of each, one minute rest, and Coach McNichols barking at me to pick up my legs? How many times did I eat a brownie at 2:30 and report for a track workout at 3:15?
How did high school cross country not ruin my love for running?
"Run high school cross country" falls into the same category of imperatives as "eat your vegetables, " "apologize to your brother," and "love your enemy." You do it because it's good for your body and good for your character. Eating your vegetables makes you a less high maintenance guest as an adult (among other benefits to your long-term health). Apologizing to your brother teaches you humility. Loving your enemy nurtures your heart's muscle of mercy.
Running high school cross country taught me discipline and pain. And not just what those words meant, but how to use them. 
This is my nostalgic segue to inform you that our cross country spikes have arrived. They are beautiful and are just waiting to be beat up. This year, we will be carrying New Balance and Saucony and offering a couple different options in each. Whether you (or your high schooler) are looking for long distance training shoes or spikes, please consider us a place to find both!
And best wishes: for your first, middle, or last place finishes this season.