I'm honored to be joining the Fleet Feet PDX family as Buyer. It's a job—as I'm quickly learning—that's part-creative, part-numbers crunching. Most of all, it demands a love for running and the running community. 
There are a million reasons people choose to run: to enjoy the outdoors, to improve fitness,  because "my mom made me do it," that #iruntoeat hashtag, to build community, for self-discipline, for solitude. Most of us do it for a combination of these reasons.
 I run because it runs in my family. One of my favorite things to do is to get home (Texas), throw on my running shoes, and go out for a run with my brother Josh. We have been hanging outside together since Josh could walk (1990). He owns the longstanding title of My Favorite Person, shared now with my husband, followed closely by the rest of my family.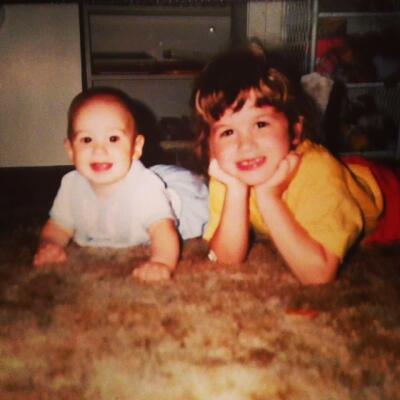 As siblings, we've shared a lot over time: humor, faith, a common history. When I was 10 and pretending to be a teacher, who was my compliant "student"? When I flipped my bike, who was three feet behind me to help me drag myself and my bloody elbows home? Who helped me design sand castles on the beach in Galveston? If you have a sibling, maybe you get it. My little brother was there for everything. 
I know that I started running in middle school and Josh started running earlier than that for soccer conditioning, but I'm not sure when we started running together. Maybe it was around the time of my first half marathon (2009). Josh was my fan base—he found me twice along the course and at the finish. When I heard him cheering, I felt a catch in my throat—surprised by a gratitude that nearly stopped me, and simultaneously kept me running. I knew he would let me have it if I stopped. 
We live in different states now, but when we know we'll see each other, we pack our running shoes. On the morning of my wedding, it was Josh who was up at 6 am with me to do a jitters-clearing 4-miler. At home in Texas, we chase runs with Shipley's donuts and a full pot of strong coffee that makes us dizzy by lunch. At dinner, we plan our run for the next day, which usually includes a threat from my brother, "this time, I don't care how hot it is, I'm making you do sprints" and my retort, "then the first six miles are slow."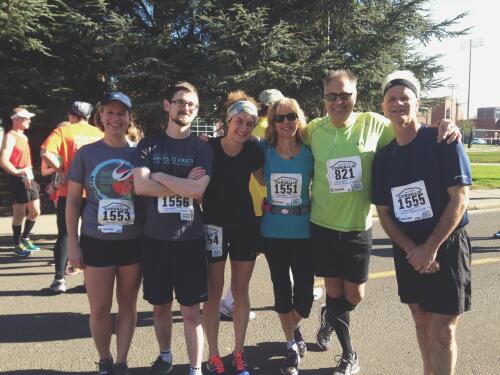 Josh and I inherited our love for running from our Dad. We belong to a family of runners that also includes my mom, grandpa, uncles, aunts, and many cousins. My cousin Dane and I have a ritual every summer—we run on a rough trail around a lake near his house in Conway, WA, and jump in after. We call this "Shake and Lake." You say it around that house, and everyone knows what it means. Every April, my dad's side of the family gets together to run the Corvallis half marathon (my grandpa cheers us all in to the finish). We have cheered each other on, shared horror stories, victories, scrapes, irritable bowels, laughter and lostness. 
Running is a unique practice. In it, you bear witness to a part of yourself that remains my otherwise remain untouched: the feeling of victory, defeat, despair, and pleasure. And so, when someone is with you in running, they see a truer version of yourself. For me, it is deeply personal—it's threaded into my family history. I am bound to my family and a few close friends by the difficult and triumphant experience of hard work, done together. 
Here's the thing: for those whose family history doesn't include running, running offers new definitions of family.Take my friend, Ellie, for instance. We worked at Starbucks together in Seattle and started running together six years ago. She ran alongside me for my first marathon when I gut-bombed while she turned to me at mile 16 and said, "I can't feel my arms. Do you think that's a bad thing?" The aid stations—for some crazy reason—were stocked with Oreos and Gatorade. My mom was there at mile 18 waving orange slices. I cried on miles 22 through 24. Ellie was a rock—she fed me words of encouragement when my water belly was knocking against my ribs. She's family. 
Fleet Feet engenders this sense of family through a million different pathways:  passionate staff, community involvement. In a world where so much business is business, I am grateful to be a part of something that pays due diligence to how running—literally—breeds better people.