If we can't have you in our shops right now, we're going to bring the footwear wall to you. Read up on some of our current and favorite styles, shop online with us, or book an appointment to get fit, virtually!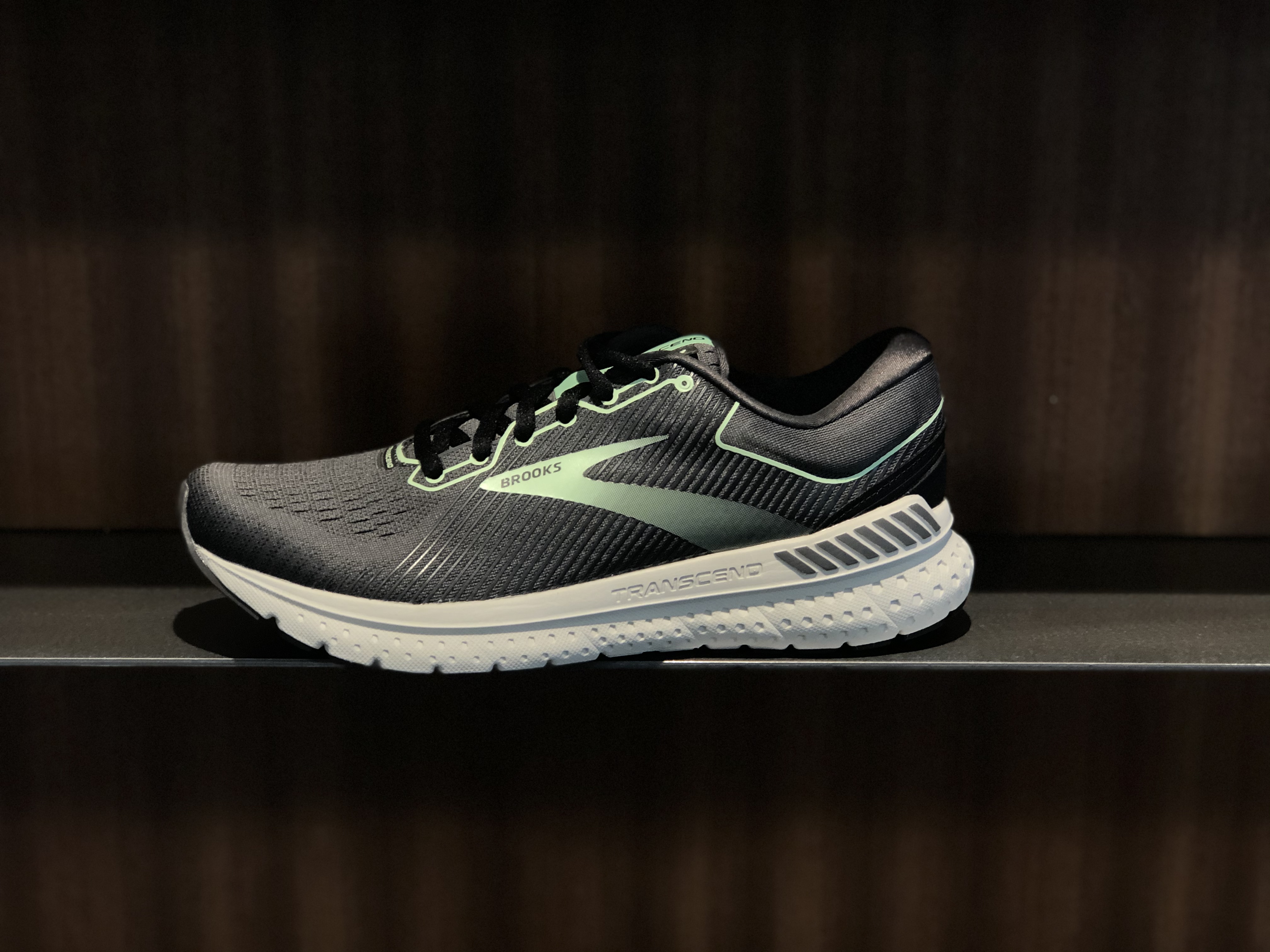 Brooks Transcend 7
The Brooks Transcend 7 is the most technologically-advanced shoe in Brooks' Stability and Support lineup.
Like all of Brooks' other support shoes, the Transcend relies on a molded guide rail on either side of the foot to support the foot, knee, anke and hips while in forward motion, which also adapts to each person's unique stride. This guide rail is an evolution and a step forward from support posting, as it supports you without "forcing" or "correcting" the body into a predetermined motion path. It melds to your unique motion, helping and protecting you for any activity.
Then there's the cushion. The Transcend 7 cushioning system relies on DNA LOFT, Brooks softest, longest-lasting, and most protective cushioning.
This is Brooks' most technologically-advanced piece of footwear in the line, built on 20 years of research and gait analysis at Brooks Running HQ Lab in Seattle, WA.
Price: $160
Weight: 9.5 oz (w) / 10.7 oz (m)
Drop: 10mm
Reviewed by Lee Sackett, Brooks Guru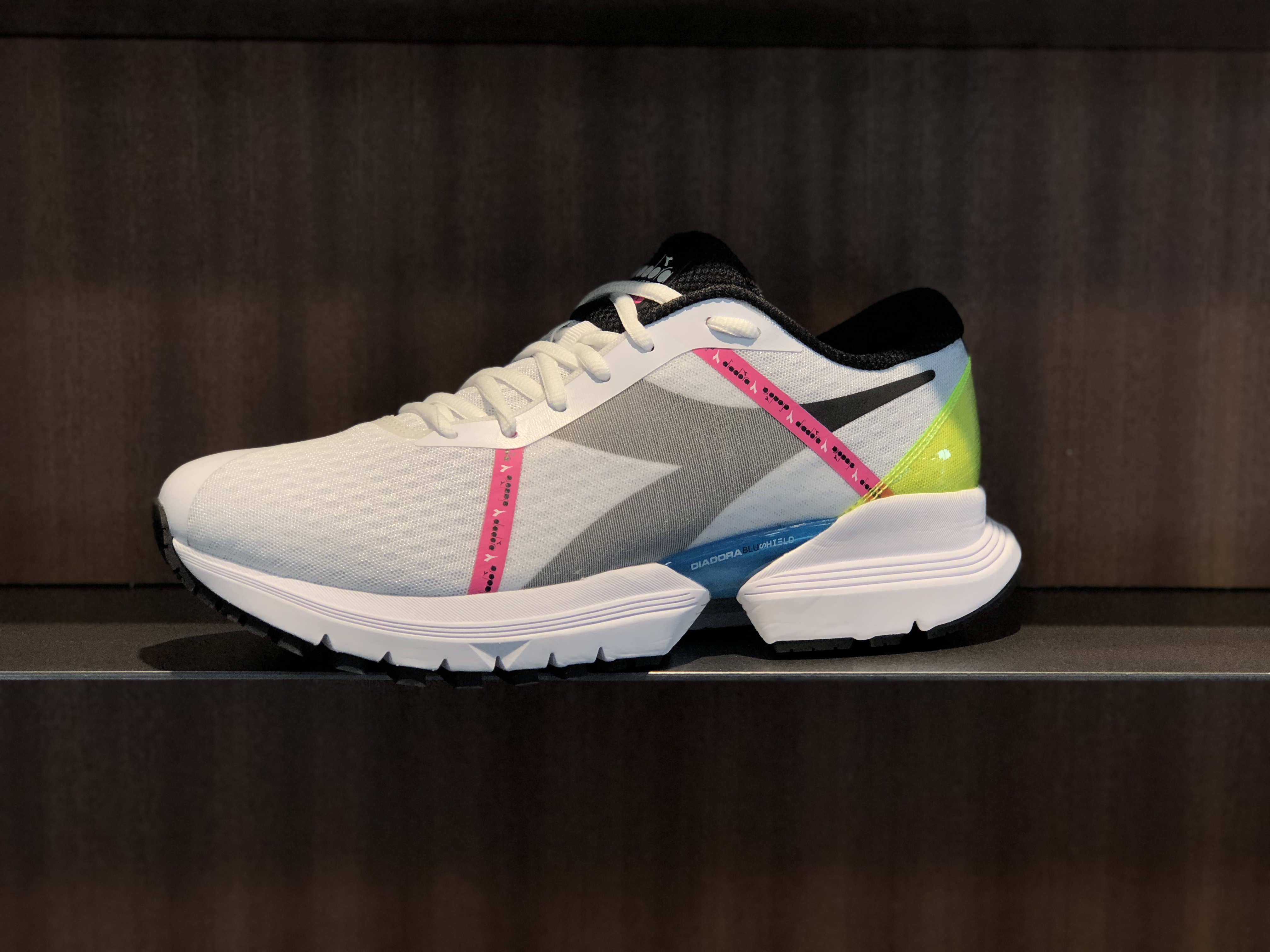 Diadora Mythos Elite TRX
The Mythos Elite TRX looks like high fashion but it's paired with some pretty unique technology.
Technically, we put this style in the stability category, but the stabilizing mechanism looks a bit different. The shoe stabilizes your foot through subtraction of a section of the outside midsole cushioning. It's a win-win situation here, catering to both runners that need a stable shoe, as well as neutral runners who want more rigid support under their feet.
The Mythos TRX offers the highly adaptive BluShield Technology: soft rubber cones infused into the midsole that contour to your foot along with an added layer of polyurethane foam, making this shoe feel plush and responsive all in one. The shape of the shoe is complimented with a firm, thick heel counter that cradles the backend, and opens up with a rounded toe box. If you're looking to pound miles, enjoy a casual stroll, or look like the coolest runner on the planet, the Mythos Elite TRX has you covered.
And with its bold retro colorways as well as the reflective Hip version, they are definitely an eye catcher! The premium fit and feel that will provide long-lasting cushion throughout your running journey.
Price: $160
Weight: 10.2 oz (w) / 12.5 oz (m)
Drop: 10mm (w) / 11mm (m)
Review by Amir Armstrong from Diadora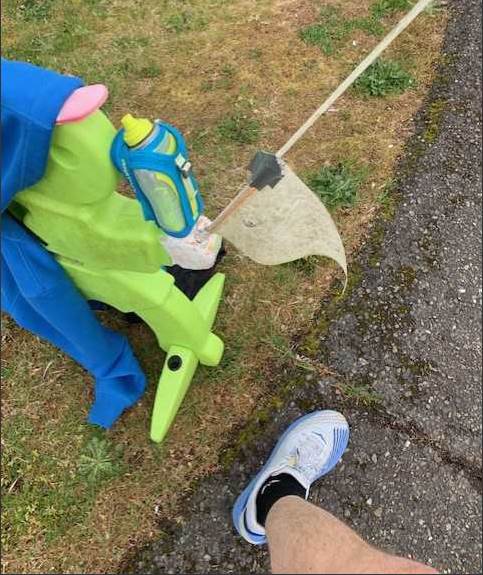 Hoka Rincon
The HOKA ONE ONE Rincon has been a revelation for me! When I got my first pair last summer, it quickly became one of my favorite daily trainers and I'm so grateful it has been added to our lineup. What do I love about the RINCON? Most of all, its simplicity! It has the classic HOKA cushioning, but in the lightest and simplest package possible.
I prefer it for any kind of quick, up-tempo days because it gives me both the feeling of propulsive responsiveness with the Meta-Rocker, as well as protective shock absorption on the hard roads. The upper is stripped down and simple, making it completely unnoticeable. An extra bonus is the fun and sporty look of the diagonal stripes on the single layer mesh and accentuated heel tab in back. This style is hard to beat for great cushion and a simple, comfy fit at the weight and price!
Price: $115
Weight: 6.3 oz (w) / 7.7 oz (m)
Drop: 5 mm
Review by Emil Newhouse, our Hoka ONE ONE field rep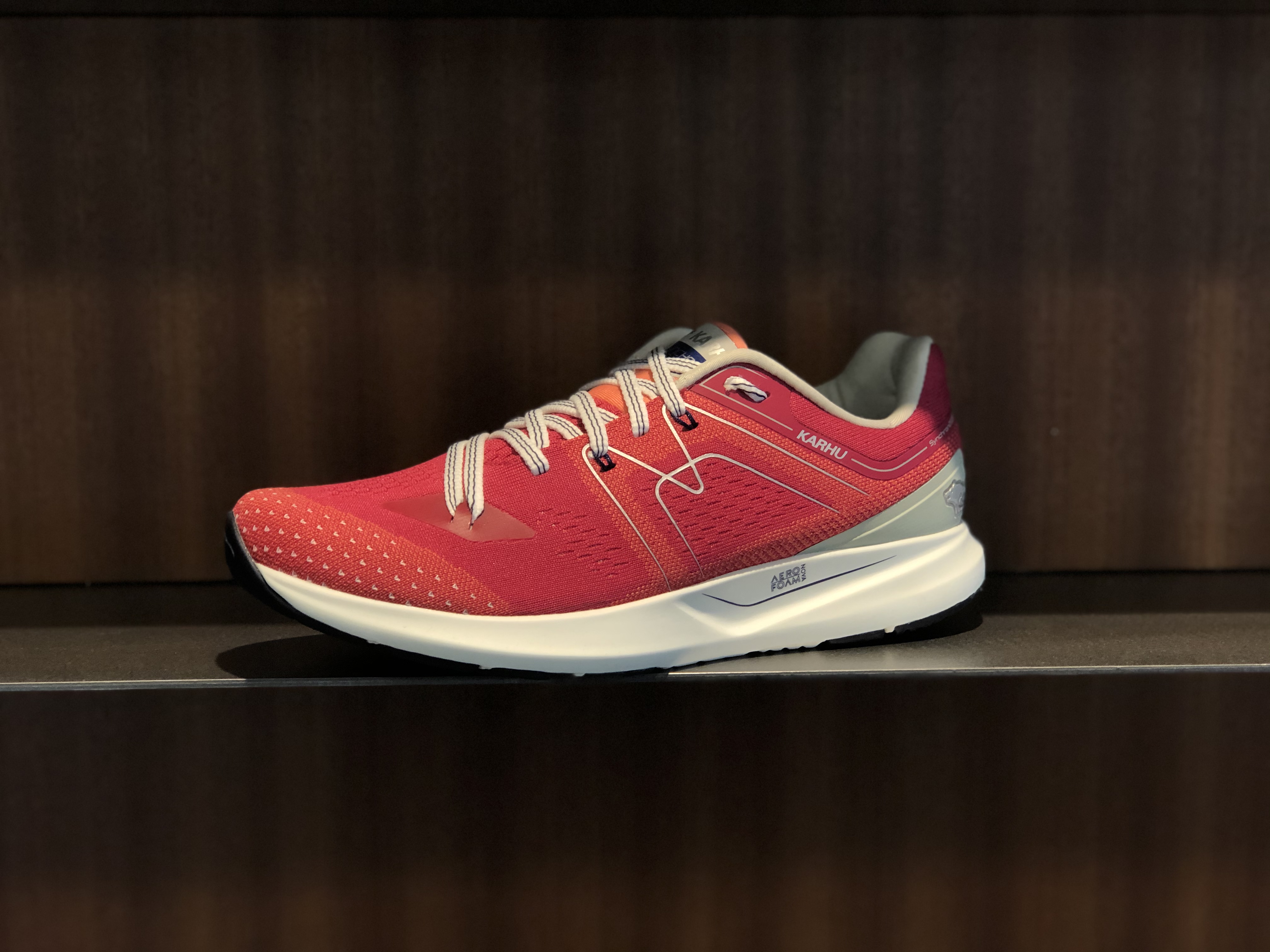 Synchron 2020
Many of us probably wish we could have a 2020 do-over. I certainly do: I had a baby in 2019, but 2020 brought postpartum anxiety and depression and COVID-19.
But back to the shoe review: the Synchron 2020.
A brief backstory: Fleet Feet started working with Karhu to develop their footwear a few years back. We agreed to provide their design team with customer insights if they would give us exclusive retail rights. I've heard it said in the industry that it takes around 18 months to see the influence of a new footwear designer on the product line. For Karhu, the "designer" is not only a person, but the data Fleet Feet provides from its 3D foot scans. We are now seeing the fruits of those insights.
2020 was a good year for the Karhu Synchron. Years of data and a hard-working design team have brought an unprecedented fit and feel to the style, while still utilizing key technologies that define Karhu as a brand.
The Synchron features a new material (Aero Foam) in the midsole that is plusher than the traditional rubber compound, EVA.

As in all Karhu footwear, fulcrum technology at the midfoot provides an amazing transition from midfoot to toe-off.

The top of the shoe (upper) is sleeker, softer, and fits so much better than before. It's not just a good-looking shoe, it fits really well.
The Synchron runner is someone looking for neutral, plush running comfort to log long miles both running or walking.
Price: $160
Weight: 9.9 oz (w) / 11.6 oz (m)
Drop: 8mm
Reviewed by Rachel Ebbers, Director of Marketing Fleet Feet PNW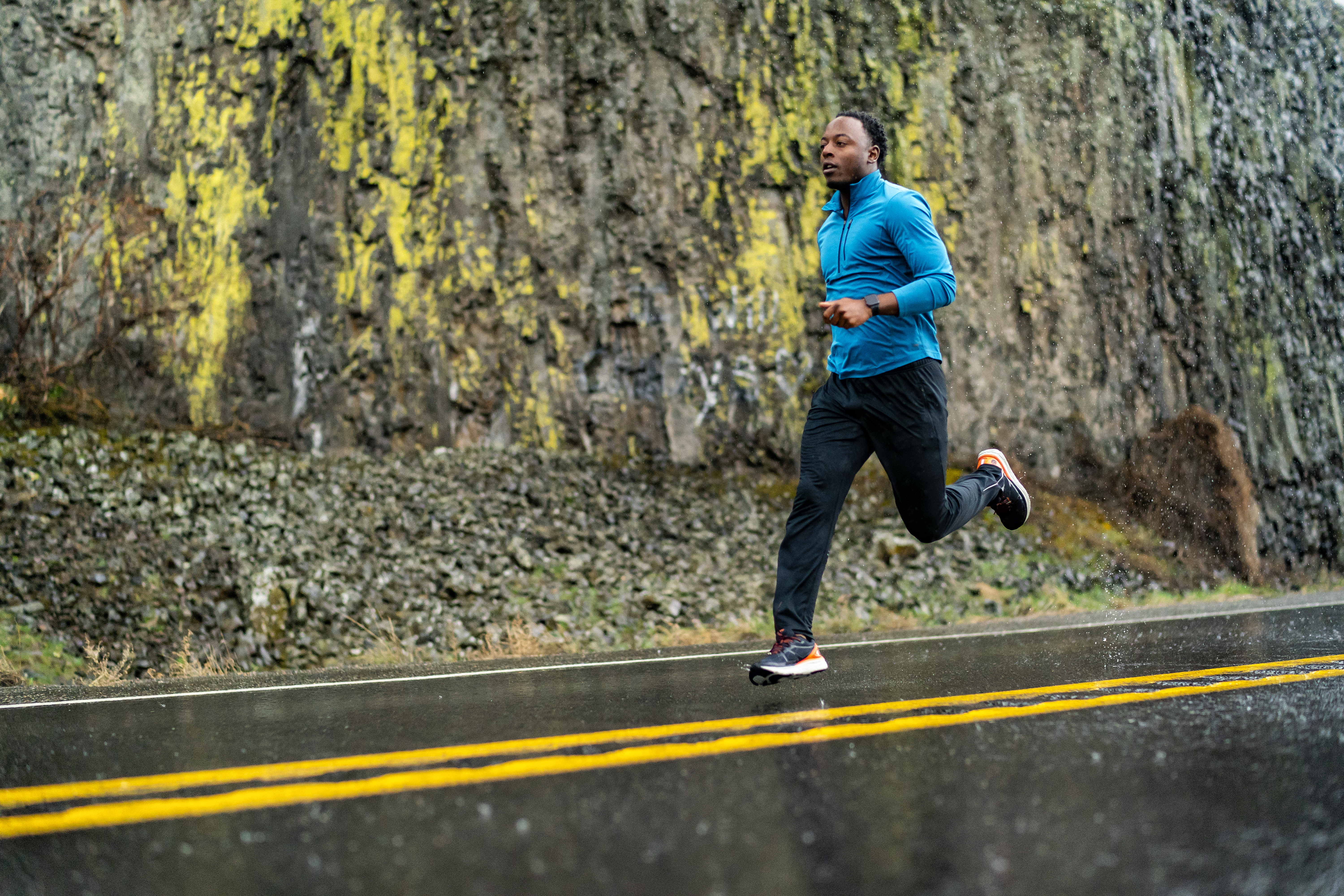 Topo Phantom
The Phantom is Topo Athletic's most cushioned road model. A resilient Zipfoam™ midsole resists packing and provides increased energy return, while an Ortholite® footbed delivers a plush and comfortable feel underfoot.  Phantom is great for long easy runs or for those who seek a cushioned ride in a secure and comfortable upper.
One of our Elites, Zac Marion, who is an ultrarunner has actually named Phantom as his favorite shoe to our marketing team:
"My favorite shoe is actually the Phantom. Truth be told, I do a lot of road running. It's personally the most comfortable shoe for my foot. The Phantom offers a little extra cushion for long miles but is snappy enough for quicker runs with its lighter weight and easy roll through toe off. Honestly, I even prefer this guy for dirt road sessions when trail shoes aren't required."
Price: $135
Weight: 8.1 oz (w) / 9.8 oz (m)
Drop: 5 mm
Reviewed by Patty Lenz of Topo Athletic