Runners are often looking for ways to improve their performance – whether it's to obtain that goal of a new PR or to make our regular Saturday run feel effortless. And although the saying "practice makes perfect" rings true, running every day without the right amount of cross training and rest can often lead to injury or burnout.
So, how do we keep our training levels high without wearing our bodies down?
Incorporating cross training is an extremely effective way to improve performance, prevent injury, and add variety to your weekly workouts. One way to accomplish this is to incorporate a plyometric program into your weekly routine. Plyometrics, or "jump training," involve exercises requiring quick movement of a muscle from an eccentric phase (lengthened muscle) to a concentric phase (shortened muscle). Think about what your quadriceps do when you perform a squat jump -- your quads lengthen as your body lowers to a squat position, then shorten as you jump to propel your body up as high as you can, and again elongate as you land and control the lowering of your body back into the squat position. The key to this movement is the quick transition between the different phases of an active muscle.
Ample research is available to support implementing plyometric sessions 2-3 times per week into training programs for runners. These programs usually follow a very specific progression of activities over 6-8 weeks to be certain the person is ready to advance to the next level of difficulty and total volume of activity. Following the proper progression and dosage is also key to ensuring your body has a sufficient recovery period. Plyometrics are demanding and dynamic and it is extremely important to be screened by a professional before performing them to ensure safe movement through these exercises. A few examples of plyometric exercises are included here, but remember it is a good idea to check in with your physical therapist, coach, and/or trainer to make sure you are ready to introduce plyometrics and to find a program with the right activities for you.
Example Routine:
Perform 2-3 sets in 1 session, 2-3 sessions per week with at least 48 hours rest between sessions.
Single leg line jumps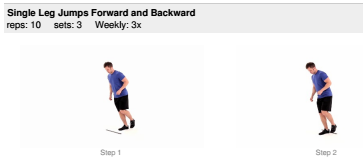 Setup
Begin in a standing upright position, balancing on one foot, with a line on the ground in front of you.
Movement
Jump forward across the line with the same foot, then jump back and repeat.
Tip
Make sure not to let your knee collapse inward as you land from each jump, and keep your foot facing forward.
Squat Jumps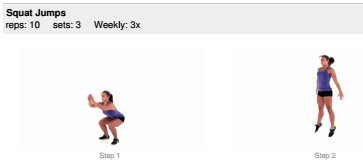 Setup
Begin in a standing upright position with your feet slightly wider than shoulder width apart.
Movement
Lower yourself into a squatting position with your arms straight, then jump up, moving your arms back as you do. Land in a squat and repeat the movement.
Tip
Make sure your knees do not collapse inward or move forward past your toes as you land, and try not to over arch your back.
Lunge Jumps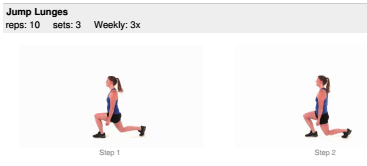 Setup
Begin in a lunge position.
Movement
Jump straight upward and switch the position of your legs, landing back in a lunge position. Continue these jumps, alternating your legs each time.
Tip
Make sure to keep your back straight and do not let your knees collapse inward or move forward past your toes as you land in the lunge.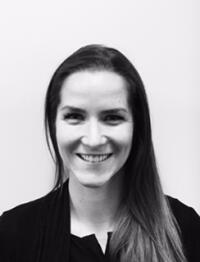 Kyra Evens received her Doctor of Physical Therapy degree from Regis University in Colorado, where she completed sports medicine and orthopedic rotations in Vail and Steamboat Springs, working with athletes of all ages and abilities. She now sees patients with orthopedic impairments at Northwest Portland Physical Therapy - Therapeutic Associates, Inc. ​Kyra has been working with athletes at local high schools incorporating plyometric and strength training programs into their training for injury prevention and performance enhancement.
Kyra is from Portland and was an avid soccer player before attending University of San Francisco to play at the Division I level. She completed her degree in Human Physiology at University of Oregon in 2007 and then spent time living and working in Costa Rica and Bend, Oregon before pursuing her DPT in Denver. She enjoys running, soccer, yoga, snowboarding and surfing and feels extremely fortunate to be back in the Pacific Northwest where she can enjoy it all.