Libby Mongue-Wymore was diagnosed with cancer 19 years ago at the age of 20. Since then, she's been a volunteer for the American Cancer Society, advocating for research funding and helping organize their Relay for Life in Clark County. Relentlessly positive and honest, she spoke with us about why it's so important to keep moving and working for change, even when times are tough. We hope her perspective gives you hope and challenges you to keep moving and focus your energy outward.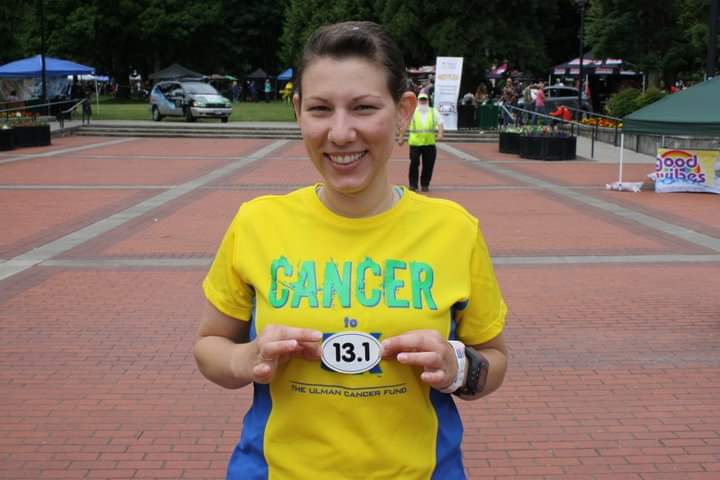 Libby at her first half marathon with the Cancer to 5k program
Tell us your running story. When did you start? Who or what got you started? What does your running discipline look like now?
So, originally, I did absolutely no running at all. I have something called tarsal coalition in my ankles, where the bones that form your ankle joints are fused together, which makes running not the greatest. So I wasn't very active as a teenager and into college. Then I was diagnosed with cancer in 2001 when I was 20. [During my treatment] I read about a non-profit called the Ulman Foundation and they started a program called Cancer to 5k. Ten years ago they offered a virtual aspect and...I joined it. I thought I was going to die. My goal was to do the Run Like Hell 5k in October and I started training about this time ten years ago. And I didn't die, and I actually liked it.
I decided [running] was kinda cool, and that I would try to run one race a month...then people started asking me then when I would run my first half marathon and I was like "oh hell no, that's not going to happen." But I did Portland to Coast, and the next year I thought, since I survived all this, I could train to do a half marathon...so I did it.
I've done a race a month since August 2010. And about seven years ago, a friend of mine in Portland and I decided to start working on running a half marathon in all fifty states. Between all that, my ankles really started to get bad and I went to my orthopedist, who told me that I could race as long as I walked [and didn't run], but then I discovered HOKA three seasons ago when my Portland to Coast team decided to try and run Hood to Coast as an ACS DetermiNation fundraising team. I got fitted for the Bondi and I've been a Bondi believer since then.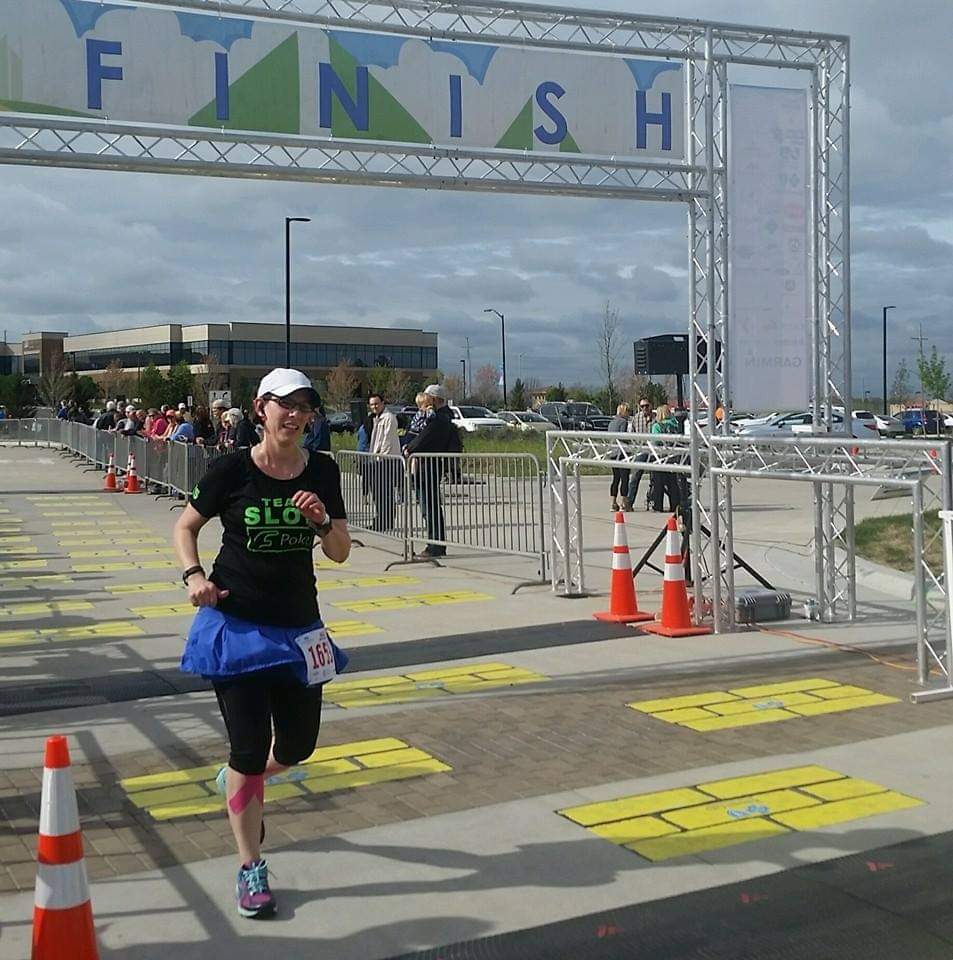 Libby crosses Kansas off of her half marathon list
During COVID, I've been supporting race companies' virtual events...so I'm keeping my monthly race thing going but it's been virtual since April. My last in-person race was the Little Rock Half Marathon on March 2nd...they are known for having insanely huge [dinner plate size] medals for the half and full marathon. I'm focused on getting out and getting the miles in my neighborhood. Usually, I go in yearly to get a breast cancer screening and thyroid screening because I'm at higher risk for those types of cancer. I've had to put those off this year. I don't feel comfortable going to the hospital for that. I'm at higher risk for lung issues because of the radiation and chemotherapy. I'm playing it safe and social distancing and am doing what I can to do research fundraising from home.
How have you found your running community?
A fair amount of them I found through the American Cancer Society and we finally figured out we were all kind of training at the same time. We jokingly named ourselves the Slow Pokes and that stuck and now there's quite a few Team Slow Poke people in the Portland/Clark County area.
Our club motto is that no one leaves until the last person crosses the finish line, so we are known to be hanging out until the last person comes through.
Tell us more about your cancer diagnosis and that journey. What did it teach you and how did it change your perspective? What role did running play in it?
At first I thought I had mono or something because I just felt tired. I was 20, I was taking 18-20 credit hours in college plus working part time and volunteering, and I was feeling off. I had a weird side effect of having really bad bouts of hiccups and incredibly itchy skin. I went in and they wanted to check my thyroid because my mom had thyroid cancer. I got an ultrasound and while they were doing that they found that thyroid was fine but that I had lumps above my collarbone that looked a little odd. I got a CAT scan and it found an almost-softball-size tumor in my chest that was pushing my esophagus and the nerve, which was causing the hiccups. The ones in my collarbone were golf-ball size….it turns out I had stage 2 Hodgkin's Lymphoma and nodular sclerosis (that cancer's subtype).
We did a clinical trial protocol that had good results: four months of chemotherapy and seventeen doses of chest radiation.
Here we are celebrating 19 years of remission in July.
I was so focused on surviving during treatment. But when I was done with that, I wanted to give back for all the support I had received. I learned about the American Cancer Society's Relay for Life. I got a family team together and I have been doing that ever since.
One of my biggest takeaways is that I don't have time for bullshit. I am well-known for being laid back and calm, even in Portland traffic. I could sit there and enjoy it because I'm here to sit here and enjoy it. I definitely focus on the good things and [try to help] people who are focused on the negative to focus on the positive. I know people who...are not here now. I feel like I'm here for a reason. Keeping a positive attitude and getting out there and moving is so important.
I work with the advocacy and mission side of Relay for Life in Clark County. If I'm going to be talking to people about preventative action they can take to prevent some types of cancer, I should be an example of that. That's why I got moving.
How has COVID changed your involvement with the American Cancer Society?
COVID threw a loop into our normal fundraising because we can't have [normal] events. I was focused on making the American Cancer Society's events happen in some way.
Typically these are 24-hour events. We invite all the survivors in our community to come out and they get a purple t-shirt and a survivor medal, they do the first lap together. There are games and food carts and we camp overnight. In the evening we do a Luminaria ceremony where we decorate white bags and light the candles inside of them. We take time to honor and remember those who have been touched by or who we've lost to cancer. The opening ceremony and Luminaria ceremony are very important to our community and we were trying to figure out how to make those happen.
We came up with a drive-thru Luminaria event at the Clark County fairgrounds. It made a huge difference to give people a little sense of normalcy again. We did that on a Sunday and then planned activities throughout the week to do online, encouraging people to set up their campsite in their backyard, get their steps in, and a scavenger hunt. The following Saturday we did a survivor car parade at the high school and wrote on car windows and gave them goodie bags. We had a cheer squad and cowbells. It was awesome. It was what people needed and were craving.
It's hard. You feel overwhelmed and feel like you can't do anything. But if you sit down and think, you realize you can do something. I know people who have lost loved ones to cancer this year and they needed these experiences to happen. Part of being a part of [the American Cancer Society] is that you get to meet awesome people, but they also have tough stories. There are people currently fighting stage 4, and we wanted to be able to scream and cheer for them.
Personally I put together a virtual 5k fundraiser event together for the first time, shipping out "race kits" to all the participants and helping to raise additional funds for ACS, which helped to make up for not being able to do my normal fundraising events. It went better than I expected, although I'm in no rush to become a race director anytime soon!
I spend a lot of time being an advocate for the American Cancer Society, too. I email our legislators at a state and federal level. I worked on the Oregon Tobacco 21 legislation. I am the squeaky person who asks for federal research funding and I tell my story of how research helps with preventing the long-term side effects that I'm susceptible to. [I'm passionate about] making quality of life better for those who are getting diagnosed now.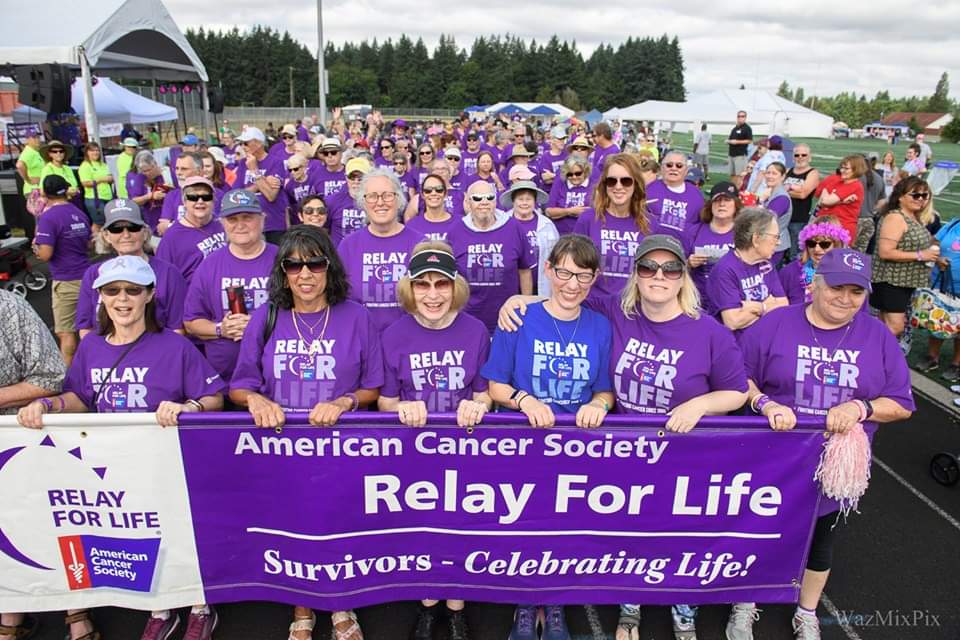 Survivor group photo at Relay for Life in 2019
So, it sounds like you stay busy and keep moving.
Yep, I have the nickname "Squirrel". Find your passion and put some power behind it. It will keep you motivated. My mission is to help fund research and keep moving. It has been so rewarding, even if there's heartbreak in there, too.
Want to get involved in the Clark County Relay for Life? You can find out more here.