An interview with Caroline Austin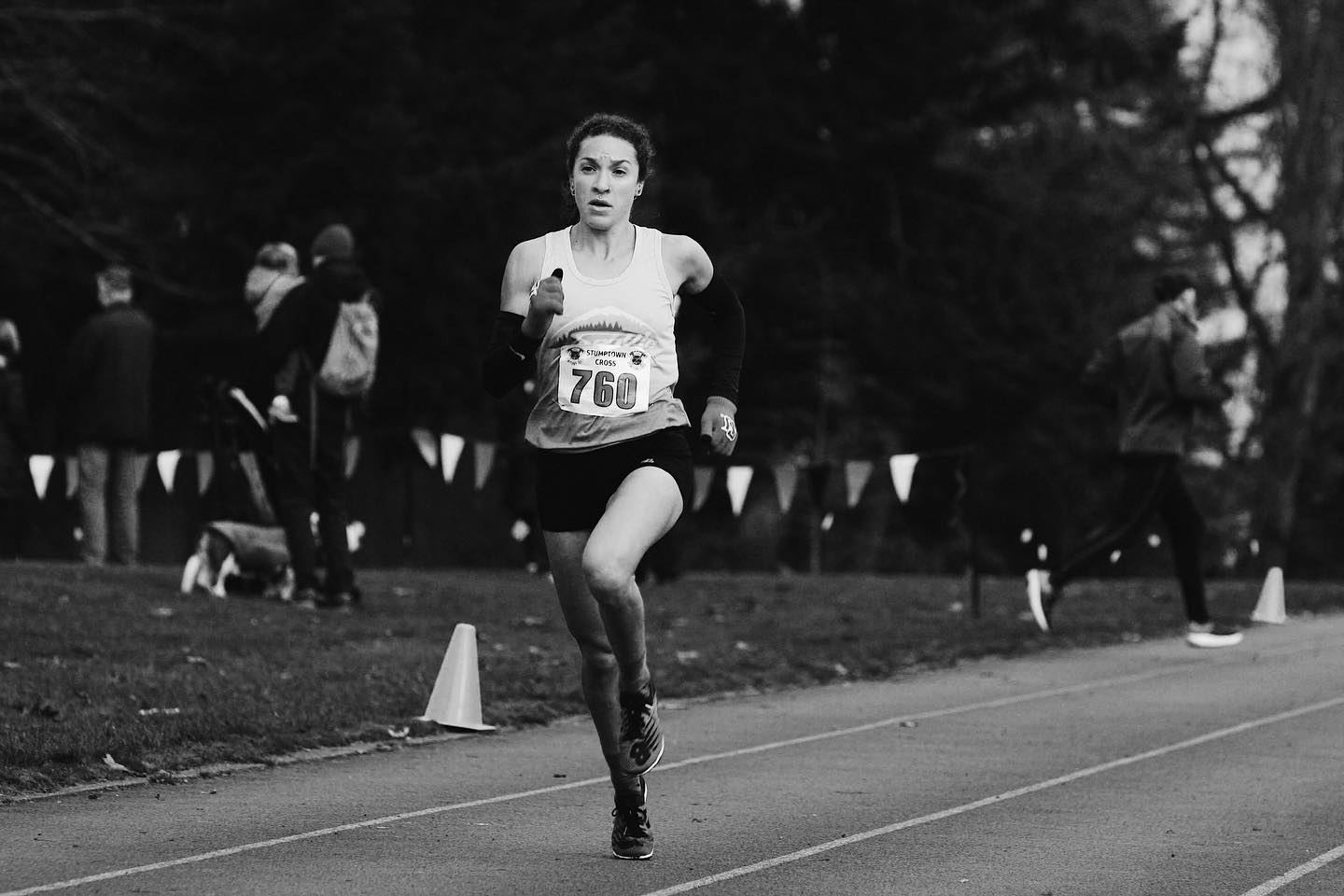 *Caroline Austin at the Club Cross Country Regional in Portland (2019)
_________________________________
Interview hosted by Rachel Ebbers
Caroline Austin works at our NW Portland store. In our Q&A with her, we talk about how growing up on a farm, and her family, shaped her outlook on life and running. She not only competes in the Marathon Trials in Atlanta this Saturday, but also plans to race the steeplechase at the trials this summer.
Below is an excerpt of our conversation.
_________________________________
RE: I know you have a really interesting and diverse family background. I would love to hear how that's shaped the way you look at life.
CA: I grew up in a small farm town in Chehalis, Washington. Both my parents are one of five, so from the get-go, I'm a part of a big family. My grandfather bought some land in the town my family grew up in, about 350 acres. I grew up on that land. I really look back to all the time I spent on the farm because that's what kind of shaped how I moved through the world. I consider myself a country girl, in a way. We had space—six horses, a llama, sheep, rabbits, dogs, cats—it was fun to have that space to roam and explore and be outside. I was always moving.
Until fourth grade, our family was four: my mom, my dad, my half brother and me, out on the farm. I had a lot of family—my grandparents, cousins and an aunt and uncle down the road. I've always lived close to family and been around multiple generations, which has also shaped my outlook on things. They taught me an attitude of service...It has been really cool to see that [attitude of service], even with the imperfections that my family has shown me. I've appreciated seeing that balance. There's not just an image of perfection; I've been able to see it all. I feel thankful for that.
RE: And as I understand it, you have a really big family now. How did that come about?
CA: In fourth grade, my mom came home and at dinner she shared with us the story of the lost boys and girls of Sudan. It was her way of preparing us—my dad, my half-brother, and me—to tell us all at the same time that we would be welcoming three new members into our family.
[At the time] I was nine years old and I felt like the world revolved around me. I'm much more aggressive and in your face about how I'm going to do things and I was the younger sibling. I had to learn about my new siblings and learn about them and appreciate their life experience. These three siblings are southern Sudanese. They were scheduled to come live with our family but my oldest sister, Rachel, had tuberculosis, so they finally arrived in May 2001.
As they became more and more comfortable with us, they shared stories with us that sounded like a movie. They told stories of walking thousands of miles, and living off one meal a day, and that they watched people being taken by alligators as they crossed bodies of water—how they didn't want to have to cross the water but that it was the safest way—that gunfire was coming from the other direction.
We had two more refugee kids join our family from Sudan. My mom was known as the "international lady" in town. If there was a kid in town from an exchange program or needing foster care, she was the lady to contact in the area. I come from a town that wasn't diverse, so we were the diversity.
In 2002, my parents split. So there were seven kids of us in the house with my mom, and I had to grow up overnight. And I think that really instilled in me some independence.
RE: A lot of people who grow up on farms don't have such a diverse background. And you are also racially both white and African-American. Does that contribute at all to your perspective of the world?
CA: It totally does. You can have a lot of different responses growing up as I did. I grew up in a small town where everyone was mostly white. One time we went to a meal as a family and we weren't served because we were "not acceptable" to be in public—that was my immediate family as well as two exchange students from Japan. We were just too much for that town.
I've always been put into this "other" category. I've been asked "what are you?" At first I'd be frustrated but then I decided to have fun with people. I knew what people were trying to ask but I wanted to try to get them to ask it in a different way. One time I was asked this in college at a team dinner, and I said, "oh, I'm a distance runner." I could see the wheels turning. People have said to me: "you're only half black" or "you're just a half breed." My response to that is that I'm just me, moving through the world. I also realized I wasn't a straight white female. I wasn't heterosexual—it was one more thing that didn't put me neatly into a box. I just am. I just don't worry about those borders.
RE: So, you run in a constrained environment: a track (steeplechase) and the marathon (a course). There are rules and constraints, even though you are someone who lives outside the box. How do you reconcile that? What does running mean to you?
CA: My life is so all over. Running is balance. It's consistent—no matter what it looks like—it's still running. And my path to find running wasn't a straight line.
A coach at a soccer camp at Washington State asked me about doing cross country. I tried it out and started to excel. I thought I should start to explore this thing. It has kept me grounded and sane through all the twists and turns. In college, I was introduced to steeple. My coach asked me how it went the first time I did it and I told him it was miserable—it was hard, but I wanted to try it again.
Little by little, I started running longer distances. To me it feels surprising that I'm running the marathon, but my life has been proving to me that there isn't one direction. Life changes directions on me and takes me a different way. In college I switched from interior design to kinesiology because I got interested in the science behind running. But I realized people were talking more about the physical aspect and not the mental aspect. I decided to get a second degree in psychology, and that's where my philosophy of coaching is based. If you don't have the mental training, the physical training doesn't matter.
RE: You'll compete in both the marathon trials and race the steeplechase at the trials this year. How did you get there? Tell me more about why that combination of events is unique.
CA: [A couple years ago], a friend challenged me to run 26 miles on my 26th birthday. My goal was to run under three hours. I ran about 2:58 and the lady who got second talked to me about running Boston. I didn't really want to go run it, but I thought, I had and I should because I can. I ran Boston the terrible year when it was 30 degrees and pouring down rain and windy.
RE: The one that Desi Linden won?
CA: Yeah that one. I remember seeing people pulling off right and left because they hadn't worn enough clothing. I crossed the finish line. Because of all the conditions of that day, I finished 23rd for women and I ran a faster time —2:53. I thought OK, this is moving the chains forward.
Through all this marathon training, I had still been training for the steeple. I went to my first US Outdoor Championships two weeks before my first marathon. I thought, if I ran this marathon without any intentional training, what can I do if I put some more intention into it? I had a good friend tell me with more intentional training and focus, I could probably run the standard for the marathon—2:45. I asked him, well has any woman in the US qualified for the trials in the steeple and the marathon, in the same year? No one had done it in the same year. I thought, I think I can do that, as long as my body is still in one piece, and I still love running. Why shouldn't I try to do this thing, just because no one had done it before?
Then I ran Houston and kind of willed myself to the finish line, and got under the qualifying window by five seconds—2:44:55. I remember crossing the finish line thinking, I'm in a really unique atmosphere of women who have qualified or not qualified by just a number of seconds. It was a really interesting emotional tunnel to be in.
It is exciting to be a part of the largest class of women to qualify for the marathon trials. It's a little scary logistically, but a really cool thing to be a part of. I think it really goes to show how many women are running at a high level, for longer.
And the steeple is still a really young event for women. The first PAC-10 Championship I went to, there were 13 people in the race and no one specialized in the event. The following year, there were double the amount of women competing, and half of those specialized in the event. It has only really been considered seriously on the international scope for 12 years, and I've been running it for ten years. It's exciting to see that event emerging and to have been a part of it.
RE: Last question: what is something you hold in your head and heart that gets you out on the run.
CA: I think it all comes back to the fact that I can. And if I can, why would I not? It would feel selfish to have an ability that my family has been kind enough to support, and then not do it. It comes down to the fact that each runner out there has all these people that are behind them, so there's a lot more people out on the course than are actually running the race.
RE: So you feel loved?
CA: Yeah, I do.
_______________________________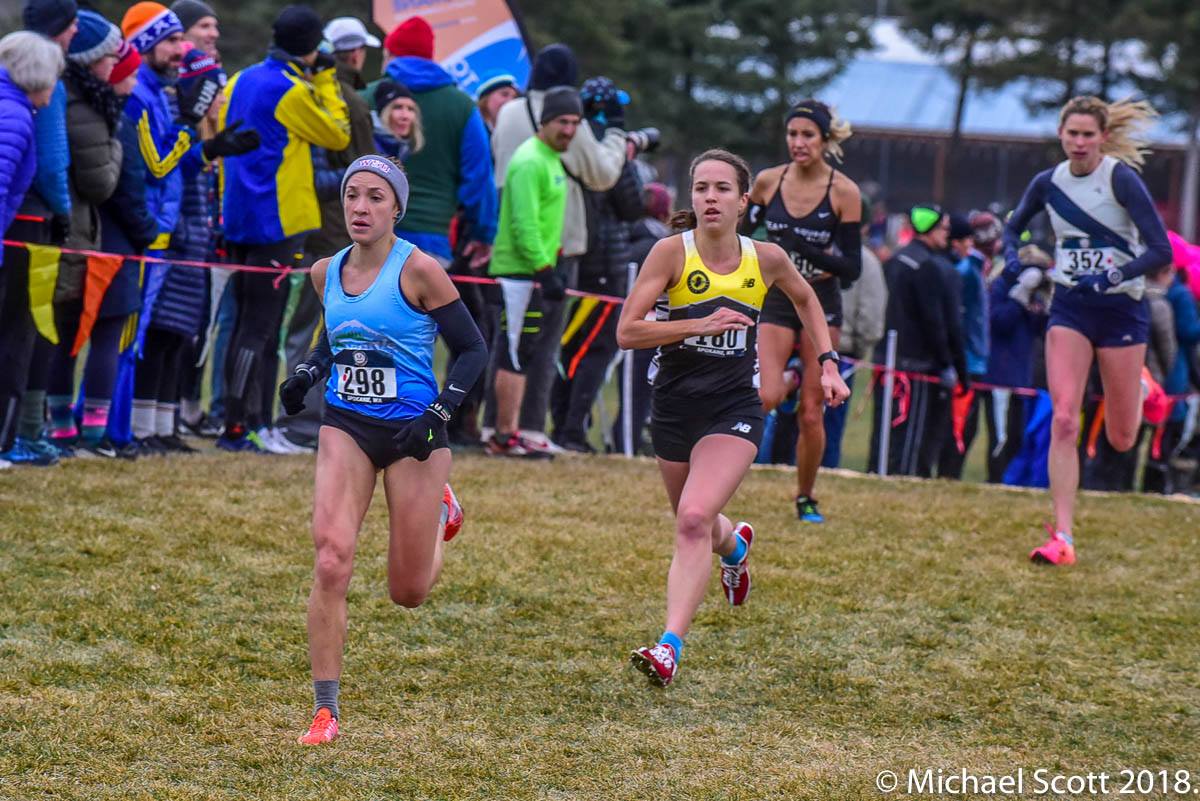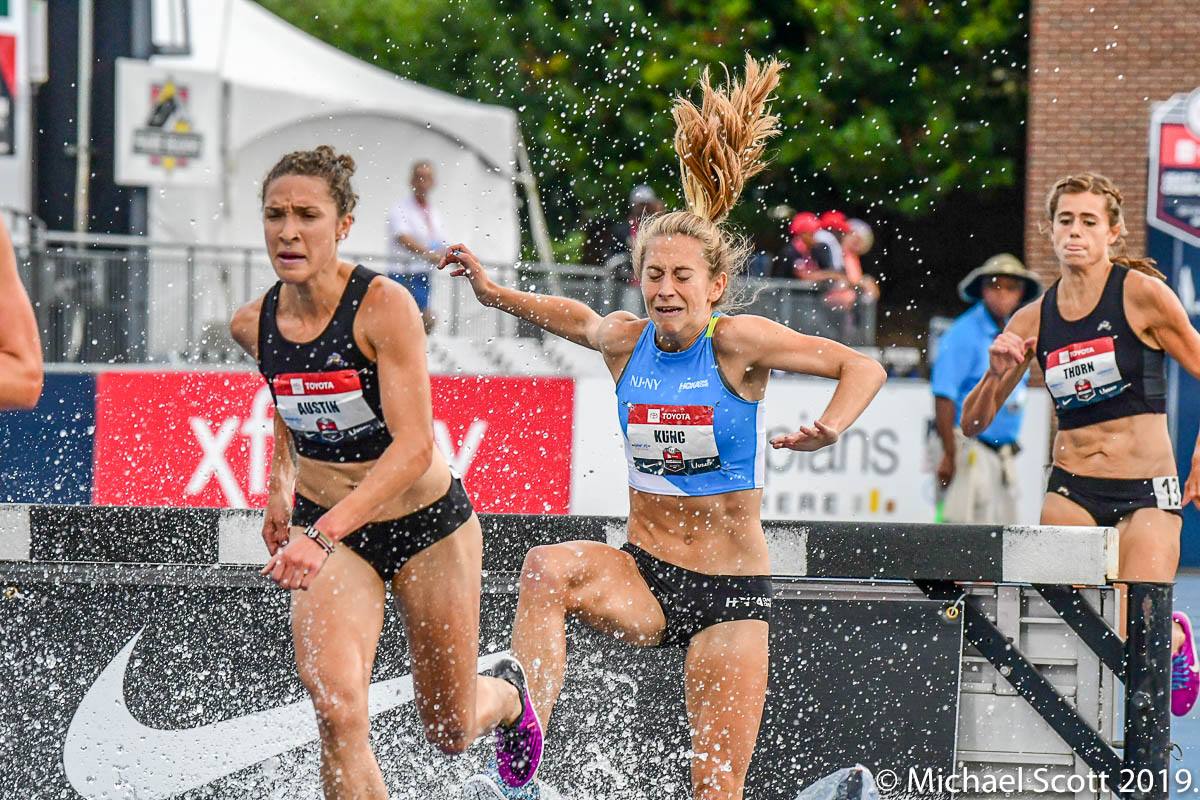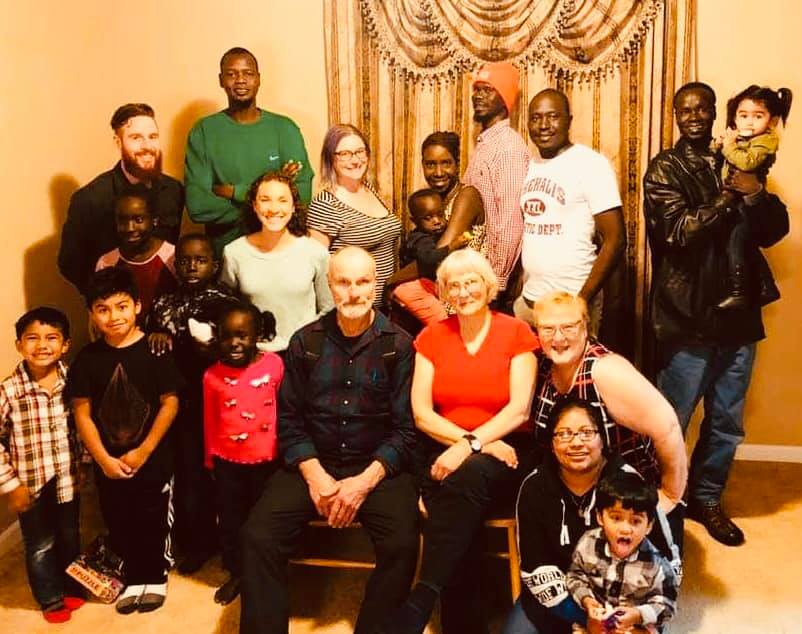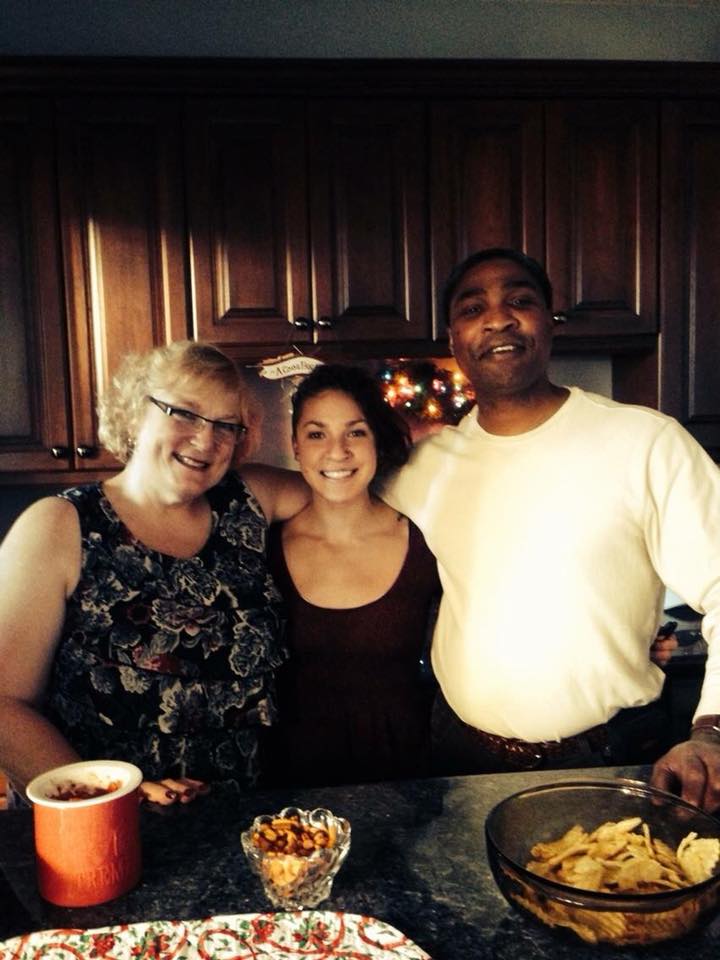 (Top to bottom: 2018 Club Cross Country Nationals in Spokane // 2018 Steeplechase at USA Outdoor Championships // Caroline with her family at Thanksgiving // Caroline with her parents)