When we originally came to Portland to evaluate where we might want to have a shop, we visited Lake Oswego (in fact it was the first place on the list for that visit!), and found it to be charming and thought it would be a wonderful place to have a store. Even though we were not residents, Lake Oswego was charming, seemed community-oriented, and looked very active. Shortly thereafter, we started discussions to purchase the two Fit Right stores and became owners in November. Lake Oswego went to the back of our minds for a bit.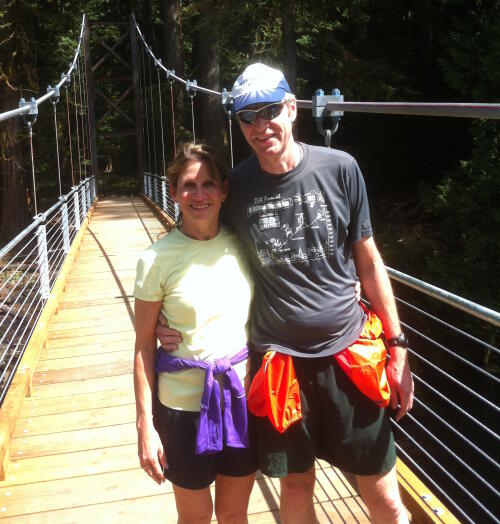 Owners Alan Rice and Susan Zepernick 
After owning the Fit Right stores for a few months (the transition of the brand to Fleet Feet Sports PDX was completed last weekend), we found that many of our guests were making the trip to our NW Portland shop from areas south and east of us. They were often spending a lot of time on the road to get to us. Customer service is extremely important to us, so we became focused on how we could provide a higher level of convenience to those people. At about the same time, the property managers of our Vancouver store approached us (synchronicity!) to see if we might be interested in looking at a property for a future location. Well, that property was in Lake Oswego.   
Alan went to look at the property and came back wanting me to go take a look right away. I went to look at the spot and was also really excited about the location. The shop is located in a beautiful spot in the Lake View Village plaza and is just around the corner from the trail head at Lake Oswego and a short run to the Tryon Creek State Natural Area. We felt it was a must-do location!
What are our plans for the Lake Oswego store? We have big plans, of course! Aside from providing better convenience for people living in that area, we want to become part of the community in many ways. We are planning events both in the store and partnering with other community members. We are going to offer our training programs in Lake Oswego - for first time runners to those who want to run their first or fasted marathon. We will be hosting community fun runs, including our new Pint Society weekly runs. We also look forward to partnering with the medical community, as we do from our NW Portland and Vancouver locations.  
So that we can personally connect with the community and understand the needs of our guests in that area, I will be managing the store. I have always loved sharing my (30 year) passion for running, knowledge of biomechanics, and eight years of coaching to help our guests to achieve their objectives. Many people in our community know Coop, who has been with the NW team for four years and has been a coach with our training programs. He has most recently been the sales lead in the NW store and will now be heading to the L.O. store with me as our Assistant Manager. Coop has a terrific background with the store, is very knowledgeable, and is great with our guests. Together we will be building our Lake Oswego team!
Some people have asked us why we are doing this now, just nine months since we took over ownership of the NW and Vancouver stores. This is a wonderful location and a great community that we want to be a part of. We just knew when we saw the shop, its central location, and met some of the people that will be our new neighbors that this will be a perfect place for a Fleet Feet Sports PDX. We can't wait to open the doors!