It appears the secret is out: Portland has some pretty awesome trails! During Oregon's "stay home, stay safe" orders, people are finding (perhaps for the first time) some fresh air, nature therapy, and much needed miles on the trails of Forest Park here in Portland.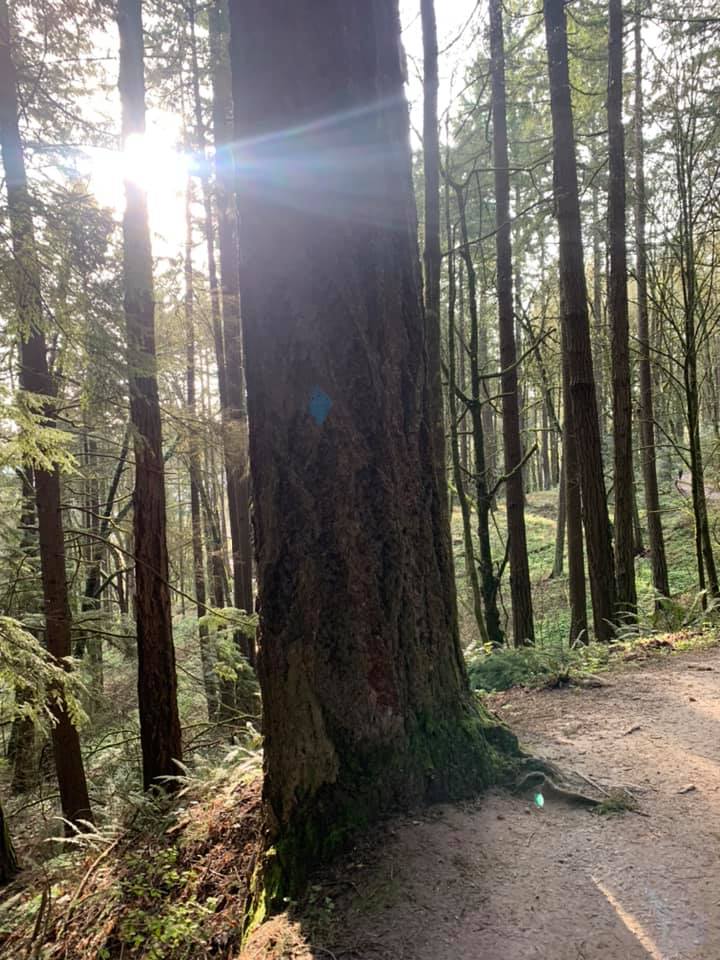 A shot of the iconic Blue Diamonds on the Wildwood trail. These mark the single track trail each quarter mile of the 30+ mile trail as it winds through Forest Park.
As a result, it's getting a bit crowded out there. Nothing makes me happier than seeing all the runners out and about (I have to fight the urge to give everyone high fives as I pass) but it's very important to be mindful and respectful of each other and the natural spaces we are out enjoying. Here are a few rules I follow when I'm out on the Portland trails, as well as some trail routes for you to try.
Explore close to home
The closures to county, state, and national parks (and heck, playgrounds!) leave us with very limited options to find natural space right now. It's best to stay close to home, if possible. There are many bike trails and interurban trails to enjoy, though they do tend to get crowded. Check out All Trails (https://www.alltrails.com/) to find trails that are right in your neighborhood.
Take a face mask for the narrow trails
Before you head out, make sure you bring a mask, bandanna, or buff. Even though you are out in the open air and nature it's important to have a face covering on you. I don't find that I need mine all the time. I wear mine around my neck so I can put it on when I see other trail users.

Make sure to let people know when you need to pass them and stay alert in case someone needs to pass you. Be kind. Remain calm and give others as much space as you can while doing your best to stay on the trail. Being a frequent trail user doesn't make you more entitled or privileged to use the trails right now. Trails and natural spaces are for everyone and should be shared.
Forest Park: follow the parking lot rule!
The best trail running can be done in our very own Forest Park. Most of the trailheads are still open, and since it's the country's largest urban park there should be enough room for all of us out there. When it comes to running in Forest Park (and in general really) it's not so much about where to run, but when to go.
I've found the best time of day to run is first thing in the morning. During the early morning hours, you more or less get the trails all to yourself and can run pretty much anywhere in the park. Late morning to mid-day seems to be the most crowded time and makes it harder to practice proper social distancing. Unless you are heading out for a sunrise run, it's probably best to avoid the heavy traffic, single track trails. Wildwood and Lower Macleay have proven to be especially busy. I follow the parking lot rule: if a trailhead is so busy that I can't easily find a parking spot, then I keep driving until I find one that isn't so busy. If social distancing on the trail isn't possible, then you shouldn't be out adding to the problem.
Some straightforward guidance for running in Forest Park
Leif Erickson Road is about 11 miles long (the longest road in the country that is closed to public vehicles) starting at the end of Thurman Street in Willamette Heights and running all the way to Germantown Road. Though it's technically a road, it feels more like a trail though it's not super technical. And most key of all: it's nice and wide so when you do need to pass there is usually enough space to move over and make room.
I suggest starting at the Germantown end because it's far less busy and further away from the city (it's also more of a drive, so allow yourself some extra time in the car). At that end you can easily access the many other side trails, which are less-frequently used. The Firelanes are part of these side trails, and all of the side trails provide a little more space from others and great hill training.
And if you're down for a little adventure…
Here are a couple of my favorite (and more isolated loops) that start at the north end of the park, off of Germantown Road.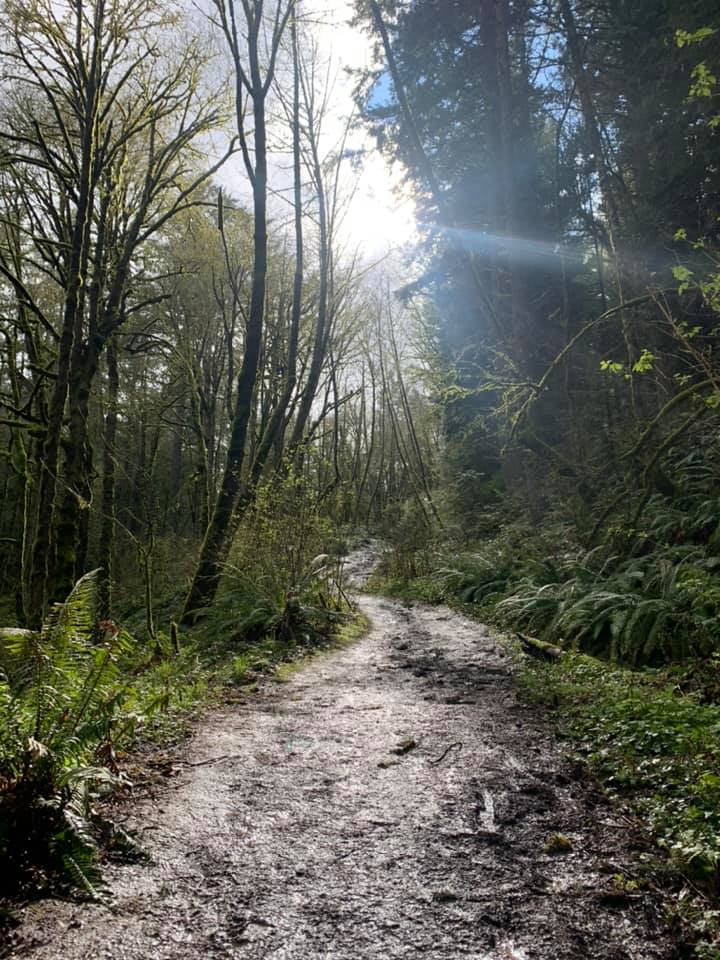 Waterline Road in Forest Park
Fun Trail Loop
To start: park at the Wildwood or Leif Erickson parking lots off of Germantown Road. Choose to start at the parking lot that has the most space. If you start at the Leif parking lot you will have to take the Cannon connector trail up to Wildwood. This whole loop is on the south side of Germantown.
Take Wildwood Trail southbound for about a mile until you reach Springville Rd.
LT on Springville until you reach Leif Erickson.
LT on Leif
Run back on Leif to parking. If you parked at Leif parking lot, congrats! You did it! If you parked up at the Wildwood parking lot, cross the lot and take the Cannon connector trail back up to your car.
You can also use this map to guide you.
Short and spicy hills
To start: the Tolinda trailhead is less than a half mile up Germantown Road when coming from Highway 30. The parking there is pretty limited, but it's much less crowded than the other trail heads in the area. It's almost easy to miss it if you aren't familiar with this neck of the woods, so pay close attention or refer here to make sure you find the right place. Tolinda starts off with a good uphill grind and your legs will get warmed up quickly on this one.
RT on Leif Erickson
At Leif Erickson parking lot, cross the lot to find the Cannon connector trail
LT onto Wildwood trail for a left turn,
LT at Waterline Road (first trail intersection – this will take you downhill)
Cross Leif Erickson back onto Tolinda, and enjoy the downhill descent back to your car. You did it!
You can also use this map to guide you.
Above all, stay safe. These trails are isolated, so take your phone and let a buddy know when you'll be out and where you're headed. Check back in with them when you're finished. Happy trails!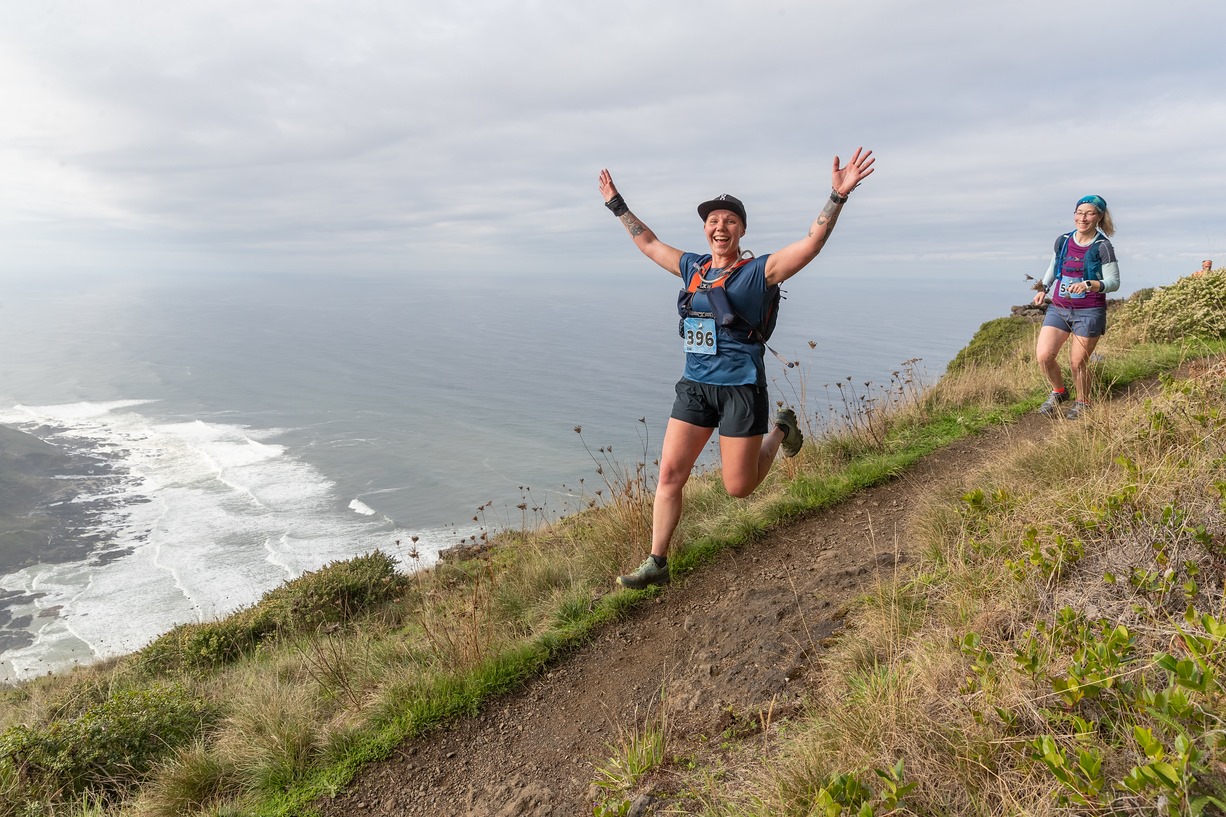 This blog post was written by Ashley Gorze, an experienced Portland trail runner and ultramarathoner. She runs in the On Cloudventure out on the trails, and here's her two cents on why the style works for her:
"When running in the Park, my go-to trail shoe is the Cloudventure from On. The moment I stepped into my first pair I knew I wouldn't wear anything else. They are comfortable right out of the box. Forest Park is known to be pretty muddy most of the year, and the Missiongrip sole gives me the confidence I need to run any surface in any condition. They grip and grab the trail during the tough uphill climbs, and they provide traction and control so I can really zoom on the downhill descents. Also, they look super cool. The design is unique and eye-catching and the colorways are fresh and different. Trail fashion on point. I give the Clouventure 11 out of 10 stars!"
Our NW Portland shop stocks the Cloudventure. Snag your own pair.