Fit Matters.
And at Fleet Sports, so does your happiness!
If an item you purchased at Fleet Feet Sports or FleetFeetOrlando.com doesn't make you happy by the way it performs, looks, or fits, we'll take it back within 60 days for an exchange or return.
It's our promise to you!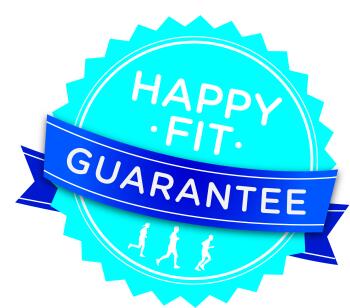 The Fleet Feet Sports FITLOSOPHY™ is our commitment to the concept of a proper FIT in all aspects of our lives – from our commitment to helping you find the proper FIT for your running shoes, to assisting you in determining how running, walking, or an active lifestyle fits into your life. Simply stated, FITLOSOPHY™ is our FIT Philosophy and our approach to everything we do. Our process begins by ensuring that runners and walkers of all abilities (and ages) are fit with the proper footwear, sports bras and technical apparel to meet their individual needs.
Fleet Feet Sports understands sometimes things do not work as they should. These may be manufacturer defects, buyers remorse or improper fit. We strive to earn customers for life by providing you peace of mind with your purchase.
We believe in our process and the time we take to evaluate each guest that enters our store to make sure we have exhausted all options to provide the best fit.
We will gladly refit you for any purchase of footwear and we stand by that. Body biomechanics can play a major role in your comfort so Sometimes it as simple as recognizing a different size or maybe the correct insole or sock that will help achieve the best results