HOW IT WORKS

 
The Saucony X Fleet Feet Running Club Challenge will be hosted through FitRankings, and online platform that connects people through fitness regardless of app, wearable, or fitness ability. Customers will connect to the challenge through devices like fitbit, mapmyfitness, RunKeeper, JAWBONE, Garmin, Strava, etc. Once they've signed up and the challenge begins, their devices can automatically upload their workouts for the challenge making it as easy as possible to participate.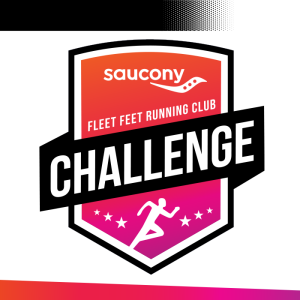 Challenge Site on FleetFeetSports.com: www.fleetfeetsports.com/sauconychallenge (REGISTRATION is open)
THE CHALLENGE 
The task is simple: sign up for the challenge under your local Fleet Feet Sports store and log 4 runs within the 10-day period in order to compete for prizes as both an individual and part of your store's team. A real-time leaderboard will show top individuals and stores during the challenge. 
CHALLENGE DATES 
April 25-May 4 
TIMELINE 
APRIL 15: Challenge announcement through social channels & eblast. 
Challenge site goes live. 
APRIL 25: Challenge begins. 
MAY 4th: Challenge ends. 
MAY 5th & 6th: Participants claim badges & vouchers.
CHALLENGE PRIZE 
Every participant who completes the challenge will receive 
their custom challenge badge, which they can pick up at their 
Fleet Feet store between May 4-6th. Badges are 2x2" woven 
with iron-on adhesive, perfect to add to your hat, backpacks, and 
more! 
$20 STORE VOUCHERS 
The first 10 participants to claim their badge in store will earn an additional $20 Fleet Feet voucher, good to use May 4-6th toward the all-new RIDE ISO or Saucony of their choice.