Hallowed Grounds
Hello father, I was so happy to be able to help you finish and illustrate your autobiography last year. Of your 93 plus years, it was over 50 years we were able to spend together, and I was amazed to learn so much about your life that I never knew, plus what you gave for this country. I wanted to share a glorious day with you and the service we held in your honor. We lost you August 1st but I had no idea what to expect for a funeral. It felt like we never were able to close that chapter right away like most families do, but on October 4th we were treated to something so very few will ever experience. Please let me briefly share this as it happened moment for you.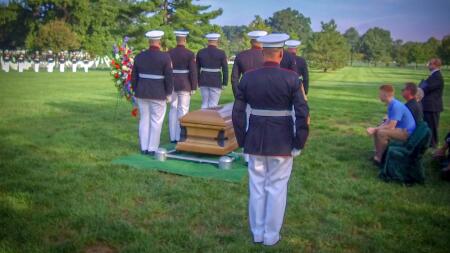 A perfect Autumn sunrise peaks up from the east over the hills. The trees have just begun to show hints that fall is on its way as the sunlight glistens off the rows of white crosses while a warm breeze flows through the leaves on the trees. In the background are the faint sounds of drums, horns, marching soldiers and beautiful ceremonies for the heroes that were to be laid to rest that day. Family and friends gathered closely together not knowing what they were about to witness. On the grass stand 6 incredibly fit Marines and a Master Sargent each with a stoic regimented adherence to attention and with such honor. In the vehicle next to them draped in the American Flag lie the casket of a soldier, a husband, a father, a grandfather, great grandfather and a great first generation American.  In perfect unison these Marines moved to the vehicle and remove the casket. Just a short 40 steps away in the grass are a few rows of chairs, some flowers and in the background are more Marines holding rifles and standing at attention.
 In unison the casket is lowered to its stand just above the ground. All Eyes front while the Chaplain provides needed words of love for all gathered and to return this hero to his holy father. To the left a bugler appears as TAPS pierces the silence while family and friends fight back tears. To the right, Marines with rifles offer a twenty-one-gun salute. All the while 6 Marines are meticulously removing the flag and folding it with the reverence it deserves. In closing, the Master Sargent presents the flag and shell casings from the salute to a new widow while her son holds her tight.
 You see father, it was amazing. The place for which you lay has so many stories to tell and still so many not yet written. Many of those that lie with you never were able to spend the fifty years with their sons like you were with me. Some were never able to have a family or say a final goodbye and so that makes me one of the most fortunate ones. Today marks Memorial Day. It has always been a special day as we remember those that gave all so that Americans have the freedoms so many on this planet do not. It is truly the land of the free because of the brave like you and those in these Hallowed Grounds. I now have a renewed sense of the meaning of this day and will never forget the part in our history you played so that I can write this today. I love you father and miss you dearly.
Semper Fi - Your Son Eric