Ladies, we all know that breaking up is never easy to do, but did you know you should do it once a year? That's right, once a year you should be breaking up with your sports bra. Don't worry! We know it's not easy, and our BraFIT Professionals are here to help!
As active women, there are certain pieces of equipment that are critical to our performance. We already know that getting properly fitted for our shoes is key to how we feel and perform while we are training, but  did you know that it is recommended every time you get fit for shoes you should get fitted for a sports bra? For women, a sports bra is an essential piece of gear regardless of size or activity. Being properly fitted will allow for any active woman to feel a sense of security when performing her activities from doing yoga to running an ultra-marathon. When women feel their best, there is no limit to where they can go or what they can do.
Your Gear Matters!
Unfortunately, 80% of women are wearing the wrong size sports bra or even yet, wearing 2-3 bras at a time. Don't double up! An ill-fitted sports bra can not only hinder your performance, but it can turn your workout into a miserable experience. Aside from overall experience, an improperly fitted bra can also result in chafing and prevent proper breathing. A high impact bra will feature encapsulation and mild compression specifically designed to hold each breast individually and lightly press them to the chest. Most women who don't get fitted properly typically buy a bra with a band that is too big and cups that are too small therefore leaving you unsupported.
Fundamentals of FIT
The Band. The band of the bra should be what is offering the most support.  When trying on bras, make sure the clasp is hooked on the middle hook. This adjustment will ensure that its snug and lies even, which prevents chafing and provides the right amount of support. The band should stay in place during activity and not ride up or shift. This can cause chafing. Also, by trying on the bra on the middle clasp it will allow for future adjustments when the bra begins to stretch.

The Cups. A high impact bra will come with encapsulated cups for each breast that will contain the tissue of each breast individually. When trying on bras, you might have to scoop each breast into the cups to ensure that they are fully contained and centered. Some styles of sports bras even come with molded cups adding an additional layer of support.

Underwire. For the fuller ladies out there, there are styles available that have underwire to them for additional support. Make sure that the underwire sits flat against the body and does not shift or buckle.

The Straps. The straps of the bra should sit flush against the shoulders and they should not dig or slip. The straps are designed to do the least amount of work. Some bra styles have adjustable straps so that you can adjust the bra to fit your body specifically.
Why Get Fit?
A properly fitted sports bra is an essential piece of gear regardless of size or activity. Women should make it a habit to get measured each time they get a pair of shoes, which is generally every 6-12 months. Sizes can change quickly due to weight loss, pregnancy, change in activity, etc.
The ultimate goal here is to reduce the amount of movement and bouncing in the breast. No matter the size, the breast tissue will bounce and with age, they tend to lose their elasticity. This means that the more the breasts bounce, the more they will during future runs. Did you know smaller breasts can still bounce up to 3" in any direction during a run and larger breasts can move up to 5'! Moral of the story is: Don't get too attached to your sports bra. Your bra should never celebrate a birthday due to the fibers and elastic wearing down meaning the bra will not work as effectively.
The BraFIT Process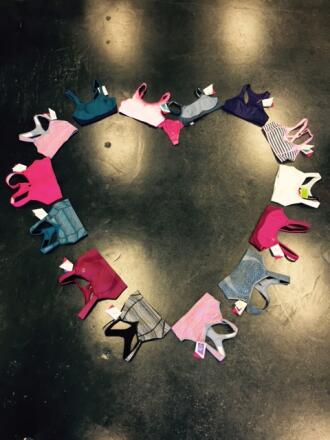 The fit of the bra is an integral part of it's support and overall function. The BraFIT Process is just as extensive and important as our shoe fitting process. Our BraFIT process will include: a consultation with a BraFIT Professional to better understand your needs, select measurements to ensure the proper size, and hand selected bras that will best suit your needs. We will also ensure that the fit of the bra is correct on an individual basis and make sure that you are comfortable at each step of the process. We want to make sure that your bra will provide superior support of each breast individually, breathability, moisture control, and ultimately, comfort.
We want to make sure you are prepared when getting fit, so there are a few things to know before meeting with your BraFitProfessional. First, a properly fitted high-impact bra will fit more snug than a regular bra and your size might be slightly different than your regular everyday bra. When trying bras, make sure to test the bra in place by doing some jumps or jogging in place. This will ensure that the bra feels comfortable, but also is providing the control and support that it should be. The breasts should also move in unison with the torso, not independently, which will minimize bouncing and provide comfort throughout any activity.
When you are ready to be fit, or needing to replace your current bra stop by either Fleet Feet Orlando location and a trained BraFIT Professional will gladly take you through the fit process, make bra recommendations, and answer any questions you may have. Remember, sports bras are not meant to last forever and should be replaced each time you purchase a new pair of running shoes.