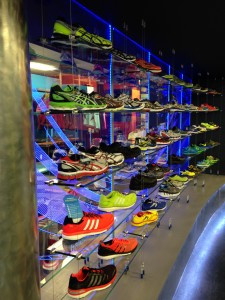 The long awaited move to our new location has come and we have now settled into our new home just a few feet from where we were previously located! If you haven't been into the new shop yet, feel free to stop in, check it out, and say hello! We are loving our new home and we hope that you do too. We still have the same great staff, products, and experience, but in a homier,  more modernized space.
Last Minute Gift Ideas
With Christmas just a few days away, we've got you covered with some last minute gift ideas (and not to mention some sales) for the runner and walkers in your life!
TomTom Runner GPS watches – $129
All Balega and Feetures socks are Buy 3 Get 1 Free! (These are great for stocking stuffers!)
All CEP Compression Products are 20% off
Holiday Ornaments to commemorate your runners big races this year
RunID Gift Cards to keep the runner in your life safe this upcoming year
Nutrition – Gu, Stingers, Chomps, Blocks, etc also make great stocking stuffers
No Boundaries 5k Training Program Registration is currently $99 for early bird registration until January 1st
Feedzone and Feedzone Portables Cookbooks

Ask a FitPro for any additional ideas for the runner in your life!
Upcoming Store Events for 2015
Yoga4Runners kicks off January 13, 2015 at 7:15pm. RSVP on our website (www.fleetfeetorlando.com)
Thursday Night Social Runs resume January 8, 2015 at 7:05pm
Meet The Coach for NoBoundaries and WalkFit Training Programs January 21, 2015 at 7pm
From our Fleet Feet Orlando Family to Yours, we wish you a safe and happy Holiday Season!