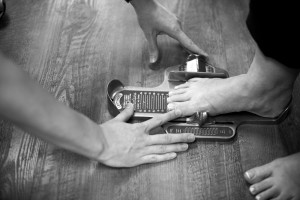 When you come to Fleet Feet Orlando, you are entering into an energetic and inviting environment where our well-trained team will take you through our FIT process. They will evaluate and properly fit you for footwear, sports bras, and the necessary equipment to achieve your fitness goals. All evaluations start with taking two measurements of the feet, un-weighted and weighted, using the brannock device. Next we watch our guests run and video the foot-strike and perform gait analysis. We combine this information to give our guests the best experience and options in footwear for their feet no matter the issue.
What to Bring
Your current athletic shoe so that we can evaluate the wear patterns
Any orthotics or insoles you are using (or have been prescribed by a physician) in order for us to assess their impact on your gait and make sure they will fit in the new shoe
What to Expect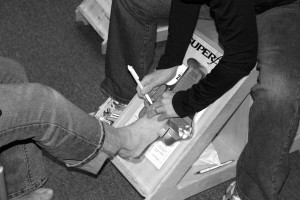 Our team will spend some time getting to know you and your needs. They will take a look at your feet and evaluate your biomechanics. After that they will take a number of foot measurements and present you with a shoe (plus socks and inserts if necessary) that we believe will perfectly match you biomechanical needs. We will watch you run or walk in the shoe and evaluative your gait to make sure the shoe provides the appropriate support and cushioning. If necessary, we will show you other options and choices that would work for you and all that's left is for you to decide which option feels the best.
*We recommend you have at least 40 minutes available of your first visit to complete the process and ensure a proper fit.