Do you have experience running and/or walking marathons and have a passion for sharing your knowledge and experiences with others?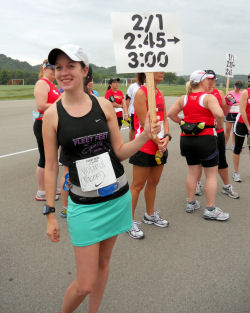 We are currently looking for experienced runners and walkers to become Pace Group Leaders for our St. Jude Country Music Marathon and Half Marathon Training Programs. Our programs would not be possible with out our top-notch Pace Group Leaders.  If you have a passion for helping other achieve their personal athletic goals in a positive, organized, and fun environment, then consider being a Pace Group Leader.

What is a Pace Group Leader?
A Pace Group Leader (PGL) is a invaluable resource to our training program participants and a "running" representative of Fleet Feet Sports Nashville.  PGL attend every group workout throughout a training program to provide support.  Their main responsibilities include offering positive energy and a positive attitude to the group, on road safety support, keeping an assigned approximate pace while walking or running, educating participants about the benefits  and solutions that Fleet Feet Nashville offer, as well as calling on their past personal experiences to provide wisdom, advice, and general tips when it comes to training for and participating in a marathon, half marathon, or other road event.

Requirements:
Has run or walked at least 2 marathons (Marathon Pace Group Leaders)
Has run or walked at least 2 half marathons (Half Marathon Group Leaders)
Attend all training workouts
Is not training for a specific time goal for the St. Jude Country Music Marathon or Half Marathon
Can maintain a desired pace or has access to GPS watch for pace guidance
Can attend a Mandatory 2 hour training seminar
Is a people person and desire to help others achieve their goals

Benefits:
Warm fuzzy feeling from knowing you made a difference in someone's running and/or walking
Free entry into program (including all the benefits the participants get)
Sponsor incentives/discounts

Please complete the application below and a coach will contact you soon.
---