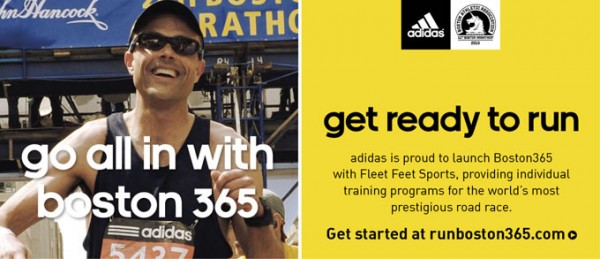 Boston 365
Brought to you by Fleet Feet Sports, Adidas & Competitor Magazine
Boston Now – You qualified, Now What?
$250 to participate
16 week training program
1 group long run
1 speed workout coached per week
$1,000 Weekly adidas raffle – gear and giveaways
Boston Weekend – VIP treatment

Early access to the Expo (Saturday only)
Sam Adams Brewery tour - family included (RSVP required) - Saturday
VIP Party with Competitor Group - includes families - Saturday night
Bus to the Start Line – stay on the bus, leave gear on the bus; returns to the Marriott with gear for quick retrieval post race.
VIP finishers lounge at Marriott for runners (5am - 6pm) - food, massage, meeting place for families, pick up drop bags. The VIP room will open at 5am and have bagels and coffee in the room for runners before the bus departs in the morning. Massage & nutrition post race
Adidas training shirt

Participant responsible for travel, Boston Entry payment, Accommodations, and food outside of scheduled events.  
Email christibeth@fleetfeetnashville.com with questions or click here to register!
Want to QUALIFY for Boston?
Visit www.runboston365.com for more information or email christibeth@fleetfeetnashville.com to get started!
To register, click here
Program Start: ex: Sunday, January 18th, 6:00pm
Program Fee: ex: $100 excluding race fee