I keep picking at the scab of this memory, in hopes that the wound won't heal. I realize that I need to put my thoughts down before they become too skewed.
I realized upon reflection that going into a race with the intention of breaking a course record is an arrogant act. This entire recount reads, to me, as the self-important ramblings of a niche athlete. That isn't the intent. I want to articulate the feeling, the athletic sensation I have only felt one other time in my life.
In the beginning, it was an obsession. I would geek out on all the local races and the lore that surrounded them. I read Jamie Dial's account of his win streak down at San Juan Solstice, Mt. Cheaha, LBL, Oak Mountain, and breaking the course record for Black Warrior, and wanted to feel like Dale. I wanted to run like Jazz, Funk, and Bluegrass.  I read accounts of Josh Wheeler, the young guy who had experienced a lifetime, with such an inspirational past that it made me feel lazy. I wanted my house to be adjacent to trails. I followed the results of the big players, seeing Danny Mueller and Johnny Clemmons and Riddle throwing down inhuman times. And I stumbled upon Matt Simms and Chad Wamack's experience on the Cumberland Trail that evolved into the Upchuck 50k.
I watched the recount half a dozen times, feeling like I had been with Matt and Chad as they left the Hwy 111 gas station, loaded up on snack crackers and curdled protein drink. I saw the grim sweeper clearing the course of debris. I pictured the hardened runners who completed the unrelenting course.
I signed up for the event in 2012.
I thought I had slid in under their requirements for the race, though I hadn't run a 50k in the past year. A couple days later I received an email from Randy that said, more or less, "Nice try, but we have enough meat on the course."
Dejected, I pleaded with Randy, citing performances from the previous year outside of trail running in an attempt to gain entry. I assured him, I would not die on this course.
It took about a week for Randy to reply with an equally terse "Okay. Have fun." I was in.
I entered the lottery in 2014, with new goals for the Upchuck. I knew the course, and felt pretty fit. A couple days after pulling the trigger I sat down with some friends who provide considerable training advice to go over my fall schedule. One looked at my race calendar and said, "Your goal race is a 10k in December. [The races leading up are] 50k, 50k, 50k, hilly-ass marathon, 10k. Perfect." Her suggestion was clear. As a result, I sent Michael Scott an email, attempting to pull out of the race.  He replied with "No problem. See you there!" Something was lost in communication. One year I'm begging to race, the next I'm begging to be left out. I received my acceptance email later that week.
As the race approached, nervous apprehension settled in like doorman with a Billy club. I was running myself ragged training on trails. I walked a razor line between fitness and injury.
I spent all my time on the roads and on the track, and I felt healthy. Occasionally I would make an excursion off road, but they were few and far between. The concern surfaced that I might have lost some of my trail-edge and nimbleness that really distinguishes me as a trail runner.
I looked over the course for at least 2 hours the day before the race. I read every blog post available, and tried to get as much course beta as possible. I had seen where a guy went off course and slept under some leaves. I would not be that guy.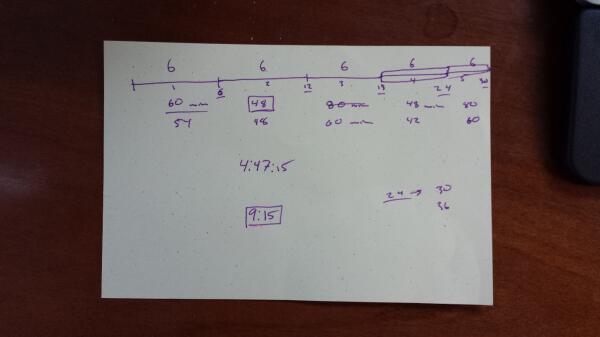 The Plan
I set up the course into digestible sections. It seemed to come in 6 mile increments. The first 6 is predominantly uphill and technical. The next six run down through pine forests and is broken up with an aid station. This section I planned to recover from the previous, and set up for the 3rd six mile section, which goes into little and big Opossum Creeks, and is another hilly, techy section. The 4th component is road and flat/downhill, which would offer plenty of recovery for the last section through Soddy and Deep Creek. Once I hit the road, I'd be home free. I refreshed myself with the course. I had a plan, with times associated with each section. Executed, and I'd slide in under the course record.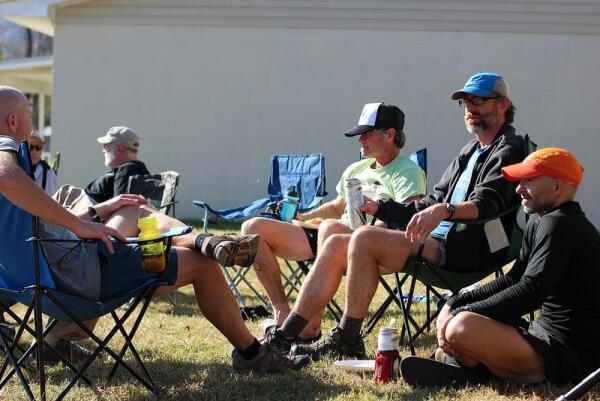 Legendary Beards
I drove up to the pavilion and saw a bunch of bearded dudes standing around a fire. It's Around You played in my headphones and I felt an adrenaline chill wash over me. I knew it would be a good day.
I drove up to the pavilion after running into some Nashville friends in a last stop gas station. Till I Collapse played in my headphones and I felt myself smiling, the same familiar chill appearing. A bunch of bearded dudes were still standing around a fire. They may not have left.
So many of the runners, volunteers, and directors I have grown to know and care about over the years. To see them in this raw and stripped setting lends authenticity to the experience. I checked in, had my race number drawn on my leg, and made last minute preparations. My plan was to run with minimal supplies.
We boarded a school bus to be shuttled to the start, Ray Jay and Chad taking turns with the passengers. I sat with my knees crammed in the back of the seat in front, a fanny pack with two bottles, a ton of food, my phone (in case I did happen off-course), Brooks Cascadia shoes, too-short shorts (no such thing), and a blue long-sleeve shirt. I shook with nerves the entire ride. I knew absolutely no one at this event.
We boarded the same school bus to be shuttled by a Soddy-Daisy resident named George Champagne. I sat next to Jobie, with my knees still crammed in the back of the seat. Scott sat in the seat to my left. Yong was in front, along with Hawkins.
Jeff Davis was eating Fritos a row away.
I had a single handheld bottle with 3 gels stuffed in it along with 5 gels in various pouches in my shorts, New Balance Fresh Foam shoes, and the same blue long sleeve shirt.
Yong asked during the ride if I had been running at all lately. This reminded me why I don't post my training on Facebook.
We came to the start and I positioned myself near the trail head. There was no real warning or start gun. A group picture was taken, and we were set loose.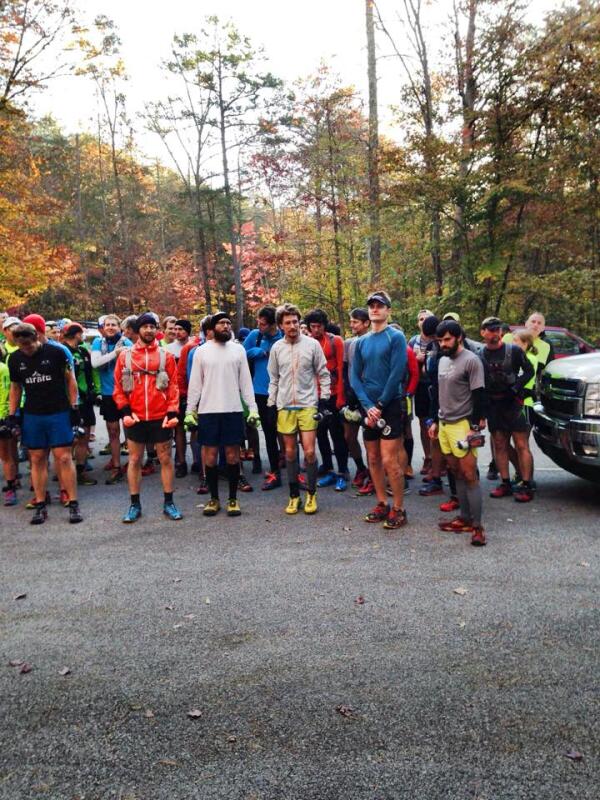 The Start (Reuben Watkins)
We pulled into the trail head and had a few minutes to spare. While I was watering a tree, a truck pulled out with my handheld on the grill guard, which would have made for an interesting day.
We lined up for the photo, and I positioned myself out front with Nathan. He was coming off the Pinhoti 100, and I was questioning his sanity in running at all one week out. Chad gave some remarks, took a selfie, and sent us off.
I ran with a group of 3, well beyond my comfort zone. The first section was technical, but flowing.
I started with a steady aggressive pace. I was not interested in getting comfortable behind anyone. The day felt amazing, and I had to execute my plan. My body felt well-rested and strong. I knew I would struggle with alertness though, having made the drive down that morning. The trail followed the creek below, meandering in steady, but manageable, ascents. Nathan ran with me for a portion of the first section. With fresh legs, this section pieces together well. You can take the downhills aggressive and maintain momentum into the short climbs.
Being autumn, leaves cover the ground, hiding rocks and other obstacles. This seems to be one of the cruxes of the Upchuck.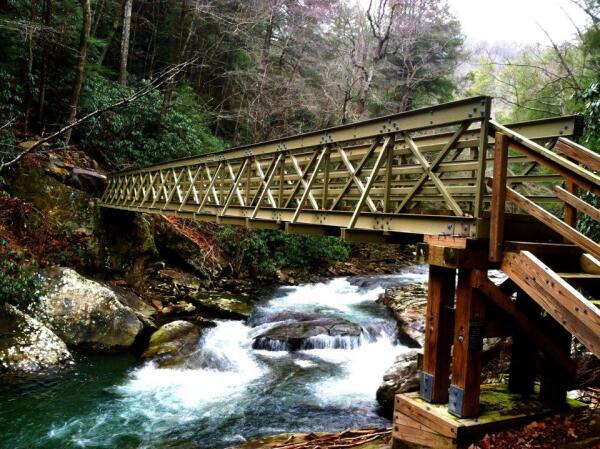 Fiberglass over Rock Creek (Fred Doss)
Coming into the first aid station my legs have been tenderized and my heart rates rests comfortably at 185. One of the guys I'm running with tears off into the pine forest with an ambitious yell. Plumber and I are left to plod along.
I left the first aid station after 65 minutes. I frantically grabbed at gels and water, until I realized there were no cups. Well, I had plenty in my bottle and wasn't taking much fluids. I ate, the second gel since the race started, and tried to stick to the plan. I was two miles into the second segment, and had four more miles of downhill to recover. I could see the concern on the faces of everyone at the aid station. This race has become NASCAR, and they are waiting for the blowout.
Running with Plumber, I let him lead and gave him unwanted encouragement throughout. He would run the uphill, and I would tuck in and hike behind him. At one point he comments that he "doesn't need a cheerleader".
The miles were ticking by, and I worked to stay focused on a consistent pace. I rolled into the next artificially prepared segment, indicated by a steep technical downhill to Little Opossum Creek. This was the beginning of where things started to go wrong.
I stayed behind Plumber, letting him stay on course. A few times I called out directions when we seemed to be going astray. Having two eyes on the trail is something I often take for granted. I continued to encourage him. I think I'm growing on him.
The switchbacks on the descent are masked with leaves, and you absolutely have to stay alert of trail markings to keep on course. It became a balance of speed and path-finding. At three separate occasions I found myself walking back to the last course marking and looking for the next piece of flagging or trail blaze. Of course, this just adds to the excitement.
Currently, I'm at Little Opossum Creek. This section is followed with an ascent, then a steep descent into Big Opossum Creek. The trail runs beneath jutting rock prows and caves, the trail littered with long detached fragments. During the descent, I missed a switchback near a jeep trail, and began to bomb a double track for about a quarter mile. All the while I held a sinking feeling that I was deviating further and further from the Cumberland. Fortunately, I had the good sense to turn around, if not a bit too late. Mentally, this was devastating, and I had honestly given up on any course record. I hammered the uphill like it was the end of a 5k, and ended up back on the trail in what seemed like an eternity.
Deflated, I found not only the trail, but the next place runner. We came upon the bridge at nearly the same time. This was what I had feared since the start. Based upon Michael's hometown and previous races, he could climb. Coupled with my detour, he pulled ahead on the steep uphill to the 18 mile mark. My legs hurt, I was mentally down, and he was looking strong.
When Plummer and I came into the Hwy 111 station, I ate a PB&J and began hobbling down the road. I had no turnover, and being on pavement felt unnatural. He decidedly put a good 5 minutes on me during this section. All the while, I was yelling encouragement at him. Call it a personality defect.
We came into the Hwy 111 aid station at the same time, me slightly behind Michael. I didn't need any supplies, and left after getting some much needed encouragement from Matt Simms, Michael Scott, and so many others. I quickly checked the time and realized we were still on track. I needed this next section to serve for serious recovery.
The roads felt familiar and easy. My legs ached, but were recovering, and I was keeping around a 7 flat pace. The trail dove into the woods and followed a fence line. Looking back, Michael was still in view, but I had gapped him a good bit on the road section. Negativity still pervaded, and the trail seemed to be stretching on longer than I remembered, all unfamiliar.
I was lost again. I knew it. This briar thicket grew in my mind, preventing rational thoughts from traversing. I would walk to the road and get a ride back to Soddy-Daisy. I would stand among the bearded men and tell them about how I would have broken the record, or could have done so well, if only things had been different. A lie. I would be a slave to the hypothetical. My memories of this event would be wraiths, all because I couldn't follow a course. The guy behind would have caught me anyway. I wasn't trained for this, and didn't deserve….
A flag.
…I was on trail. Relief mixed with disappointment. This meant I was still on course, which meant I was still racing. Which meant I had to continue running through this pain. The trails began to coalesce into recognizable recollections. I was still on track, and I was running my race. Michael would surge closer and closer still, but he never was closer than 10 meters back.
I was alone.
The pine forest passed without event. I suffered my private hell in silence.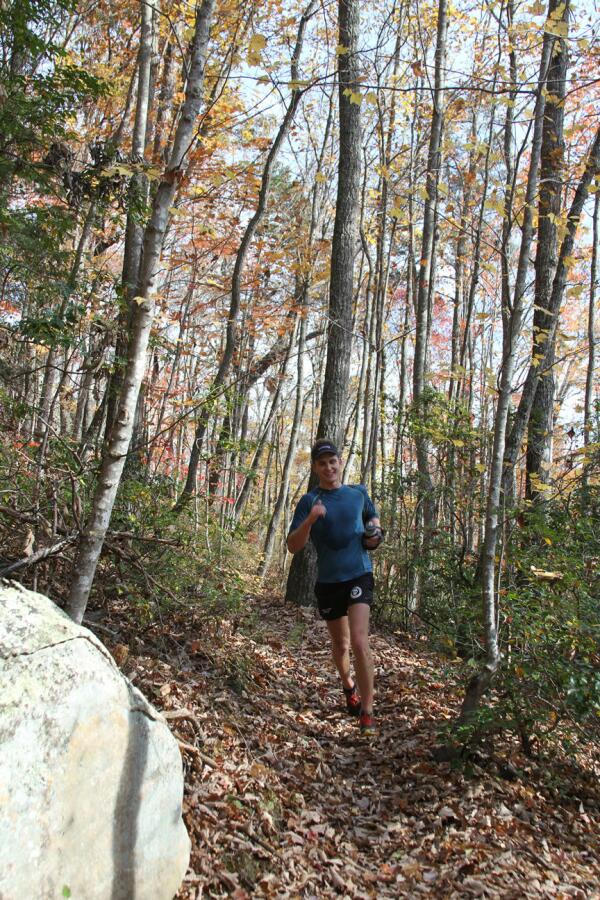 Easy rolling (Reuben Watkins)
Rocks began to bloom among leaves. My feet connected with solid terrain faithfully, each committing step affirmed with supportive solidity. My legs were worn, but still strong, and I began to float. This was what I have done since I was young. This is why I run in the woods, and what makes it all worthwhile. Whether I broke any arbitrary time or not didn't matter. I was free, floating over the rocks and roots. Branches seemed to bend to let me pass, and the dirt and rocks pushed upward into my step. I crossed the boulders through Soddy Creek with bounds and began the steep ascent.
I hesitantly looked back, and I was alone.
I came upon Soddy Creek and Plumber was climbing ahead. I caught a glimpse of another up ahead.
The trail running through Deep Creek is the most technical section of the course. The strewn rocks and boulders coupled with the fatigue makes for staccato running if momentum is broken.
I stubbed my toe on yet another boulder, sprawling out in unison with a calf cramp. I stood and ran, clubbed foot clipping every rock.
The trail to Deep Creek blinked past. Not to say I didn't hurt; my body was balanced on floss. But the movement was mandatory, and I took a moment to mentally break down the remaining time and distance.
As I descended to Deep Creek, scrambling up onto the trail under a fallen tree, I knew that I just had to hold things together for a short while. This scramble blessed me with the only cramp of the day. A quick calf cramp that loosened quickly, but the pain persisted well into the writing of this. My body screamed to stop, but one step begot another, and eventually the trail resumed the saw tooth meandering.
One mile from the road, there was a runner on the side of the trail. Cramping, badly, was the former first place runner.
The time elapsed was 3:45. By my estimates I was maybe 2 miles from the road. Running 10 minute miles, I'd not only come in under time, but put a considerable deficit on the current record.
The reality of the situation hit me, and I couldn't help but laugh. It was a laugh mixed with a cry; the kind of hysterical behavior that comes with working for something for so long, and finally being released. I had once thought to quit.
I hit the road after an eternity and saw Plumber in the distance. He was rolling. I again yelled at him, egging him on to run faster.
A train bellowed in the distance.
I came upon the tracks in time to see Plumber stopped, hands thrown in the air, a train in front.
The final car passed with a 400m gap between us, and he took off. He finished a couple minutes ahead, claiming a new course record of 4:47:15. I came in at 4:48:52.
I hit the road, adrenaline fueling my run. The final stretch lay before me.
I heard a whistle in the distance. My heart sank. History tends to repeat itself.
I ran. I ran as if this was the start of a 5k. The downhill road beckoned, and I answered with a pace in the 5 minute range.
Tears were filling my eyes and I was shaking. I was going to do it.
I turned the corner to catch sight of the tracks.
There was no train.
I ran harder, laughing, and crying, and feeling pain, and clouded with euphoria.
Randy was a quarter mile from the finish, cheering, incredulous.
I rounded the final turn, with the pavilion in sight. I was fueled by the moment, the encouragement, and the fumes of adrenalin. As I approached the finish I threw down my bottle and slapped the trash can, an unceremonious finish to a near-religious experience for me.
I had done it. The time was 4:22:44. I had taken nearly 25 minutes off the previous record. I sat amazed, surrounded by the bearded men.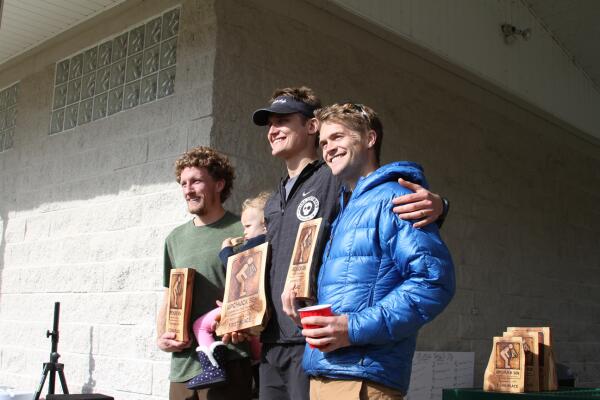 The Finish (Reuben Watkins)
Nathan Holland came in at 4:36:19 and Michael Barlow at 4:36:57. I was fortunate that Nathan had tired legs.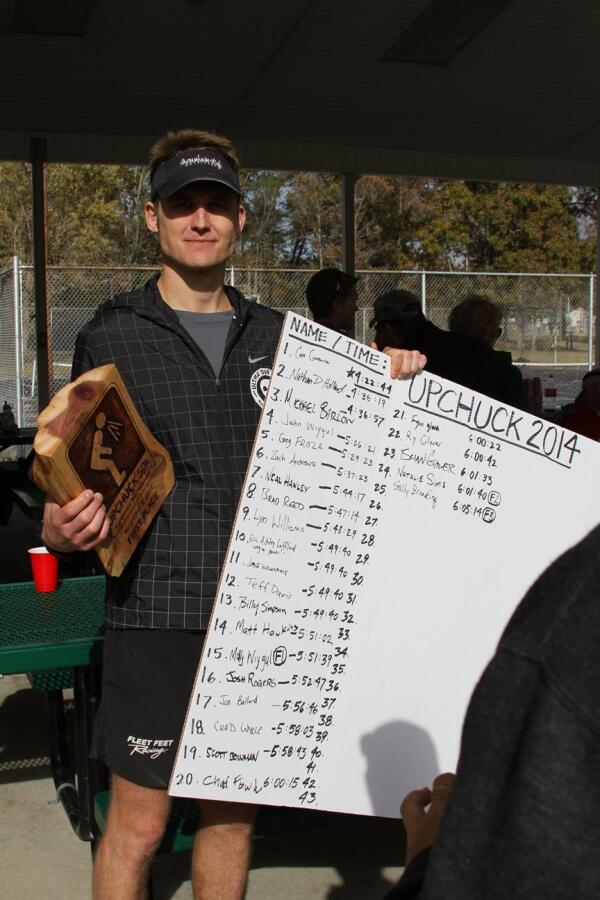 Complex timing (Reuben Watkins)
The moment is galvanized in my mind, and reinforced by all the kind words and support of all those who shared this event with me. Each runner had their own experience that day, and that is the soul of this sport. Sitting in a pavilion, surrounded by friends old and new, each understanding what the other has endured and accomplished, forms a connection beyond the superficial.
I sat with Randy after the event, remarking on how my entry into the race almost didn't happen. I thought to myself, I can run this course faster, and I can break that time.