By Kylie Korsnack, Fleet Feet Race Team Member
 Back in May, semi-pro runner and Olympic trials hopeful, Addie Bracy tweeted: 
"Ideally, I would sit in a big leather chair, sip coffee and read books all day, occasionally venturing out for a run, is that a career?"  Almost immediately, Fleet Feet employee and Race Team Coordinator, Hunter Hall sent me Bracy's tweet with the caption: "Isn't this basically what you do?"  Yes!  Well, kind of.  Take out the deadlines, course lists, piles of student essays to grade, and pressure to publish original works of research, and Bracy's tweet perfectly describes my profession J.  As a PhD student in English literature at Vanderbilt, I spend most of my days reading and writing, squeezing in running and training whenever I can.  But now that summer is finally here, I have time to add some running books to my reading list! Below you'll find my picks for this season!  What are you reading?  Anything I should add to my list forfall? Email me your recommendations at kyliejk@gmail.com!
Here's my Summer reading round-up:
Fiction
Once a Runner. By John L. Parker Jr.  New York: Scribner, 1978.
In honor of John L. Parker's upcoming release of Racing the Rain*, I thought I'd return to the original cult classic.  Once a Runner follows collegiate runner Quenton Cassidy in his quest to run a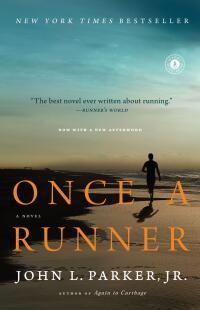 sub-4 minute mile.  Although Once a Runner has been criticized for only appealing to an audience of competitive distance runners, this is perhaps one of its greatest strengths as a novel.  Parker succeeds in capturing the competitive mindset, training habits, and physical/mental struggles of competitive runners in a profoundly accurate way.  Remembered most often for Cassidy's epic (and highly unrealistic) 400m workout in the mountains, and the play-by-play account of Cassidy's big race against the world's greatest miler (can you guess what happens?), Once a Runner is a fantastic work of fiction written especially for runners. Whether fast or slow, old or young, male or female, if you call yourself a runner, then you need to read this book. You won't be disappointed. 
*Racing the Rain, what Parker has called a "prequel" to Once a Runner, comes out on July 14th. This one appears to be Quenton Cassidy's "coming-of-age" novel and will most definitely make my summer reading list.  If you're more of a marathon/ultra-type runner, then check out Parker's 2008 release Again to Carthage. As a sequel to Once a Runner, Again to Carthage, follows an older Cassidy as he takes on the marathon distance and tries to notch an Olympic qualifying time. 
Non-fiction
The Sports Gene. By David Epstein. New York: Penguin Group, 2014. 
David Epstein's expansive exploration of the genetic make-up of elite athletes provides a fast, accessible and simply fascinating read for anyone interested in sports performance.  The Sports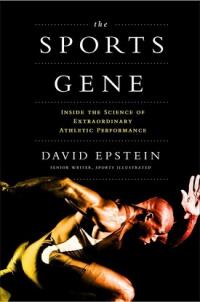 Gene offers a detailed look at elite athletes ranging from grandmaster chess players to Olympic volleyball players, professional weightlifters, NBA basketball stars, high school sports phenoms, and runners specializing in all different events.  Analyzing differences in gender, training methods, physical stature, cultural support and countless other factors, Epstein's work seeks to unravel the underlying secret behind elite athletic performance.   Runners like Jim Ryun, Paula Radcliffe, and Usain Bolt get a lot of traction in Epstein's discussion; however, this book reaches an audience well-beyond competitive runners.  Indeed, this book is for any sports fan. And don't let the science dissuade you from reading, The Sports Gene is incredibly accessible, and you'll leave the reading of Esptein's book with all sorts of new and interesting sports knowledge.  I have been telling everyone about this book: Go read it!
Training
Hanson's Marathon Method: A Renegade Path to Your Fastest Marathon. By Luke Humphrey with Keith and Kevin Hanson. Boulder, CO: Velo, 2012. 
Growing up and into my running career in Northwest Ohio, I first became aware of the Hanson Brothers as the coaches of a semi-local, elite running group.  And for me personally, The Hanson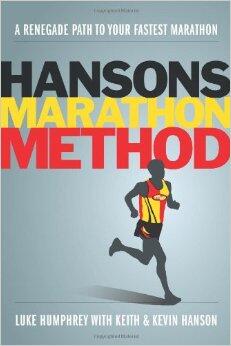 Distance Project turned the "Hillsdale Relays" (a little DIII college track meet in Hillsdale, MI) into quite the show.  As a distance runner at Bowling Green State University, I approached each race at this meet with the simple goal of not getting lapped by the Hanson's group!  The Hanson Brothers' and their unique training method has more recently received national attention with the success of 2012 Olympic marathon qualifier, and Hanson runner Desiree Linden (She just recently finished 4th at the Boston Marathon), but this attention has also led to many questions related to their innovative approach.  Hanson's Marathon Method seeks to explain their training philosophy and clarify the most common misconceptions about this approach. Their method, which favors quality over quantity, is a much lower mileage approach to marathon training than some of the other methods out there.  Even if you don't completely buy into their philosophy, this book is a must have for running coaches or athletes who coach themselves simply for the alternative perspective and detailed training plans included within the text.  Hanson's Marathon Method includes step-by-step training plans for both the novice and the competitive runner, and for me personally, it serves as a bank of all sorts of workout ideas to supplement my own training plan.  So, if you're looking for some new workouts, or simply can't stand the super-long runs usually associated with marathon training, give the Hanson Brothers' method a try.