Matt and I were first introduced to "My Veggie Chef" by an employee and certified Ultra Dirtbag, Jared. One thing you should know about Jared is that he's a "foodie".  Name any city in the U.S. - and even some overseas - and he can tell you where the locals go for the best food in town. Since A LOT of our casual conversations at work revolve around food & exercise, it didn't take long before the topic landed on these locally delivered vegan meal kits.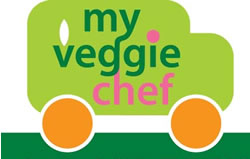 My two most used excuses for eating poorly are (1) "I run so I can eat whatever I want!" and (2) "I'm too busy to cook something healthy." Maybe I'm the only one, but I'm going to bet most of you have said the same thing (ok, I KNOW you've said the same thing because I've overheard you saying the EXACT same thing while shopping in our store). I'm not vegan, but I liked the idea of having at least five meals planned for me...that actually included vegetables.
If you're interested, check out Chef Kristie at www.myveggiechef.com and let me know how much you love the lentil sloppy joes!