Employee Spotlight: Vicki Hall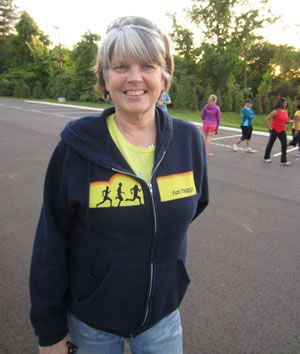 What was your first experience with Fleet Feet Sports?
My first experience was as a customer. When I started my job search two years ago, I tried to seek out the places that I love to frequent as a consumer. Fleet Feet had always welcomed me with open arms and made me feel right at home. I wanted to be a part of the culture that they have created.
Describe a day in the life at Fleet Feet Sports.
I love this question because you never know what a day will bring. I wear many hats so my day is always different…could be a day when I am ordering product, coaching, fitting sports bras, checking in new merchandise or my favorite, playing with the many kids that come into the store. I love my job!
What is the biggest perk of your job?
My work family. I am so fortunate to have so many wonderful, sweet and funny co-workers. It is truly a blessing to have them in my life.
Tell us about recent race experiences.
The past two years, I have leaned to the fun side! I have done the Disney Half, Disney Princess Half, Santa Hustle half, Warrior Dash, Color Run and the Women's Half marathon in Nashville. I have come to the age that I embrace the experience and know that it is the journey that matters. I am slow….and I have embraced that too!
Tell us about your family.
I have three fantastic children, two sons and one daughter. They are all grown and married to fantastic people that I consider to be my children as well. I have six grandchildren (three girls and 3 boys) with one more sweet baby due in January. Oh, and my four legged daughter, Zoe. She is not an overachiever….she still lives with me.
What is your favorite motto or quote?
I will have to say that I have borrowed a saying from one of my No Boundaries participants. She told me that she was in "Grateful Heart Mode." I love this and try to approach every day with a grateful heart for all that I have and all that I have to give.
Do you have a favorite song to run to?
Always the first song on my running playlist is "Keep the Car Running" by Arcade Fire. It is like an old friend.
What motivates you most?
My coaching No Boundaries (couch to 5k program). The spirit of the participants is so uplifting and life affirming. To watch the progress and the will and determination of these new runners is amazing. I have the privilege of sharing this moment of their life with them and it never gets old.
Outside of Fleet Feet's doors, what do you do?
My favorite thing outside of work is spending time with my family. My daughter, granddaughter and I have run several races together and it is a good feeling to pass on the love of running and of an active lifestyle to my kids. I also love to paint, draw and all things crafty.
This week is Vicki's two year anniversary at Fleet Feet Sports Nashville!