Diane Bolton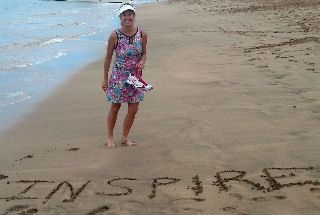 How long have you been a runner? What got you started?
Two weeks of me being diagnosed with high cholesterol and my father surviving a heart I realized I needed to take control of my lifestyle. I saw a beginners run group forming and thought this would be a fun, inexpensive way to so. So less than 10 years ago, at the age of 43 I laced up my first pair of running shoes.
You are a known maniac.....Marathon Maniac! What is involved with reaching that status? How many full marathons have you run? How many states? How many countries?
Ha,ha, yes, I am a Maniac! I unexpectedly found passion running marathons and challenged myself to meet the criteria of eligibility of like-minded runners by running a marathon a month. However, I didn't stop there and upped my challenge to reach the highest possible status, or "Titanium," where one must run 30 marathons in 30 different states in a year or run 52 marathons in a year. I have officially completed this both ways. To date I have run in 165 marathon distances or longer. I have enjoyed running a marathon in every state once, and enjoyed it so much so that I have begun to do it again. I am 5 states short of completing this for a 2nd time. l also had the thrill of running in the 2500th Anniversary of the Athens Marathon in Greece.
What is your favorite marathon?
I have many favorite marathons for very different reasons, but one special event was the Marine Corps Marathon in Washington DC. The streets were lined with Marines cheering the runners and the course viewed many of the monuments.
What has been your most memorable experience during your marathon expedition?
There have been many memorable experiences on this marathon journey. Most recently I completed a "triple," which was 3 consecutive days of running long distance. Day 1 involved my 1st 40-mile ultra race at the Black Diamond in Jackson, TN, followed by a trail marathon the next day and a road marathon the third day for a total of over 92 miles in 3 consecutive days. Another memorable moment provided a real "blast" when I was bestowed the honor of being the official starter of the Do-Wacka-Do 50K. I'd never shot a shot gun much less seen one. It's about perseverance and enjoyment of the journey.
Tell me about your family.
I have a fabulous husband who also enjoys running (shorter distances) and three wonderful children. Once they were all driving, I lost my motherly chauffeur job. That is about the time I began running more. They all inspire me, and, in turn I hope to inspire them to keep reaching toward their goals.
What is your next goal?
I am looking forward to running a marathon on every continent as well as completing my 200th marathon.
Who inspires you?
I am inspired by those who see that they can achieve despite his/her obstacles.
What is your "Must Have" at Fleet Feet?
Quality sports bra fittings! Thank you, Carol!