Follow along as Cody Goodwin and Olaf Wasternack prepare for the toughest challenge of their running careers- the Vol State 500K relay. They will be attempting to set a super fast course record for the 314 mile route. This is the fourth update in the series and they are now less than four weeks away from the race. If you are behind, you can see update # 1 HERE, update #2 HERE, and update #3 HERE. 
Olaf Wasternack:
Folks, by now you are used to getting the weekly scoop on how relay preparations go, and I could write a whole page about it. However, in short, last week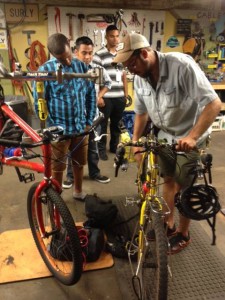 has been somewhat of a drag. Fortunately, I was able to close out with a strong weekend, and feel really well prepared with only four weeks to go. More importantly, I want to share our new relationship with the Oasis Center and specifically, the Oasis Bike Workshop. Our goal with this involvement is to raise funds and awareness for this program, and garner additional support from our running community.
The Oasis Bike Workshop was founded in 2009 and is a year round earn-a-bike program that empowers Nashville's young people with alternative transportation. Even though this sounds great already they do so much more than that. The involvement in this program teaches kids the very skills that will help them succeed throughout their entire life such as time management, team-work, and project planning to just name a few. As former cyclist and bike mechanic, I can easily relate to this project and am really excited to support it. I still have some relics from my old cycling days, and will bring them over to the workshop. If any of my cycling or triathlon friends have gear that you don't use anymore (I know you do!) please consider donating it to the workshop (1704 Charlotte Ave, Suite 200) or if you don't have any time, just let me know and I can pick it up for you and take it there.
We are partnering with the Oasis Center to have a sendoff party that we're still working out the details for, but hold April 21st in your calendars! They always need donations, whether monetary, material (shoes, bikes, painting supplies), or your time.
 Cody Goodwin:
For me, this past week has been full-on recovery. The Music City Trail Ultra came and went, and took its toll on me. The Dirtbags had a HUGE presence out there. Shannon Schuerman took first in the 12k, Olaf took 1st in the 25k, with Kara Molitor taking 3rd in the 25k, and Rebecca Murray took 1st for the women in the 50k and 2nd overall (unreal), with Peter Kleuser taking 3rd for men and THE Roy Tamez winning the master's division. It was a sea of pink out there with all those Fleet Feet Friendlies on the trail, which was awesome to see.
But I have to say….
Those hills…
This race clicked. Thankfully, Olaf slowed down to run the first half of his 25k with me, and that kept us both rolling at a decent, sustainable pace. He went on to crush the 25k course and win first overall against some stiff competition. After he left, I just kept rolling, not really thinking about time as much as feel. I kept eating, having fun, and kept the pressure off myself.
This is a rare thing for me. I tend to over-think, over-analyze, and overexert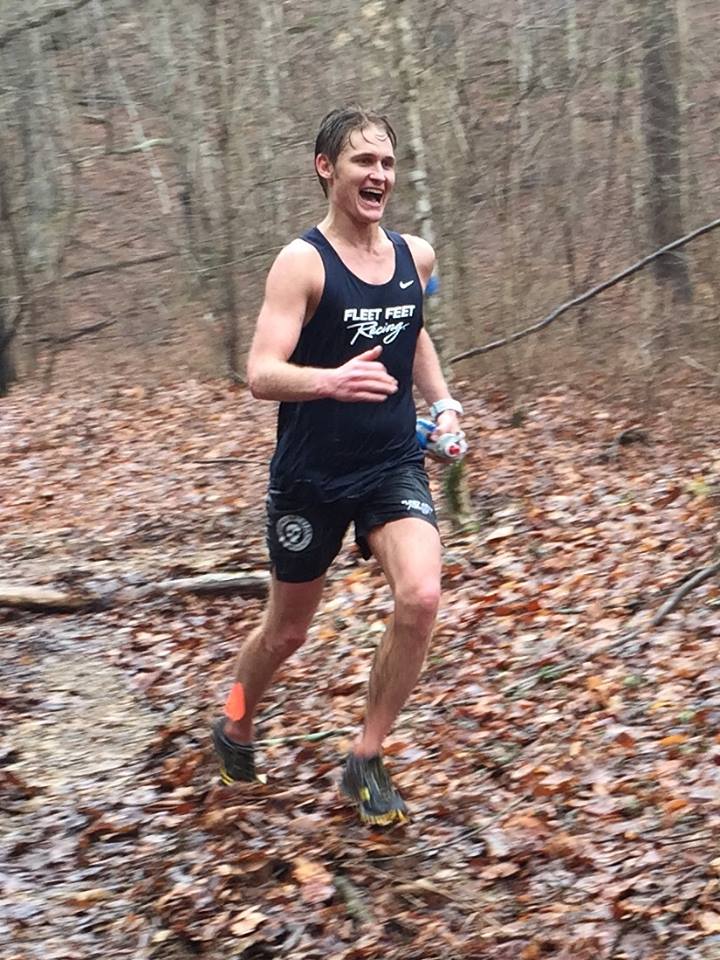 . Growing more comfortable with my level of fitness and abilities has been a learning experience. The first 50k I ran, I couldn't walk for 6 months after. This past, I was able to manage a shake-out run that evening.
During the race I just kept telling myself, "I'm alive." Not in a survival sense, but just thinking how grateful I am to exist at all. Not to get all wacky existential, but it did put things into perspective.
After I hit the final aid station, I figured it was time to take the bridle off. I hit the last 5 miles of jeep roads and gradually started to tick up the pace. Seeing all the runners on the course after being in isolation put some pep in my step, and by the time I hit the final downhill I was full on. Coming in well under my projected time was an incredible feeling, second to being able to share the day and the achievement with all the people with whom I live, play, train, work, and love.
The trail is awesome. The people are awesome. The event is awesome.
We're getting closer and closer to this relay, and I hope everyone is as excited as we are. If you have any questions about how to follow us, what you can do to help, or can refer a good shrink, feel free to reach out to us!
Again, look for details regarding a kickoff party the Tuesday before the race (the 21st)
- Cody