Follow along as Cody Goodwin and Olaf Wasternack prepare for the toughest challenge of their running careers- the Vol State 500K relay. They will be attempting to set a super fast course record for the 314 mile route. This is the third update in the series and they are now less than six weeks away from the race. If you are behind, you can see update # 1 HERE and update #2 HERE

Olaf Wasternack:
Another week done- a good one. Despite some weather issues I was able to turn in some good miles and it feels like that things are coming together. I am so excited for the relay that I can hardly stand it and would like to start right now. I wonder how long this feeling will last after the start. This is me to Cody at the start:
It seems that running is always a good topic to talk to all sorts of people anywhere. People generally can relate to marathons and think you are nuts when talking about anything longer than that. However, it turns out that talking about the VS-500 is not a good topic to talk about. Somehow most people I talk to get confused and by the time I am done explaining, the talk has turned into a weird monologue.
After two canceled races I am very ready to get my first race in this year, the Music City Ultra Trail Race. Although I will only do the 25k I am sure I won't get too bored on the course when I consider the weather. It looks like lots of people have already signed up!!! Woohoo!!! #CookieSpeed
Cody Goodwin:
Six weeks left, and things are rolling. I feel healthy, strong, and remarkably quick. Mile training is continuing, and it translated into a personal best in the 5k this past weekend at Tom King. The PR train was rolling for the Fleet Feet race team, as a number of runners PR'd and placed.
This weekend comes the Music City Trail Ultra. I have so much to say about this event, that I'll save it for a different post. Know that we have a history akin to ex-lovers.
Who would wear a shirt with this logo on it? I'm thinking of doing a run just for the Vol State to support the man that is the machine.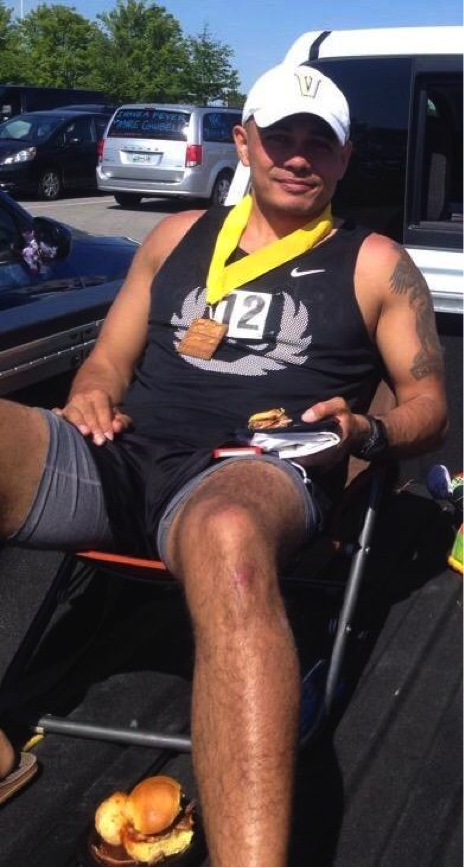 We'd like to take a moment to highlight the unsung hero of this operation, James Suh.
Olaf and I have been selfishly highlighting our training leading up to the Vol State 500k, but this event won't happen without the critical help of our fearless leader, James Suh. James has been training tirelessly for 60 hours of riding and ridiculing. Just look at the intense effort he's putting forth in his daily routine, which he terms: Baseline Aggressive Rest Formation (BARF)
It isn't easy crewing a couple of dirt bags as they cross TN. James is going to be operating on minimal sleep, maximal coffee, and will be front line for the chemical maelstrom that will be waging in our veins. If you have ever crewed for anyone, then you know this is just as critical, if not more, to the performance of the team. If you have never crewed, I would recommend this as a great exercise to find out just how hard it is. Olaf and I can't thank James enough, and can't think of a better guy for the job. When things get serious, James will likely laugh at us, tell us to suck it up, and drive away from the runner, which is exactly what we need.