Rebecca Murray is a member of the 2015 Fleet Feet Race Team. Meet the rest of the team HERE!
We all have those moments when we wish we could go back in time about 5 minutes. Mine was the moment I asked Bob Kennedy, Olympic 5000m runner, what he did for a living! The truth is, his reaction is one of complete modesty, and inspiration for me as a runner. I was recently told I was someone's role model, and while I am still in shock that I can inspire a new female runner, I am truly inspired by the community and people around me.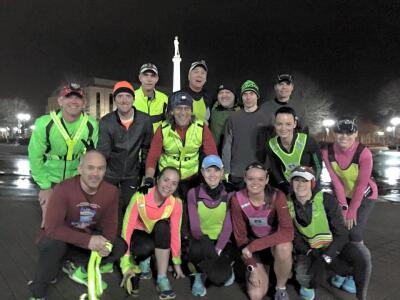 January has been a month full of laughter, joy, new friends, new experiences, many miles, and no races. As I prepare for the next month, I realize that I have two weekends in a row with races, a long run, and then another weekend followed by a long run and the next day my first trail half marathon on very tired legs. It is not without a smile on my face, that I cannot help but reflect on the last few weeks. I spent an entire month, with no races and very little speed work, but with the intent of building the biggest base in mileage that I have ever had. I logged a total of 409.5 miles, and finished the last week with my first ever over 100 mile week.
In order to get to this point, where I feel confident about my training and build-up going into February and ultimate goal of Country Music, I had many times where it just took a good laugh  to get through the runs. I learned how to dodge "The Black Ice". Thank you Hunter Hall for the good laughs and knowing how to appropriately say that in the correct accent! The 14 mile run, with a pit stop every 10 minutes with Hunter, Alex, and Evan! I had the pleasure of getting many runs in with my sister, but none will ever be in comparison to the run I forgot my shoes, but she followed me home and then we ran, while making fun of my frozen face and hair in 10 degree weather.
I must also point out that no one should ever let me lead a route, because I will probably never look at the map and if I do I won't remember it! Poor Alex Short is a very patient individual and learned quickly that even if I map a route out, I won't remember it after the first turn. I am the girl who got lost doing the 11.2 route in Percy Warner Park!
I began a new ritual of Sunday trails where I give my legs a break from the road, but this experience may have been more enjoyable since it was a first date. I always knew that running really was something I wanted to share with someone I dated, but in this experience I was able to share my passion for running while discussing my beliefs and other wonderful topics. I continued joining the Brentwood Breakfast Club group, where I learned the proper way to run with straight legs and arms in pants pockets, yes my obsession with pockets in dresses has now grown to an obsession with running tights with pockets! Running in this manner is a skill if you haven't tried it, and the ladies of BBC have it perfected (Corrie Huffman, Christi Beth Adams, Jennifer Chaffin, Shannon Schuerman, and Shyla Moss.
But, of course, some of my favorite memories this month and so far this year, are on those many and weekly visits to Fleet Feet where I get to just hang out with some awesome people. Shannon and I have created some new products like the  "The Lazy Shoezanne".  Corrie and I were able to determine the exact reason Asics put rubber grips above the knees in one of their winter tights. All of that said, the people, the knowledge they share, and the running gear offered is probably why my bank account is a bit lower these days, but at least I look stylish and have good gear to get me through the next few months of intense training!
Bring it on, February!!
Goals Set:
Build a Good Mileage Base
Hit a 100 miles in one week
2 – 3 Track workouts
Run More Miles off road
Achievements:
Miles Logged: 409.5
Track Workouts: 3 / 2 Tempo workouts
2 Sunday Trails and One Thursday Night