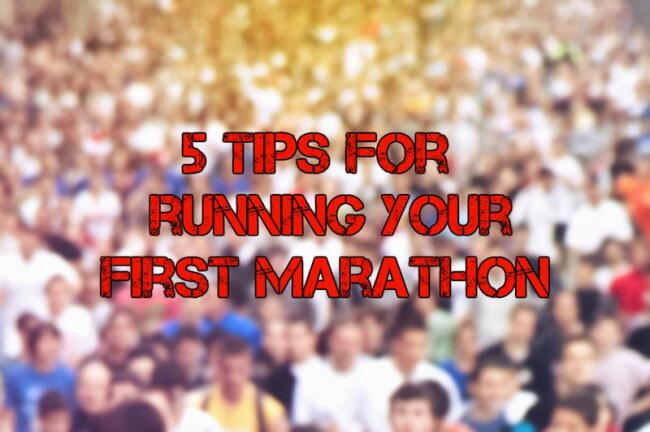 You've spent the last four months waking up at the crack of dawn on Saturday mornings in heat and humidity to run your long run. You've found all kinds of creative ways to squeeze that weekday run in between your work and family responsibilities. You've worried yourself sick that that small pain in your toe might turn into something bigger. You've talked non-stop to everyone you come into contact with about your upcoming race. You've picked out your race day outfit and now it's a waiting game.  
Many of us are so focused with training that we arrive at the starting line with a ball of nerves and no plan. Never fear, we've come up with a few tips that should make your first marathon smooth and enjoyable (at least as enjoyable as suffering over long distances can be).  Check them out and have a great race!
Start Slooooooooow- It's amazing what adrenaline can do, and if you're not careful you might get caught up in the excitement and find that you ran your first mile at a 6 minute pace. Although it might feel good and even easy at first, I assure you that this will come back to haunt you in a big way and a bonk is in your near future. Remember, you have a long race ahead of you so there is plenty of time to pick up the pace. A good rule of thumb is that if you think you are starting too slow, go even slower. This will make for a much more attractive finish line picture than if you are a bonking mess.
Walk the water stops-. When you hit the water stop, walk and rehydrate. Realistically, you will not lose any time and this will allow you to break the race into manageable  chunks. When you know that you will have a break in a mile or so you can take the time to mentally prepare for the next one. Likewise, this gives you a good opportunity to refuel and rehydrate.  Breaking the race up like this is far less daunting than if you focus on the total distance.  
Don't worry about time- It's easy to get caught up worrying about pace and before we know it we are chasing our Garmin instead of listening to our bodies. Stressing about pace can cause you to lose focus on the 'now' and lead to a slippery slope of doubt and worry, not to mention an energy zapping jolt of Cortisol. Listen to your body and focus on the next step and nothing more. Your instinct and intuition is more powerful than you think.
Stick with what you know-  By now, you should know what shoes you are running in, what nutrition you will use and what pace is comfortable. You've spent all of these hours training for a reason and race day is no time for experimentation. Run the race that you trained for and don't make the mistake of changing horses in midstream. This way, you are better prepared for the inevitable unknowns that are an inherent part of distance racing.
Enjoy- You've put in the work and you are ready. Soak it all in. The crowds, the cheers, the wall, the free bananas. You've earned it, now own it. This is your day and no one can take this accomplishment away from you.