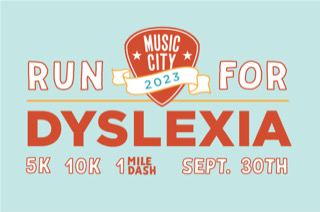 The 2023 Music City Run for Dyslexia is a certified and timed 5K and 10K course through Shelby Bottoms, one of Nashville's most beautiful greenways. The event will include a 1 Mile Dyslexia Dash for participants of all ages with vendor tables, yard games and more!
The Music City Run for Dyslexia, hosted by Learning Matters, will serve as a platform for raising awareness and will build community for individuals with dyslexia and their supporters to come togetehr and demosntrate their resilience, strength, and determination.
Learning Matters is a non-profit organization that exists to help K-12 students with dyslexia and other learning disabilities reach their academic and human potential by providing equitable access to the highest quality assessment, tutoring, and advocacy.