---
Saucony Kinvara 3
---
Mizuno Musha 4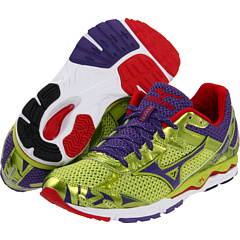 You really can't go wrong with this new-to-our-store shoe; especially with a name like Musha. (Say it with me now! Mooshah...) In Japanese, Musha means "warrior", and who wouldn't want to be a warrior? Or maybe a ninja!
With a 6.8 oz weight (in women's) it'll at least keep you light on your feet. For a shoe that I would describe as "closer to the ground", it has a very plush feel when you step into it. In the spirit of full disclosure, the first time I put this shoe on I proclaimed a mildly inappropriate phrase because I was so shocked and excited about how great it felt. Manyof my fellow staff-mates had similar reactions. While the heel and midfoot are comfortably snug, the toe box is quite roomy, with a fairly stretchy overlay to minimize any "hot spots".

Technically speaking, the Musha is made to accommodate moderate overpronation. Those who have been looking to lighten up their shoe, but still need some support, can give this a try. The Musha would also be a good match for those looking for a racing and/or short distance shoe.
Finally, while we here at Fleet Feet believe it's best to pick shoes based on fit and feel, instead of looks, sometimes you just want a running shoe
that is comfortable and will look cute under your jeans. I'd say this one fits the bill.

Want to see for yourself? Stop by Fleet Feet and try it on!
---
Newton Distance Trainer
: $155, 8.4 ounces (mens 9)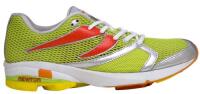 My return to running began two years ago, with me walking into a running shop in Toledo, Ohio, looking to be fit for a proper pair of running shoes.  As I perused the wall, obviously basing my preferences on which ones look the coolest (mistake numero uno in the running shoe handbook), my eyes wandered to a pair of brightly colored, and truly odd-looking running shoes.  I asked the salesperson who inevitably ended up fitting me that day, "What in the world are these?"  She said, "Oh, those?  Those are Newtons."  "How long have you been running?", she asked, to which I replied, "I don't know.  What time is it?"  We both laughed, and she said, "Yeah, you might not be ready for those yet."  Since then, I have maintained a particular curiosity for these shoes, which has recently been quelled, and with great result. 
Newton Running was the first company to design a shoes specifically to truly facilitate a midfoot/forefoot strike while running.  The inspiration for the design, along with the company's namesake, came directly from Sir Isaac Newton and his Third Law of Motion: "For every action, there is an equal and opposite reaction."  The idea was to create a shoe that would not only encourage a more athletic and efficient footstrike, but one that would also allow for a greater rate of energy return.  This is accomplished by constructing a shoe with a less drastic heel-to-toe drop (between 0mm-4.5mm/0-3%, depending on the model) which promotes the midfoot strike initially, in addition to the use of "Actuator Lugs": protruding platforms that, when the foot strikes, press into separate chambers and membranes built into the midsole that, according to newtonrunning.com, allows for a 44% reduced impact and a 23% greater return of energy.  As a result, the wearer will reap the benefits of greater efficiency, quicker recovery, and hopefully a noticeable improvement in their overall running.   
I can say with all certainty that Newton shoes feel, well, different.  While walking or simply standing in the Distance trainer, it gives the impression of a negative heel drop, where the height of the forefoot is above that of the heel.  Running in them is a different story altogether.  Being a midfoot-striking runner already, I felt as though I acclimated to these shoes rather quickly.  They are very light, very airy, and very soft, which is uncharacteristic of most shoes in this particular category.  The best way to describe the feeling while running is "bouncy", as it truly does provide excellent impact protection and energy return.  I felt light on my feet, and didn't feel fatigued at the end of my run at all, which is surprising considering I was moving at a pretty good clip (for me, anyway).  As much as I loved this shoe, it is NOT a shoe you purchase and attempt to continue your current mileage using ONLY this shoe, seeing as it is completely different from anything most of us have ever worn.  Considering the fact that many runners are heel strikers, I would recommend purchasing this shoe with the intention of using it as a training tool to improve your form, which is easy to accomplish when utilizing Newton's website that is chock-full of great videos and other information to make the transition as effortless as possible.  Over time, you can use these as your daily trainers with the intent of becoming a more efficient runner, which could lead to faster times, less frequent injury, and longer distances.  Come give them a shot at Fleet Feet Nashville! 
(Note: Fleet Feet also stocks the
MV2
, Newton's Racer)
---
Garmin Forerunner 610 ~ $400

Nerds, gadgeteers, Type-A's, lend me your ears!  The Garmin Forerunner 610 is here! 
 
This sleek, lightweight training tool is the latest addition to Garmin's line of GPS-enabled watches.  It retains many of the features adored by those who own or have owned the Forerunner 405 or 410: dual sport capability, various training modes/workouts, ANT+ technology, heart rate-based calorie computation (in the case of the 410), Virtual Partner, and a lower profile than its predecessors.  However, they have made the 610 much easier to manipulate by designing it with a touch screen as opposed to the push-button or touch bezel technology of the previous models.  In addition to retaining the Virtual Partner training option, Garmin developed for the 610 an addition feature, the Virtual Racer.  Virtual Racer works similarly with the Virtual Partner feature, except that it allows you to race against your personal best times or even personal records of anyone else who downloads their information to Garmin's online training pages.  Other updates include a Vibration Alert, which activates along with an audible alarm when you reach a training goal (pace, heart rate, distance, calories, etc.), a navigation feature that leads you back to the beginning of your run, and an increased level of customization on the individual training pages. 
 
Having used the Garmin 405 for almost two years now, and to great avail, it didn't take much time to acclimate to the 610.  After programming the watch and inputting the required personal information to accurately determine the effectiveness of my exercise (which only took about three minutes) I was literally off and running, in this instance with the Tin Roof 2 Running Crew.  There was never any discrepancy with the satellite signal, and although I noticed "cross-talk" with other heart-rate monitors while maneuvering through the crowd before we departed, it never happened during the run itself.  The touch screen feature took a little bit of practice in regards to exactly how much pressure needed to be implemented to activate the next screen.  This, however, also happened to be the case when I first used the 405 and its touch bezel as well, so as not to be interpreted as a criticism.  I was particularly impressed with how the touch screen is impervious to the influence of water coming in contact with it which, on a touch bezel model, would have invariably changed the screen if one forgot to lock the bezel.  Also appreciated was the heart rate-based calorie computation, a feature I was not afforded with the 405.  Another conclusion that I reached was that I thought I had been burning more calories than I actually was during one of my favorite runs.  So, much to my dismay, I was only able to order one Sam Adams Oktoberfest to pair with my usual after-run entree, the Tin Roof Salad with chicken, as to not feel TOO guilty (haha).  A small price to pay for accuracy, I suppose.  Anyone looking to increase their training, get a better bead on the effectiveness of their workouts, or those who simply want all the bells and whistles, this is the training tool you need.  Come check it out at Fleet Feet Sports Nashville!
---
Icebreaker Apparel
The New Zealand-based company, Icebreaker, specializes in outdoor wear constructed of 100% Merino wool, a natural fiber that maintains an unsurpassed level of breathability, temperature control, moisture and odor control. It is a light, airy garment that never feels clammy or adheres itself to you on particularly sweaty or rainy runs, as is the tendency with the more popular synthetic material used to make athletic apparel. Furthermore, Icebreaker is as scrutinizing with the ethical expectations they have for their growers as they are with the quality of the wool itself. All of the wool is farmed from free range sheep, herded by a selected group of farmers who meet the qualifications to which Icebreaker holds all of its manufacturing partners.
The shirt used in the testing was the SS Ace Crewe, which is available now at our store. It is one of the lighter shirts made by Icebreaker, weighing in at 150 grams per square meter. This piece also features a rear stash pocket, reflective piping on the upper right shoulder, and a cord management loop at the back of the neckline. Along with the Ace Crewe shirts for men, we are also carrying the women's Retreat Tank Top, which features a comfortable, more regular oriented fit, a gathered fabric detail along the dropped neckline, and a shaped hem to keep it from being billowy. In addition, we are offering the Swift Skort, which features a thicker Merino blend than that of the shirts, a zippered stash pocket, an inner fitted short, and reflective piping as well. (Note: Vicki Hall, trusted Bra/Apparel Fit Expert, could not stop raving about how much she loved the Swift Skort)
When I was told by more than one of my fellow employees that, in addition to the numerous other benefits this piece had to offer, it does not hold odor, I decided that this shirt was the perfect candidate for the "gym bag test". This test consisted of me wearing the shirt three days in a row without washing it (first to work, then to core building session, and lastly on a run), then placing the shirt into my old gym bag, zipping it up and leaving it there for the remainder of the week. Gross? Yes. An effective testing method? Yes. Did it smell so bad after three days in the bag that it could have knocked a buzzard off a gut wagon? No. In fact it didn't smell at all! Not in the least! So, in addition to being very light, breathable and comfortable, it also kept the inevitable odors at bay for longer than anything piece of apparel I had previously worn. What can I say? I'm a guy, and we tend to stink a little bit more. So, we should take all the help we can get, especially when on a group run with member of the fairer sex.
Get BAAAAAA-ck into Fleet Feet and try one on. You can BLEET the quality.
ps-I apologize for those last two sentences.
---
Adidas Supernova Sequence 3 ~$100

The object of my affection and scrutiny this week is the Supernova Sequence 3, a stability-category offering from the multisport monolith, Adidas. In the past, I, like many people, had the tendency to associate Adidas with three things: 1) soccer, 2) an anagram for what I will refer to as a particular mental preoccupation with a specific activity, and 3) the garb of choice for one of the most formidable hip-hop groups in history. But, after running, walking, and gallivanting in this shoe for a week's time, I can say with all certainty that I can add to this list a fourth association: a very comfortable running/walking shoe.
The Supernova Sequence is built to give the wearer as comfortable and stable a ride as possible without getting overly clunky or heavy. At 12.3 ounces for a men's size 9 and 10.5 for a women's size 8, it strikes an excellent balance between a lightweight trainer and a solid high-mileage shoe. Adidas uses their adiPrene and adiPrene+ cushioning system to construct the midsole, providing a softer landing (especially as it is paired with a "de-coupled" heel that flexes upon impact) and a firmer, more propulsive platform in the forefoot. The ProModerator posting system, working in tandem with a particularly straight last, ensures that your foot is not only safely planted, but that any excessive pronation is under control as well.
As a tip of the cap to our many "run/walk" customers, that was the primary method I utilized in testing this shoe. As I stated previously, the Sequence is a very comfortable and stable shoe. To find a shoe that is constructed with such a straight last AND can accommodate a particularly narrow foot (mine, in this case) is a rare find. The overall feel of the shoe is quite soft and not particularly flexible, which most people appreciate in a stability shoe. The "de-coupled" heel provided a very soft and cushioned landing, while the firmer forefoot cushioning did, indeed, allow for a more efficient toe-off. I found this shoe would best accommodate the heel-striking runner and/or the avid walker. Moreover, I was taken by how comfortable it was as a shoe in which to work a shift fitting all of our wonderful FF customers (hint hint). Come on in a tie one on......a shoe, that is.
---
Nathan HPL-020 Hydration Vest ~ $85

As runners, we learn the value of purpose-build equipment early in our development. Shin splints suggest investing in better shoes; blisters, better socks. Most of us can remember vividly that "one run" when we realized the importance of having something to help keep us hydrated, and that memory is never, EVER a pleasant one. Following our first purchase of proper gear, we then develop preferences regarding fit, feel, and function. Thereafter, the distances we choose to run tend to dictate our choices of equipment. The longer you want to run, the more you tend to have to carry, whether that be clothes, food, and/or fluids. Enter the hydration backpack.
Nathan's HPL-020 Hydration Vest is constructed with enough storage capacity to accommodate almost any long run. The vest comes equipped with a 2-liter capacity fluid bladder with an attached, easy-to-use lockable mouthpiece. Two front and two back pockets supply ample room for gels, a phone, keys, ID's, or anything else you might need on your excursion, in addition to an elastic adjustable band used to "bungee" any extra clothes you may need to bring. It has an empty weight of 14 ounces, and one size fits all.
I initially thought, as many would, that carrying fluids on my back would be akward, and possibly uncomfortable. But, after filling the bladder, packing my gels and bars, throwing it on, and heading out, I soon forgot that I was even wearing it. There are no pressure points, but rather a feeling that the pack is almost hugging you, distributing its weight evenly across the points of contact. What little bounce occurs is restricted by Nathan's "3-Way Propulsive Harness" that prevents the pack from riding up or swaying while in use. All in all, this is a welcome addition to the store and, as an addition to your personal collection, would be invaluable. Come in and give it a try at Fleet Feet Nashville!  
---
Mizuno Wave Prophecy ~ $200

In the wake of the recent "minimal" running shoe trend, Mizuno has answered back with a (for lack of a better term) "maximal" shoe. Mizuno running shoes are built using a cushioning/stability system called Wave Plates. Before the Prophecy, only two models were constructed using a Wave Plate that ran the length of the shoe: the Wave Nirvana and Wave Creation. Being that it is categorized as a neutral shoe, the Wave Prophecy is, essentially, a Creation on steroids. By utilizing the Wave Plate Technology instead of traditional EVA, which breaks down much faster, it is a safe bet that this shoe could outlast the typical retirement age of 500 miles.
This is a LOT of shoe compared to what I normally use. In my size (11), it weighed in around 14 oz, which is a little on the chunky side. It does not, however, FEEL heavy. Although it retains all of the Mizuno traits I favor: high toe ramp, stiff heel, sock like fit, etc., it was a much softer ride than what I was accustomed to wearing. The heel-to-toe transition in the Prophecy is almost immediate and this aspect, more than any other, creates a much lighter feeling shoe than what you would expect. In short, my foot LOVED this shoe. Although this wouldn't be my first choice to take to the local track and do a speedwork session, if I were training for a marathon and needed a resilient, soft, supportive shoe that could easily hold up during my long runs, this would be it, bar none.
---
New Balance Minimus ~ $100
Reviewed by Matt Adams

The NB Minimus Trail shoe was inspired by the "barefoot movement". It is incredibly lightweight, coming in at just under 7.5 ounces for a men's size 9. The overlay is pretty much spot on in keeping with the minimalist design. It's incredibly breathable and does not restrict the foot's natural movement with excessive overlays. The shoe has a heel height of 9 mm, leaving a 4mm heel to toe drop. This promotes a more natural foot strike when running on three dimensional surfaces. The heel and midfoot are a snug fit while opening up for a roomy forefoot. This is a great shoe to try for those who would like to go a more minimalist route. I ran in it this morning and loved the way it felt… Come by Fleet Feet and try it on!
---
Saucony Peregrine ~ $90
Reviewed By Erin Pauling
The Saucony Peregrine is what I chose to be my first official trail shoe…and I love it! It fits like a glove (has a more narrow fit for my more narrow foot), feels like a cushy sock (I don't know how they did it but they did) and brings you closer to the Earth (18 mm heel, 14 mm forefoot).  If you want a more minimal shoe, but aren't quite ready to go all the way, the Peregrine is the best of both worlds. It is lightweight (under 9 ounces for a women's size 8.5) and pretty flexible; two things I always love and look for in a shoe. Stop by Fleet Feet and I'll tell you again (and again) how much I love it!