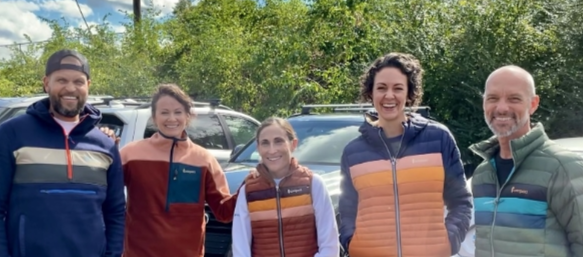 A collection of colorful apparel from Cotopaxi arrived this week in all three stores (Brentwood, Green Hills, Hendersonville). What a fun way to usher in the cooler temps! If you haven't had a chance to check out Cotopaxi's mission, sustainability and ethics commitments, and philanthropic efforts, take some time to do that today!
See what our staff has to say about the new Cotopaxi clothing! (From left to right)
Dean is wearing the Tecca Fleece Hooded Half-Zip Jacket ($120).
Fun fact: It's made of 100% recycled polyester and other repurposed materials. Dean likes the retro colors and the fit. He says it feels true to size.
Tina is wearing the Abrazo Half-Zip Fleece Jacket ($100). In addition to the color combos, the ethics of the company resonate with Tina. She likes the way they treat their employees and that they use recycled materials in their products.
Susan is wearing the Women's Fuego Down Vest ($150) and she really loves the uniqueness of the piece. She also commented on the lightness and the great fit of the garment. Fun Fact: It's made with RDS-certified down, which means that the insulation has come from humanely-treated geese and ducks.
Teri is wearing the long sleeved version of the vest, which is the Fuego Hooded Down Jacket ($250). Teri says, "It's lightweight and comfortable and I love the cool retro colors."
Darrin is wearing the Fuego Down Jacket ($230), which is the Men's version of these pieces (minus the hood). He was delighted to find multiple internal pockets inside. He comented on how lightweight it was and loved that the jacket can be stuffed into one of its pockets.