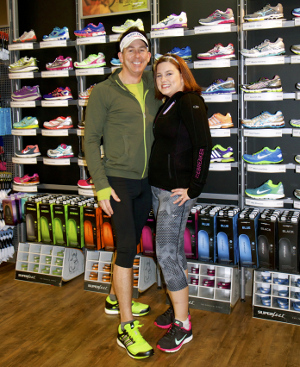 We haven't always been a couple who exercised together. Until about 4 ½ years ago, we were very much a sedentary couple. Mark tried to convince me then that he got his exercise by washing the car. That all changed when I signed up for the No Boundaries Couch to 5k with Fleet Feet Sports Nashville.
Several of my dear friends and coworkers at the time were runners. I went with one of them to Fleet Feet Sports at lunch one day. While there I was given a postcard and a pitch to join a group of non-runners to train for their first 5k. At first I laughed it off, I'd never been remotely athletic. But I couldn't let the idea go, so I signed up.
I'm not going to tell you it was super easy. It was harder than I expected. But the support, coaching and accountability I received were amazing. I was hooked. And I didn't want to start the training process over, so after my 5k was finished I immediately signed up to train with Fleet Feet Sports for my first half marathon. While I was training for that, Mark decided he wanted to run too. I joke that he got tired of me leaving him every Saturday morning, but I think he could see all the benefits I was getting from running. I was happier, healthier, trimmer and more confident.
When Mark started running with No Boundaries he weighed close to 250lbs, but he was committed to running and to his health and fitness. In the last 4 years since he started running, Mark has lost over 60 pounds! Running has become a passion of ours. We love introducing other people to running and sharing with them the ways it's changed our lives.
Mark and I have now both completed almost 50 half marathons between the two of us! In 2011, we completed our first full marathon in Dublin Ireland. It was a huge accomplishment and we loved getting to do it together. We've also created close friendships with a lot of the people we've trained with. Running has become so much more than a fitness activity for us. It has changed our entire lives for the better. It's amazing to think that all of this came from us deciding to get off the couch and run our first 5k.
---
Join The Movement!
Join Fleet Feet Sports in a twelve week training program geared for the Franklin Classic 5K/10K on Monday, September 7, 2015.  This support-focused training program includes walking, running, and education on everything from proper form to nutrition. The first workout will take place on Tuesday, June 16th at Fleet Feet Sports Brentwood.
Here's the scoop on the training plan:
Tuesday group workouts - 

6 p.m.

at Fleet Feet Sports Brentwood

Saturday

 group workouts at 

7:30

a.m. at Fleet Feet Sports Brentwood and various other locations in Nashville
The 12-week program includes two weekly workouts, a training plan, educational opportunities, a tech tee, injury screenings, and loads of encouragement and accountability to help you reach your fitness goals.
For more info, please contact Stephanie Spann steph@fleetfeetnashville.com.
The cost is $125 for the complete program (*Race registration is not included).

Still Not Sure?  Attend an Informative Clinic, and have all of your questions answered!
The following clinics will be offered at Fleet Feet Sports Brentwood:
Tuesday, May 26th at 6:00 p.m.
Saturday, June 6th at 10:00 a.m.