Shop TAX FREE on Friday, August 2nd & Saturday, August 3rd
For two days, the following purchases will be tax-free, thanks to the state of Tennessee's annual sales tax holiday!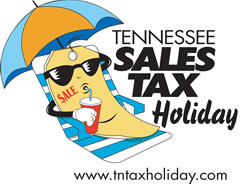 Shoes
Apparel
Sports Bras
Inserts

Socks
Flip Flops
Hats & Visors
Shoe laces
TN Tax Free Weekend
Per state law, your item must be $100 or less, but our primary concern is getting you in the appropriate gear! Is your favorite shoe the top of the line Nike Vomero or Brooks Glycerin that costs more than $100? Not to worry - we'll give you a discount equal to the tax if your shoe is over $100.
FYI: Friday & Saturday are our 2 busiest days of the year - we'll have EVERY employee on hand to help!
Starting Monday, July 29, you are welcome to call ahead (615) 373-1123 and we will put your items on hold for pick up on August 2nd or 3rd.
For more info on TN's tax free weekend, click HERE.