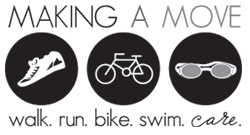 Making a Move is a series of five Middle Tennessee events in 2014. The series is designed to encourage women to develop and maintain a healthy lifestyle by participating in some or all of the events.
This is a fun way to make a positive move in your life while raising funds and awareness for programs that support health, safety and wellness for women and girls in the participating charities. This unique series is designed to encourage you to continue your fitness/training program throughout the spring, summer and fall seasons with goals events scheduled over a seven month period. Registration for the series is easy and there is no cost for participating in Making a Move other than the registration cost for each individual event.
The 2014 series will begin with Girls On The Run 5k on Saturday, May 3 and conclude with Viva la Diva, Saturday, November 15.
Join us for these Making a Move events:
 For more information, please visit www.makingamove.org or our facebook page.