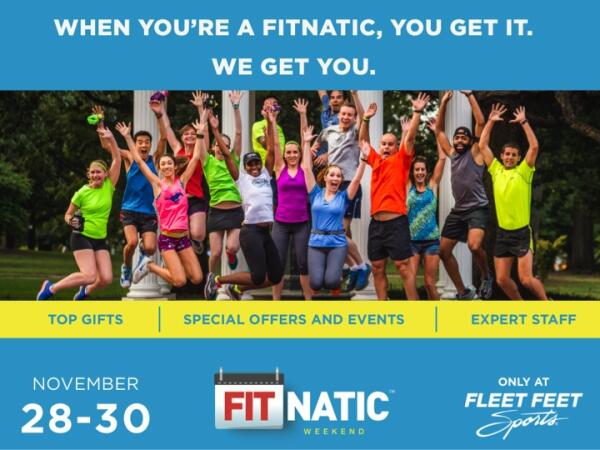 Join us November 28th-30th for Fitnatic weekend! We'll open Friday & Saturday at 8 am (Both Locations)
Do you often find yourself:
purchasing yet another pair of running shoes

regaling friends and family with stories of your training adventures

participating in a pre-race ritual, or

shaking your head, as you are the family member or friend that fits the description above?
If so, you just might be a Fitnatic, or someone who loves one!
 Here at Fleet Feet, we are honoring both camps with a special weekend designed for all! Join us on November 28th-30th and take advantage of these great deals!
Nike Exclusive Celebration Pegasus and Structures
Balega Socks buy 3, get one FREE
Garmin Forerunner10$99.99
20% off Enell bras
$15 off all Fleet Feet training programs

Get a FREE marble rollerwith purchase of twoAddaday products
30% off all GU Products
FREE spike bag to the first 30 people who purchase a pair of Superfeet insoles.