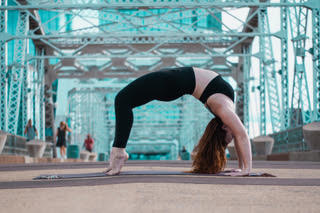 Yoga is for every BODY! Join us in Brentwood on Wednesdays beginning March 6th at 6:00am.  You'll experience a 75 minute Baptiste yoga session that will compliment your running perfectly! This is an 8 week program for $100. 
About the Instructor, Bethany Dale:
I've been practicing yoga since 2014 when I picked up long distance running during graduate school as a mechanism to cope with stress and anxiety. Before I know it my hips were tighter than they had ever been, my muscle strength was diminishing, and I was so caught up in living up to others expectations I forgot how to love myself. Insert power yoga! 
The foundation of my practice comes from a Baptiste Power Yoga inspired methodology:
Be a yes.

You are ready now

Give up what you must
9 half-marathons and 1 full marathon, later I am grateful to use the tools yoga teaches me on and off of my mat in daily life, and especially long runs!
Questions? email Laurel@fleetfeetnashville.com