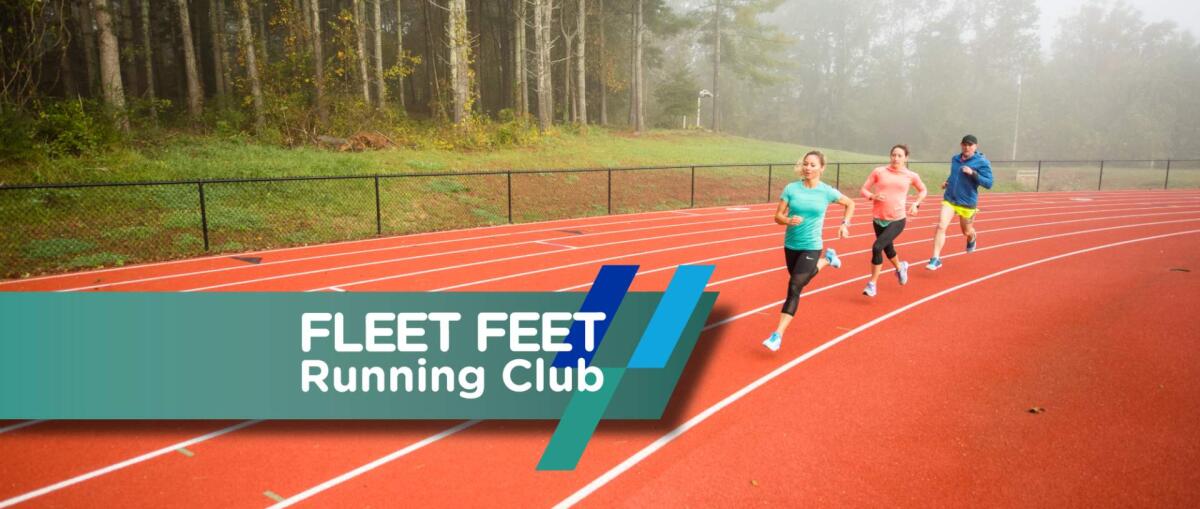 "Fleet are the feet, serene in the spirit of the runner."
– Fleet Feet co-founder Sally Edwards
Created first in 1976 by Fleet Feet co-founders Elizabeth Jansen (left) and Sally Edwards (right), Fleet Feet Running Club defined a group of people associated together not by how fast or far they ran, but by the spirit and passion they displayed in doing so.

FLASH FORWARD TO TODAY.
Fleet Feet Running Club is back for everyone. No matter where you are on your running journey, there's a program that is:
Led by passionate and knowledgeable coaches
Championed by dedicated and magnetic mentors
Guided by the most relevant safety standards
Supported by the coolest partners and brands
Fueled by the determination of its participants
No matter where you are on your running journey, we have a program and group to run with you.
NEW FOR 2018
ALL LEVELS. EVERY SURFACE. ANY DISTANCE. 
The beauty of running is that it can be done in a variety of places, by people of all abilities, at distances both short and long. The programs available through Fleet Feet Running Club reflect that, covering all levels, every surface, and any distance. 
EARN YOUR BADGE
We believe all your hard work and effort deserve a symbol of achievement, which is why all Fleet Feet Running Club members will earn a badge after completion of any of our programs. Adorned with the current year, each badge features an original design specific to that program. You can proudly iron your badges on to a brand new Fleet Feet Running Club track jacket or duffel bag, available for purchase this spring.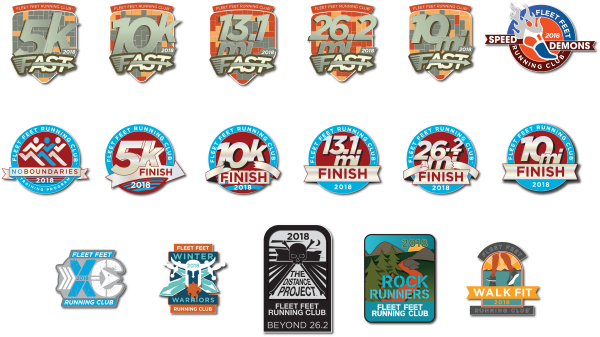 WHAT MATTERS ISN'T WHERE YOU ARE TODAY; IT'S WHERE YOU WANT TO GO.
We have programs for all levels of ability, and coaches and mentors in place to help you 
FAST: For those runners looking to challenge their previous best and cross the finish line faster than ever before. This option is built around improving your personal pace, with interval training incorporated into a progressive workout schedule.

FINISH: Whether it's a new distance, a new race, or the chance to check something off the bucket list, this option will train you to get you across the finish line safely.
NO BOUNDARIES: Our iconic beginner program for those brand new to running. The program helps you cross the finish line of your first 5K race!
WALKFIT: Take steps toward a healthier lifestyle with this low-impact program that helps you safely incorporate walking into a regular fitness routine. 

WHETHER YOU'RE PASSIONATE ROAD, ITCHING TO EXPLORE THE TRAILS,
or ready to figure out what track is all about, chances are, we have a program for you.
ROCK RUNNERS: Get ready to kick some dirt, escape the noise, and tackle some inclines with this trail running program designed for those looking to take the great outdoors in stride and explore their local terrain.
SPEED DEMONS: Track workouts aren't about beating others; it's about challenging yourself to be faster than you were before. This high-intensity track workout program will help you become a faster, stronger, and more efficient runner. 
WINTER WARRIORS: Defy the cold with this winter running program that helps you safely log the miles no matter what the forecast says.
XC CLUB: Throughout the summer months, grab your teammates and join us for fun runs, spike nights, and more special events designed specifically for the cross country athlete. 
FROM WALKING TO ULTRA MARATHONS
our programs put you in the best position to get from point A to point B, whether the distance between points be 3 miles or 50.
5K: You give us 8 weeks, and we'll have you crossing the finish line. Find out about our upcoming 5K Training
10K: This 10-week program provides a great stepping stone up from the 5K. Find out about our upcoming 10K Training
13.1: Train for the most popular road race distance with this 12-week program. Find out about our upcoming 13.1 Training
26.2: Train for this iconic distance over the course of 16 weeks. Find out about our upcoming 26.2 Training
Fleet Feet Running Club More Info »
Program Start:
Program Fee: