Whether it's in-store, at training group runs, or in our free time, we live and breathe running. Our team uses collective personal experiences and a passion for running and fitness to ensure you achieve your lifestyle, fit, health, and training needs. Learn more about each of our individual team members below.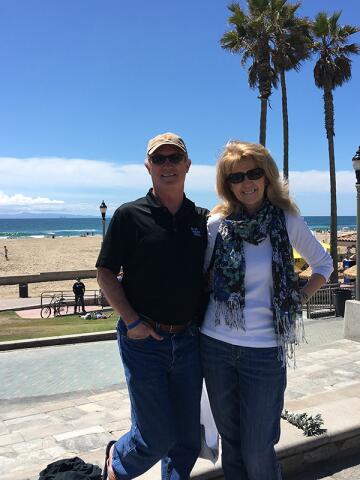 Paul and Cathy Rogers
Owners
In 2016, Paul and Cathy's dream to settle in Myrtle Beach became a reality when they were given the opportunity to own Fleet Feet Myrtle Beach. Over the years, they have moved 17 times, living in Germany with the Army, having a brief stint in Canada, and circling the United States twice. However, nothing quite compared to their time in Myrtle Beach. With the help of their two sons, Shawn and Kyle, Paul and Cathy are now carrying out their love for fitness while supporting a community they hold dear.
Paul graduated from the United State Military Academy and earned an MBA in Finance from San Jose State University. He spent 8 years in the Military, followed by over 20 years in the corporate world. Although his work background is in the industrial and medical industries, Paul always had a passion for running and fitness. Paul ran his first 5K in 1980, and instantly fell in love with the sport. In 1983, he eventually ran his first marathon, Berlin, and has since finished 16 more along with numerous other races. He is most passionate about helping other people start down the healthy lifestyle path and achieve their goals.
Cathy has B.S. and M.A. degrees in Education from Oklahoma State University. She spent 30 years in the classroom teaching mostly middle school, with a brief experience working in the Department of Defense American School in Vilseck, West Germany, where she also coached the track team. From skiing, to running, to tae kwan do, and yoga, Cathy has always been motivated to stay fit. She is happy to be in Myrtle Beach sharing her enthusiasm for fitness!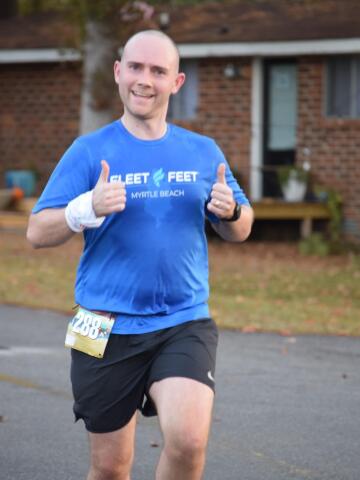 Shawn Rogers
General Manager / Owner
Shawn studied at the University of Kentucky from 2008 to 2012, obtaining a Bachelor's Degree in Marketing. Thanks to his family, he is now able to live his dream of owning a business while still helping his community, whether it's inside the store or out at events and group runs. Throughout the years, he played soccer, football, ran track, and participated in cross country. Shawn continues to explore his passoin for running today to help stay active and share in the sport with customers and friends.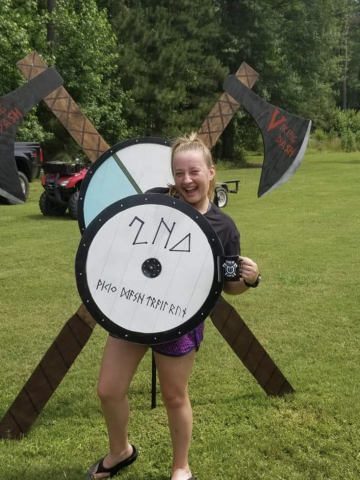 Shannon Zahra
Shift Leader
Originally from Malboro, New York, Shannon began as an Outfitter for Fleet Feet Myrtle Beach in 2018. Over the years at Fleet Feet Myrtle Beach, Shannon has used her degree in Exercise Science from Coastal Carolina University to help hundreds of people reach their fitness and health goals. Shannon's interest in fitness stems from her love for triathlons, for which she is anxiously awaiting her first Ironman race later this year.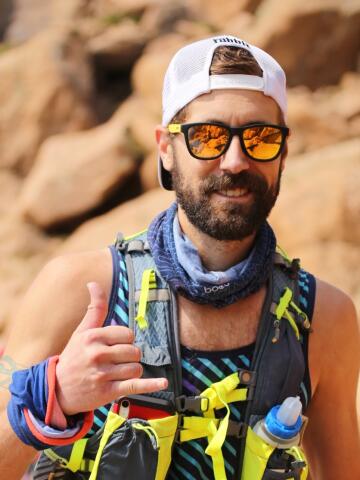 Bart Schreck
Outfitter
Bart is our resident conquerer of all distances and surfaces, taking on any challenge from road 5ks to the notorious Pikes Peak trail marathon. Born and raised in Rockford, IL, Bart came to Myrtle Beach to explore new running opportunities and to be closer to family. Since starting at Fleet Feet Myrtle Beach in 2019, Bart has had the ability to share his knowledge and passion for running to others throughout the community.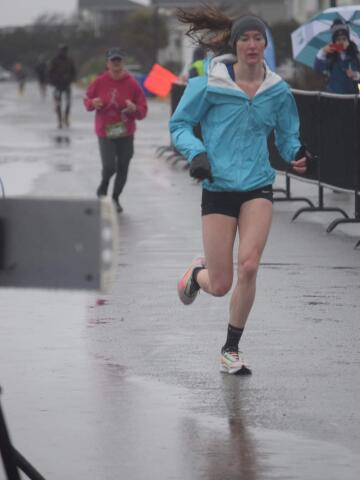 Tori Wagner
Outfitter
Hailing from Kent Island, Maryland, Tori began as an outfitter during the Summer of 2020 as a way to explore a newfound interest. She graduated from Coastal Carolina University as a member of the Coastal Cheer team with a degree in Recreation and Sport Management. Since starting at Fleet Feet Myrtle Beach, Tori discovered a love for running, which she hopes to develop further and share with others while working with local runners in the community.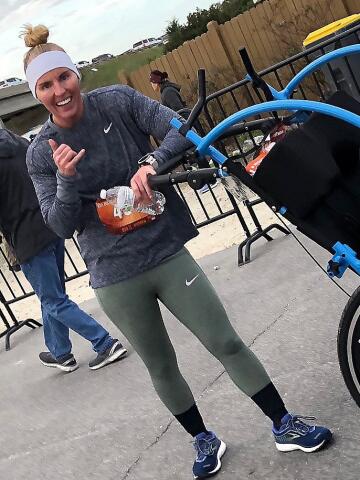 Jacqueline Brengel
Outfitter
Jacqueline began as an outfitter in 2019, which she enjoys while also working as a firefighter/EMT for the city of Myrtle Beach. Ever since graduating from Coastal Carolina University with a degree in Exercise Sports Science and another degree in Health Promotion, Jacqueline has felt a fondness toward Myrtle Beach and helping the people here. As our fitness enthusiast and retired Coastal Cross Country athlete, Jacqueline has passions for CrossFit, running, biking, and swimming.