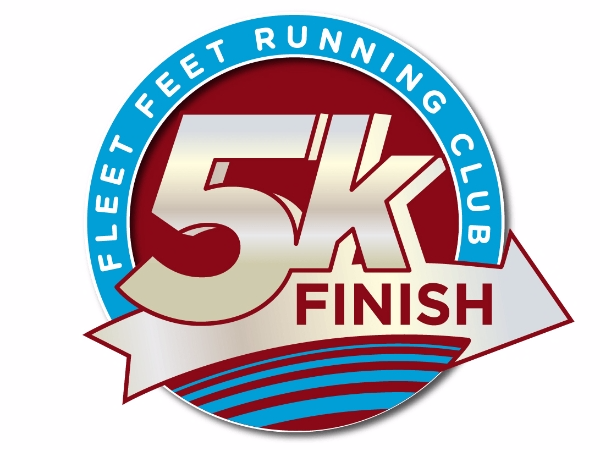 No Boundaries 5k is a coached 10 week organized group training program aimed at those who are coming off the couch and wish to learn to run. Your goal event is a 5K race (3.1 miles). Fleet Feet has over 10 years of experience in letting you give your couch separation anxiety by adapting a run program. The continued success of our graduates is proof that our programs are effective at getting you to your goal.  Must be able to walk 30 min straight without struggling.  Please consult with your doctor before starting a fitness program. The workouts will last about an hour to an hour and a half as we increase mileage throughout the season. Get Ready to Be The Movement! NO BOUNDARIES is our nationally known program to get you up and moving while accomplishing the goal of crossing a finish line of a 5K race! 
Here are some highlighted benefits:
-Special Product offers at Fleet Feet
-A Professionally designed training program schedule
-Weekly Motivational and Educational emails with tips on training and special events
-Group runs taught by certified coaches
-Pace groups for various abilities
-Planned courses and aid stations
-Educational seminars on important training topics
-Priority access to FREE "Ask a Medical Practitioner" clinics (with local medical professionals)
-Special VIP area at goal race
-Instant Fitness Friend
Program Details:
Fee: $125 ***prices do not include race fee
We Take Care of the details. You just have to show up! 
Program Start:  Saturday Feb 3rd 8:00am; Fleet Feet Mt. Juliet
Program Schedule: Saturdays at 8am, Tuesdays at 6pm, Fleet Feet Mt. Juliet & Various locations
Goal Race: Purity Moosic City Dairy Pure Dash - 04/14/2018
https://puritydairypuredash.racesonline.com/
For questions, reach out to Tiffany - tiffany@fleetfeetmurfreesboro.com
Testimonials:
I appreciate the staff and mentors who inspired me to succeed in walking the 5K.  It was difficult for me to physically do this.  Your inspiration and encouragement means a great deal to me. I do want to do this type of activity going forward.  Thank you so much.  - Mike
I feel like Alice... I've fallen down the rabbit hole and may never return! What a fantastic experience No Boundaries provided. Coaches and mentors were so very supportive and selfless. Thank you, thank you! - Patti
Thank you for all the encouragement. I had set a goal of finishing this race between 40-45 min. I'm happy to say I met my goal  with a chip time of 41:52 and I walked the entire race. I felt so energized the rest of the day. Thanks again to Fleet Feet and the No Boundaries program.  - Jocelyn
Mt. Juliet: No Boundaries 5K February - April Program More Info »
Program Start: February 3rd, 2018
Program Schedule: Saturdays 8am, Tuesdays 6pm - FF Mt. Juliet & various locations
Program Fee: $125