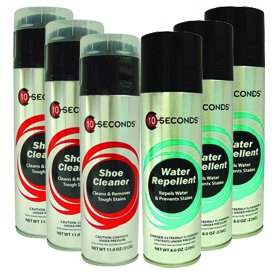 10 Seconds Shoe Cleaner - $6.00
Our original fast break formula is back! 10 Seconds® Shoe Cleaner cleans leather, rubber, canvas, and synthetics. The foaming action quickly lifts stains to the surface for easy cleaning. Use the top scrub brush to remove deep set in dirt.
10 Seconds Water repellent - $6.00
10 Seconds® Water Repellent is the most effective barrier against snow, ice, and rain; still allowing leathers to breathe. Proven to protect your footwear investment and formulated for leather, suede, and nubuck.
Thank you for shopping locally! As a Fleet Feet customer you get $25 back for every $250 you spend in our store!