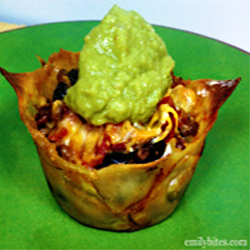 Bethany's current favorite.  No need for messy crunchy taco shells and not as heavy as using tortillas!
INGREDIENTS:
1 ½ teaspoons chili oil (I omitted chili oil)
½ lb 95% lean ground beef
1 tablespoon taco seasoning
¾ cup canned black beans, drained and rinsed
16 wonton wrappers (found in the produce section)
1 cup chunky salsa 
1 cup reduced fat shredded Mexican cheese
DIRECTIONS:
Pre-heat the oven to 375. Lightly mist 8 cups in a muffin tin with cooking spray and set aside.
Heat chili oil (if using) in a sauté pan or large skillet over medium-high heat, add the ground beef and taco seasoning and brown beef, breaking it up with a spoon. Add black beans and continue to cook, stirring occasionally, for a few minutes until warm.
Push a wonton wrapper into the bottom of each of the eight sprayed cups in the muffin tin. Then lay another wrapper opposite across (will make 4 points). Spoon meat/bean mixture into the wrappers.  Follow by spooning 1-2 T salsa on top of mixture. Sprinkle about half the shredded Mexican cheese evenly over the top of each cup.
Bake for 18-20 minutes until golden brown. Let cool 5 minutes before removing from muffin tin.
Top with Guacamole or low-fat sour cream.
NUTRITION INFORMATION:
164 calories, 12 g carbs, 7 g fat, 12 g protein, 1 g fiber