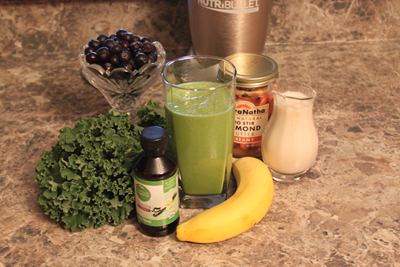 Recipe by Maria Duggin
Ingredients:
2 kale leaves
1 cup frozen blueberries
1 frozen banana
1 cup almond milk
1 tsp vanilla
1 tbsp almond butter
Optional:
Chia seeds for omega 3 fatty acids and extra texture
Ice
Directions:
Combine all ingredients in a blender or food processor and enjoy!
Note:
The pictured smoothie does not contain blueberries. While the blueberries are a delicious addition they will change the color of the smoothie!