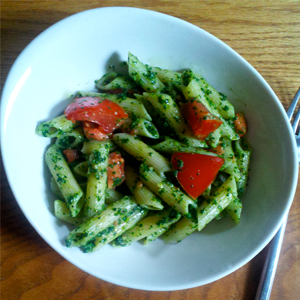 Our own Marjorie loves this recipe!!  Try it out!
Ingredients:
1/2 Cup Raw Almonds- roughly chopped
1 Cup Parmesan Cheese
3 Garlic Cloves-chopped
juice from 1/2 lemon
1/2 Cup Fresh Basil Leaves
1/4 Tsp. Salt
12 large kale Leaves-blanched
1/4 Cup of Water
1/2 Cup Extra-Virgin Olive Oil 
Click on the link below to watch a video on how to make this delicious dish!
http://www.runnersworld.com/recipes/quick-bites-kale-almond-pesto
Nutritional Value:
156 Calories
4 g carbs
1 g Fiber
5 g Protein
14 g Total Fat
3 g Saturated Fat
161 mg Sodium
Check out the nutritional value of the super food Kale!!