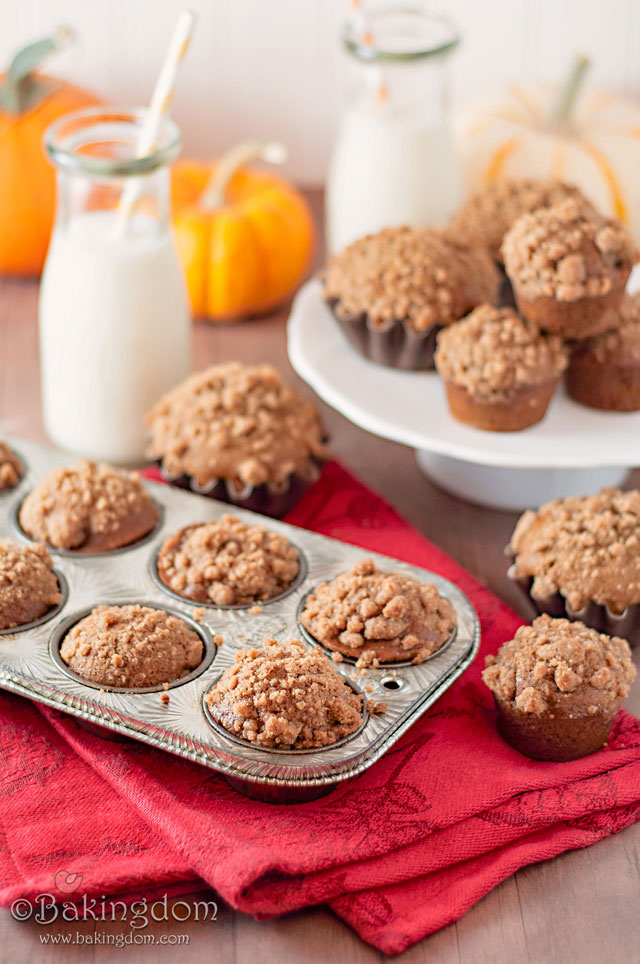 Add a little "streusel", and you can justify breakfast, coffee break, and dessert!
And there's no better way to squeeze in a little bit of Christmas early than adding a dash of gingerbread to the mix!
Enjoy one of my most favorite muffins (one worthy enough to actually move from my Pinterest board to my recipe book)!
Gingerbread Pumpkin Muffins
Makes: 16 Muffins (or 1.5 loaves)
Total Time: ~35-40 minutes
Ingredients
For Muffins:
1 3/4 cups all-purpose flour (or 1/2 whole wheat, 1/2 all-purpose)
1 teaspoon baking soda
1/2 teaspoon salt
1 teaspoon ground ginger
1/2 teaspoon ground cinnamon
1/4 teaspoon ground nutmeg
1/4 teaspoon ground allspice
1/4 cup canola or vegetable oil (if feeling gutsy, sub applesauce)
1/2 cup molasses
1/2 cup sugar
1/2 cup brown sugar, packed
2 eggs (or 2 tablespoons ground flaxseeds combined with 6 tablespoons water, for vegan/dairy free)
8 ounces pumpkin puree
1/4 cup water 
For Streusel:
1/4 cup brown sugar
1/4 cup all-purpose flour
1 teaspoon ground cinnamon
2 tablespoons unsalted butter, melted (or margarine for vegan/dairy free) 
To make the muffins:
Preheat oven to 350 degrees. Lightly spray a muffin pan with nonstick cooking spray.
In a large bowl, combine the flour, baking soda, salt, ginger, cinnamon, nutmeg, and allspice.
In a large bowl, combine the oil and molasses. Stir in the sugars until combined, then add the eggs, one at a time, mixing well between each addition. Stir in the pumpkin. Stir in the water. Sprinkle about half of the flour mixture over the wet ingredients and mix until just combined. Add the remaining flour mixture, and mix just until no streaks of flour remain. Fill muffin cups 3/4 full, and set aside while you mix the streusel topping.
*Remember not to overmix--overmixing can cause muffins to be too stiff/dense* 
To make the streusel:
In a medium bowl, mix the sugar, flour, and cinnamon together, whisking until thoroughly combined. Drizzle the melted butter over the mixture and stir with a spoon until you have a mixture that resembles lumpy wet sand. Do not break up the clumps too much.
Divide the streusel evenly between the pans, sprinkling it over the top of the batter to cover it.
Bake for 15 to 18 minutes, until a toothpick inserted in the center comes out clean. Allow to cool at least 10 minutes before serving.
main recipe courtesy of: bakingdom.com