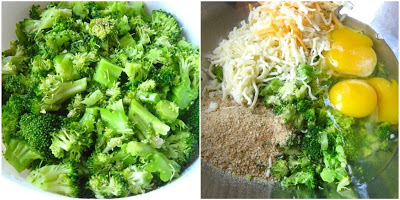 One of the easiest recipes I've ever followed, and have yet to be turned down by even the pickiest of eaters!
Ingredients
16 oz. pkg frozen chopped broccoli -- thawed and drained
1/2 cups grated cheese
3 eggs
1 cup seasoned Italian breadcrumbs
salt and pepper to taste
Directions
Preheat oven to 375*
Mix all ingredients in medium-large bowl
With your hands, form 1-inch patties and place on greased or parchment-lined baking sheet
Bake for 25 minutes, flipping patties after 15 minutes 
And yes, they really will turn out like the picture!