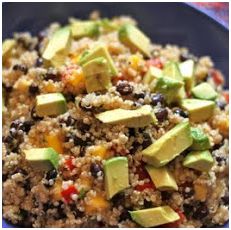 Ingredients
1 cup quinoa
1 cup water
pinch of salt
1 1/2 cups black beans
1 cup mango, diced
1 cup red pepper, diced
2 tablespoons fresh cilantro, finely chopped
2 tablespoons fresh lime juice
1/2 teaspoon chili powder
1/8 teaspoon cayenne pepper
salt & pepper
1 avocado, chopped
Instructions
Add quinoa, water and a pinch of salt to a medium sauce pan. Bring to a boil, then let it simmer until the water is absorbed, about 10-15 minutes. When quinoa has finished cooking, add it to a large bowl and set aside to cool.
In a small bowl, whisk together lime juice, chili powder, cayenne pepper and a dash of salt & pepper.
Add the black beans, mango, red pepper and cilantro to the quinoa, and stir together. Top with the lime dressing and stir to fully combine. (The dressing is simply meant to add a hint of flavor to the quinoa, not to add additional liquid).
To serve, top with chopped avocado.