How on earth do moms do it?
After having my daughter Piper, it was the first time in my professional career that my attention to running had a challenger. The challenges actually came while I was pregnant, when side stitches came on so badly that it kept me from walking the dog, let alone running. It was five months of doing a lot of housework, decorating the nursery, and filling the fridge with well-prepared food. It was only two weeks after my emergency C-section that I felt the urge to run. It was ten minutes, and I must have gone a half-mile, but it felt so good to move.
It seems strange that at such a slow pace, after so much time off, I had a spark of hope that I could get ready for the Olympic Marathon Trials in Houston, Texas. In what was a condensed build-up of training, I came in sixth, failing to make my fourth Olympic team. I felt I fell short as a runner and as a mom, and that was the hardest part to swallow.
Truth was, I couldn't give my full attention to anything anymore. How can I be a great mom when training takes up most my day? How can a selfishly run when I have a child to raise?
The answers to these questions came during a post-race family vacation in central California. It was on this trip that I came to terms with my future. After months as a family, Andrew, Piper, Sage (our mastiff) and I were finally doing something normal families would do—spending time together. We were camping, touring Hearst Castle, and watching elephant seals on the beach in San Simeon. Around our campfire, Andrew listened to me talk and come to terms with why I was so disappointed in my performance. He reminded me that thousands of moms successfully juggle careers, family, and running. Of course they did. I actually had it easier for the fact that running and career were one in the same for me. After that realization, it was the mass running community that inspired me to find a solution to follow through with all the things important to me.
Running moms inspired me everywhere I went. I felt a part of a larger community of women who found a way to balance their lives, and I took notes.
I saw the importance in making priorities, so I did. Family and health would come first, running and business second. It felt good to come to terms with what was important so I could base my decisions off these newly set priorities. It didn't take long for me to see the lines actually blur much more often than I expected. Sometimes getting out the door for a run made me a better mom in that I felt calm, more compassionate, and more willing to engage the remainder of the day with my family. Other times, traveling to races is part of my job, but I compromised by bringing my family with me and enjoying amusement parks, beaches, or museums after the race.
Our lives change once we have children, and I believe for the better. This Mother's Day, Piper Bloom is five years old and shares my love of running. Some days she asks to join me for a run, and I always agree. She puts on a visor and sunscreen, thoughtfully laces up her ASICS, and leads us to the trailhead. Her preparation and chatty nature while running let me know she observes how I do this sport.
Running makes us better moms, and being a mom gives our running more purpose and joy. What a gift that I have it in me to pursue all things that are important to me, and I have the larger running community to thank for allowing me to see that.
We have awesome partners: Deena's content is presented by ASICS exclusively for Fleet Feet Sports.
---
About Deena Kastor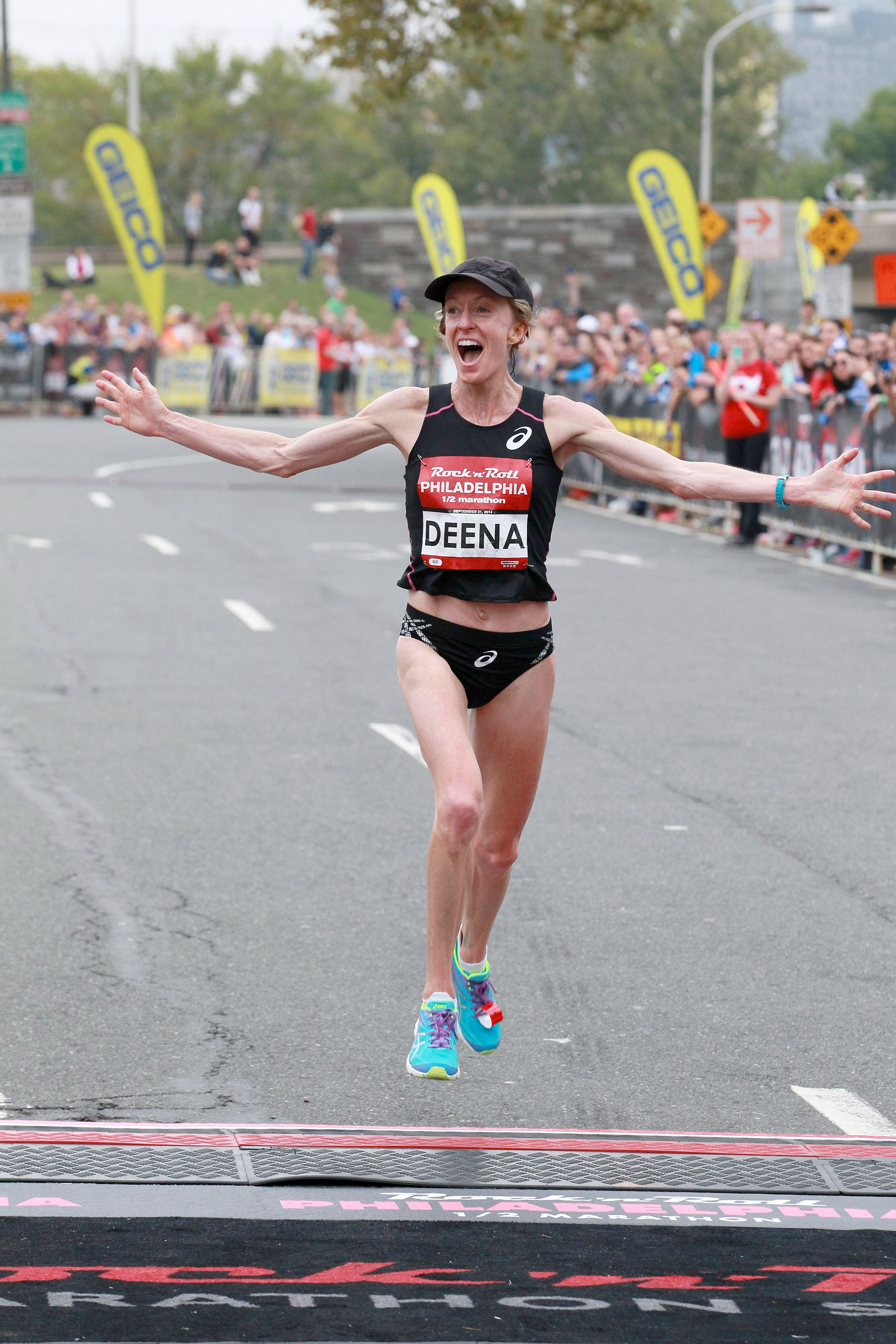 Currently the American Record Holder in the marathon (2:19:36) and half marathon (1:07:34), Deena Kastor has held American records in distances from the 5K to the marathon. President of the ASICS Mammoth Track Club, a local running club with recreational members as well as professionals seeking Olympic berths, Deena enjoys spending quality time in her Mammoth Lakes, Calif., home with her husband Andrew, daughter Piper, and their French Mastiff Zita.