Be a part of something Big. In-person again, Fleet Feet Mt. Juliet and Murfreesboro are excited to bring the running community together to celebrate Global Running Day on June 1! A celebration of the activity we love and the sport that brings our communities together. For our Murfreesboro community, we will be hosting a chip timed 5k on a certified course at The Gateway Island at 6:30pm in honor of Miles Tate. For our Mt. Juliet community, we will be hosting a free Fun Run 5k at the Corner Pub at 6:30pm. We encourage you to bring your family, friends, and neighbors.
DATE | Wednesday, June 1, 2022
TIME | 6:30pm
MURFREESBORO LOCATION | The Gateway Island, 1875 W College St, Murfreesboro, TN | COURSE MAP | PARKING INFORMATION
MT. JULIET LOCATION | Corner Pub Between the Lakes, 4136 N Mt. Juliet Rd, Mt. Juliet, TN
MURFREESBORO:
#milesforMiles
On June 1, We Run Together in honor of Miles Tate who left footsteps across the nation and even more here at home.
All proceeds from the event will benefit the MTSU Melinda and Miles Tate Scholarship. - There is an option when registering to donate more to the scholarship if you wish to give.
The chip timed 5k will take place at The Gateway Island in Murfreesboro, TN at 6:30pm on June 1st. Participants who register by May 15 will be guaranteed a "Run Together" T-shirt in their preferred size. Each 5k finisher will receive a medal. Thank you Murfreesboro Parks and Recreation for partnering with us to bring you this event at The Gateway Island once again!
In-person registration is available at packet pick-up and on race day. We will only be able to accept cash or check for in-person registration.
COURSE MAP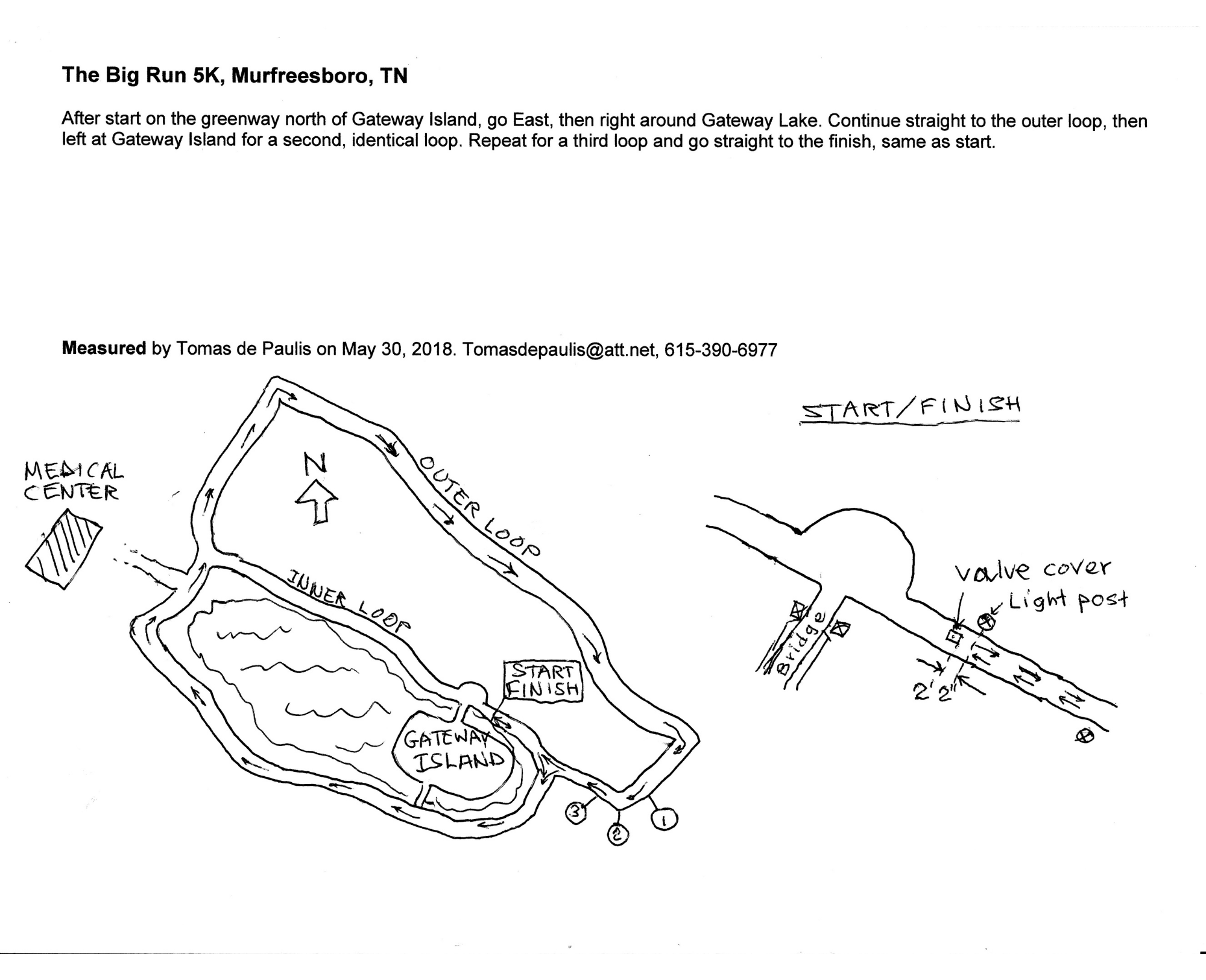 SWAG
Participants who register by May 15 are guaranteed their swag in their selected size. We will have additional shirts available, but sizes are not guaranteed after May 15. They will be on a first come first serve basis until we run out.**
Every Murfreesboro 5k finisher receives a medal celebrating Global Running Day.

PACKET PICK-UP | You may pick up your packet and those of any friends and family at the listed times below.
MT. JULIET:
This years' Fun Run will be happening in-person at The Corner Pub in Mt. Juliet, TN at 6:30pm. We will be running along the sidewalk on North Mt Juliet Road for an out and back 5k. There will be a time clock rolling, but there will be no bibs or official times.
In-person registration is available on race day. This consists of signing a waiver and receiving a free beer ticket, courtesy of Brooks Running.
SWAG
"Run Together" shirts will be available for purchase for $15. We will only be able to accept cash or check for T-shirt sales at the Fun Run. Shirt sizes will not be guaranteed, so if you wish to purchase, use the giveaway add-on feature to select your size and pay through the RunSignUp link HERE by May 15.
PACKET PICK-UP | As this is a free event, there will be no packet pick-up. If you purchase a T-Shirt while registering, you will be able to pick that up at Corner Pub on the evening of the event beginning at 5:30pm. If you are unable to make it, your shirt will be available for pick-up at Fleet Feet Mt. Juliet after the Fun Run.
PARKING | Additional parking is available in the Kroger parking lot, located behind Corner Pub.
EVENT POLICIES & FAQ:
No-Risk Registration - We understand these are uncertain times. We intend to host an in-person event. However, should the health situation change and we cannot host the event, all runners will be able to defer to 2023 or run the event virtually. If the event is canceled before 4/19/2022, participants will have the option to choose between a refund, deferral, or run the event virtually. Registration is available online and In-person registration at packet pick-up and race day.
Swag and Packet Policy - Register by 5/15/2022 to guarantee your swag. We will not be able to exchange any swag that has been handed out and taken home.
Will there be on-course Aid Stations? No, there will be no on-course aid stations. We highly encourage and recommend participants carry all hydrations and nutritional needs in their running pack or belt.
Are dogs allowed at the event or allowed to participate? We love dogs, but dogs are not allowed to participate in the race.
Inclement Weather Policy: The safety of our participants and volunteers is our highest priority. If severe weather is present, we will post an update on the Facebook Event Page and at the top of this page by 4:30pm the day of the event at the latest.
Refund Policy - Refunds are not allowed for this Run.
What if I have a positive COVID-19 test or show symptoms of COVID-19? If you have a positive COVID-19 test or show symptoms (click here for a complete list of symptoms), we ask that you not attend the event. You will be able to pick up your event swag post event once you are feeling well again.
COVID-19 Status: We intend to be able to hold this event in person. We are working on plans to take all necessary precautions to make this a safe event during the COVID-19 situation based on the latest guidelines as the event approaches. As we finalize those plans and precautions and have them in place, we will include them in race communications closer to the race date. Participant safety is our number one concern, and if deemed unsafe to have an in-person event, the race will switch to an all-virtual event. Should we have to hold the event virtually, we will automatically switch all participants to the virtual event and send details on how to obtain your race swag and submit your virtual times. We will contact all participants if it goes virtual with further instructions.
QUESTIONS? | send an email to jordan@fleetfeetmtjuliet.com