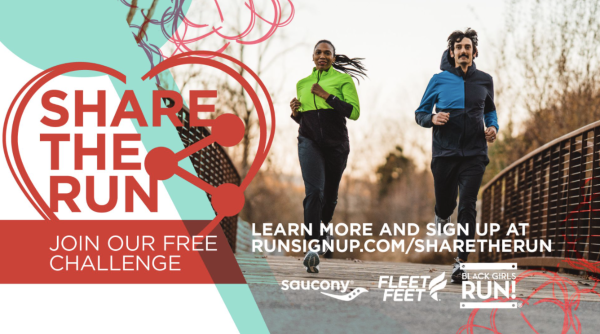 We're teaming up with Saucony and Black Girls RUN! for the second annual Share the Run virtual running and walking challenge. Join us as we set goals, log miles and create lasting habits.
It's that time of year when you might be thinking about New Year resolutions.
What if we reframe the way we approach this time of year? Instead of choosing one big goal that can feel overwhelming, what if we take it one day at a time, one mile at a time, for the whole month of February?
Doesn't that sound better? We thought so, and we're here to help show you how to do it. We're teaming up with Saucony and Black Girls RUN! for the second annual Share the Run virtual running and walking challenge.
Here's how it works:
Pick one of three distances to complete over the month of February: 20, 60 or 100 miles.
Log your running or walking miles. See directions here.
Complete the challenge, earn a $15 reward, and feel amazing about setting a goal and achieving it!
Our goal is to motivate as many people as we can to set goals, log miles, and create lasting habits. Join us! Sign up for the Share the Run Challenge, and encourage others while you're at it. Take this challenge on as a solo goal, or create a team with friends.
Registration is FREE! Whether this is your first challenge, or your twentieth, all are welcome to join. The only commitment we ask for, is to the goals you set for yourself.
The Prizes: Three Chances to Win
$15 Fleet Feet Reward: Every finisher who completes their challenge goal and enrolls in the Fleet Feet Rewards program by Feb. 28, 2022 will receive a $15 Reward to use at their local Fleet Fleet or on fleetfeet.com. If you're already enrolled in the program, no need to reenroll!
Head-to-toe gear from Saucony and swag from Black Girls RUN! and Fleet Feet: Five lucky Share The Run participants will receive a prize pack from Saucony, Fleet Feet and Black Girls RUN! via an Instagram giveaway. We will post more details and directions to enter soon. Be sure to follow @fleetfeetsports on Instagram for the latest information!
$500 Fleet Feet gifts cards: Two winners who Share the Run and encourage friends to get motivated and sign up for the challenge will receive a $500 Fleet Feet gift card. To enter, individuals you refer must include your first name, last name, and city location when prompted to do so during the registration process. There's two chances to win! We'll award the individual with the most referrals and randomly pick the second winner from the list of participants who referred at least one friend.
Please see more prize information and terms and conditions here.
Questions? Visit our FAQ page!