The Fleet Feet Murfreesboro Customer of the Month Award goes to the loyal customer whose involvement in the running/walking community inspires and motivates others to live healthy and active lifestyles. 
This month's Customer of the Month is Walk Fit mentor, Darlene Harris! Read our Q & A session with Darlene below!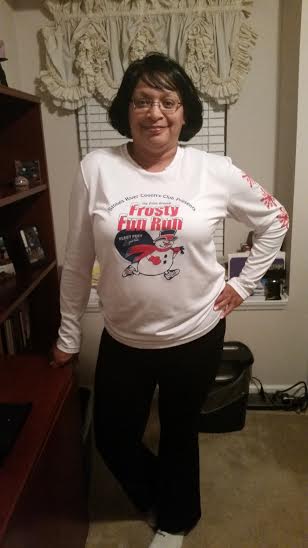 What motivates you to live a healthy lifestyle?
My family…being blessed with both of my children being young professionals, I wanted to focus on a healthier lifestyle for myself.  My family has always been sports oriented (basketball, volleyball, baseball, softball, etc.).  With a total knee replacement, I needed an activity that would decrease the stress on my knee. After researching various options, I selected Fleet Feet's Walk Fit program primarily because of their mentors.   
What one word would you use to describe yourself?
Perseverance
Favorite post workout snack?
Smoothie King's Apple Kiwi Kale
What are your goals?
My initial goal in 2014 was to walk a 5K quarterly.  As I've exceeded my 5K goals, in 2015 my goal is to walk a 10K quarterly. In 2016 I want to walk quarterly 15K's and 2017's goal is to walk quarterly half marathons.
Favorite race?
Hot Chocolate 5K
What's your motto?
Life deals us a number of challenges.  Count your blessings and live each day to its fullest.
What's your favorite part of mentoring in Walk Fit?
Meeting new people and helping them begin their healthy lifestyle journey.
 
Must-have workout gear?
Shoes: Saucony & Brooks are my favorites. Other essentials include 
appropriate clothing and accessories (water bottles, timing equipment, etc.).
How does it feel to have so much of your family involved in the Fleet Feet training programs? 
Awesome!  My daughter earn's the credit for introducing me to Feet Fleet.  Her half marathon mentor was extremely patient and stayed with her during the Nashville Marathon last year.  As I began my initial Walk Fit program, my mother and two sisters were impressed with my dedication and the results from the program.  As such, all five of us are actively enrolled in various Fleet Feet programs.
What advice would you offer to the first time walker/runner?
Participate in the program at your own pace.  You'll have great days and not so good days.  Don't be disappointed if you don't make your goal, just perservere and you'll be fine.
What keeps you coming back to Fleet Feet Murfreesboro?
 The programs and the coaches.  Marina, the coach of Walk Fit and Ton of Fun, is awesome. Her positive demeanor, nutritional and fitness knowledge is very impressive.  The Total Body Workout coach, Terri, is very impressive as well.  Her focus is core tight with a "twist of fun."  From a mentoring perspective, the program director, Daphne, is very passionate about their programs, which is a key factor for me.  They're dedicated to helping others "live healthier lifestyles."